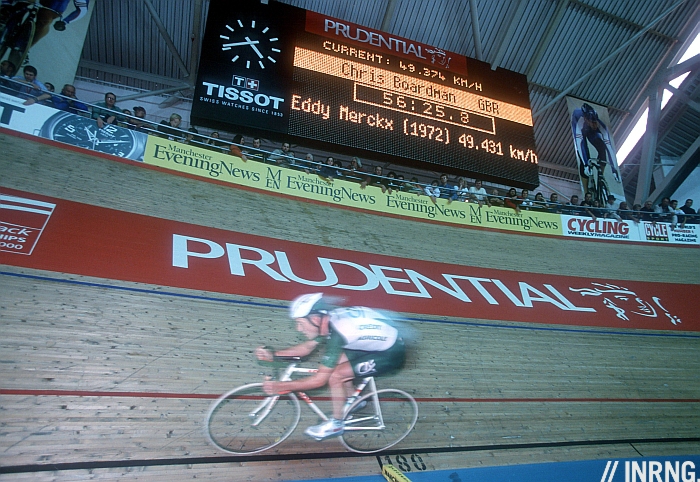 What you can do in an hour? If you can ride more than 49.7km then you can take cycling's Hour Record. It has been the sport's blue riband but has fallen from grace, although as you'll see below, it's often been forgotten only to get revived.
There's now renewed interest but the rules demand a retro-style bike. Can it find a new life or does it belong to the past?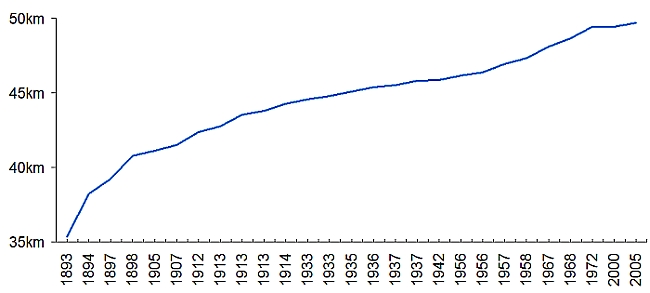 That's the chart of the record over time each succesful attempt plotted. Note the x-axis and the clusters, a few attempts in the 1890s, the run in 1913-14 and then the 1930s, then nothing until the 1950s and so on. Perhaps we're due for another cluster?
The Hour is a simple enough concept, ride flat-out on a track to set a distance. With no drafting or tailwind one of its attractions is the ability to compare performances over time. Like all records there are some rules and small print. The UCI is the guardian of The Hour record. In fact there are three UCI records:
The Hour: one hour on a traditional bike with classic dropped bars, box-section rims and plain spokes and an ordinary helmet
The "Best Hour Performance" on any UCI-legal track bike, for example similar to a 4km pursuit with tri-bar extensions, a profiled frame, disc wheel and a helmet with a visor
The "Best Hour Performance behind a derny" as above but paced by an approved moped
For most of the record's existence a rider has been allowed to use any approved track bike, along the way we've seen various creations from Francesco Moser's Dali-esque bikes to Graeme Obree's kitchen table built "Old Faithful". But Obree's invention seemed to pique the UCI and in time it banned the "Superman position" and retrospectively reclassified The Hour record to exclude all attempts since Eddy Merckx set the bar in 1972. Consequently all new record attempts have to be done on a bike similar to Merckx: diamond frame, drop bars, traditional spoked rims and no aero helmet allowed. Here are the rules, cropped for clarity: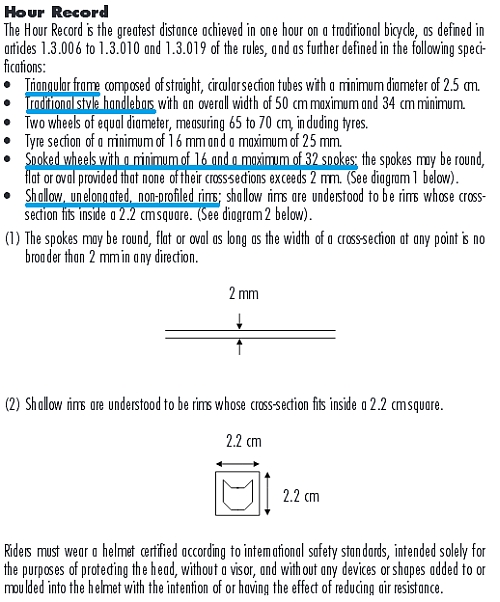 The UCI adopted these rules to stop the record being seen as a victory for technology over the rider although we should note Graeme Obree had annoyed Hein Verbruggen too, you wonder if the rule restrictions involved a personal grudge.
Whatever the UCI's motivations I don't agree with making The Hour into a track cycling version of the Eroica where bike technology is stopped in the 1970s. From its inception in 1893 the record was about speed, Henri Desgrange rode faster than any automobile could manage in the day. The record should be a contemporary contest and if a bike is UCI-legal for the 4,000m pursuit and other track-based time trials then why not let it be used for an hour?
Sosenka's poor record
Chris Boardman saw his 56.375km record downgraded to mere "Best Hour Performance" and he took up the challenge for The Hour record in 2000, beating Eddy Merckx's old distance by just 10 metres. Then in 2005 Ondřej Sosenka bagged the hour. A relatively unknown rider with two positive tests to his name, Sosenka's reputation is not great. But even assuming he rode on bread and water alone, his status as second-tier time trial specialist diminishes a record usually held by the best rouleurs of each generation.
Ask not what the hour can do for you but what you can do for the hour
This is where the likes of Fabian Cancellara comes in. All those rainbow jerseys, Olympic medals and classics trophies mean if he lends his name to a record attempt then The Hour will gain from Cancellara. Better still history suggests record attempts seem to cluster. When one rider takes the record then his peers will often follow, Tony Martin and Bradley Wiggins could be tempted.
Marginal Gains
Technology has always played a part but the UCI's restrictions on The Hour mean there's little interest for bike manufacturers to showcase their wares. But if the UCI's rulings restrict many technological there are still gains to be had. There have been notable improvements in clothing aerodynamics whether the fabric and fit of the skinsuit but the helmet too. These are small but every metre counts.
Point of no return
This is a big undertaking and the more rider's name is linked to a record attempt, the more dangerous it gets. Expectation builds. If tests and training don't work out and the attempt is called off then the rider is beaten before turning a pedal. Similarly the longer the story goes on then the less surprising a record-breaking performance will be. This might not concern a rider or coach but The Hour is a media event and an abandoned attempt is likely to fall under the cover of competing schedules or post-classics campaign fatigue.
Hour-long episode
Have our concentration spans got shorter? In the past the track was a way for the public to see a champion up close and for a promoter to make money on big ticket sales. But now the idea of watching a man cycling alone around a wooden track for an hour doesn't seem guaranteed to pack in the crowds. It's possible an attempt is done behind closed doors but as well as the crowd the cameras are going to be invited too.
If it will be on TV then some creative production techniques will be needed. I've seen others talking about an hour long pursuit match but the rider has to be alone on the track, another rider creates a draft and is a pacing-aid so it will remain a solo event. On-screen graphics could depict a video-game shadow to show where the record schedule is but even watching this for an hour is slow. Podcasters The Velocast and other bloggers have imagined a simulcast event with Tony Martin, Bradley Wiggins and Fabien Cancellara all starting at the very same moment. Easier said than done, it assumes all three want to attempt the record and then they'd pick the same slot on the calendar despite different ambitions on the road and that they can each find a suitable track when they might all prefer the same velodrome. And that's before we find a promoter capable of squaring off the money, booking and TV deals.
Summary
It's lost its shine but renewed interest could raise the profile of The Hour. Indeed talk of a record attempt could help The Hour as a concept more than any rider because they're undertaking a risky bet. If they win, they could renew public interest in the record and if they fail then also make The Hour look special, an unreachable threshold that sits beyond any rainbow jersey.
However it's not certain if The Hour's prestige can be revived. It might not work on TV and today most people associate riders from Eddy Merckx to Tony Rominger to Chris Boardman with other things than The Hour. Once a pure test of speed, today it remains a huge physical undertaking but the fixed rules make it look like a vintage bicycle competition.