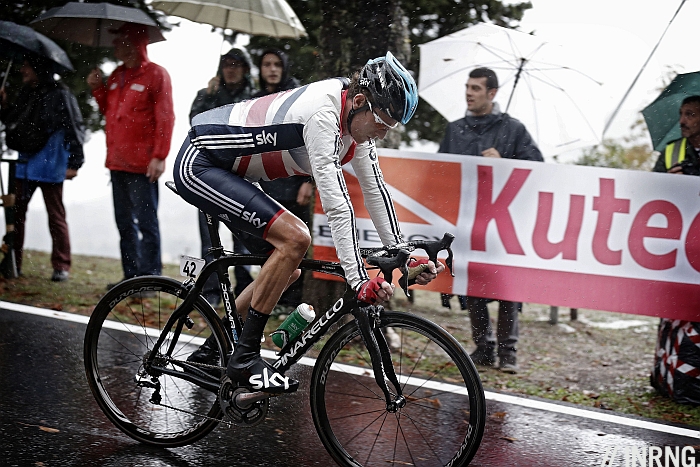 Where's Wiggo? A year ago Bradley Wiggins was all over the media. But now he's almost vanished from sight, understandable if he wants a  quiet family life away from being doorstepped by the paparazzi. But he's dropped off the radar too in the quieter and normally more reasonable world of cycling world. We know Chris Froome's aiming to repeat his Tour success and Richie Porte wants the Giro. But the best journalists don't know what Wiggins has planned. Some talk of Paris-Roubaix, the Tour de France, maybe a return to track cycling and maybe a look at the Hour Record?
Moves like Jagger?
By contrast here's someone trying to stay in the public eye. It's easy to say Richard Virenque's made a career out of skating on thin ice but now it's official as he stars in "Ice Show", a celebrity ice dancing competition on French TV. You know the format, a collection of B-listers take part in an elimination contest. Virenque survived last night but a glance on Twitter seemed to suggest a lot of people thought he should have been dropped.
However it's the first time he's been skating so he could improve as the show goes on. It's not his first celebrity-reality TV appearance, in fact he won "Je suis une célébrité, sortez-moi de là", a desert-island celebrity version of Survivor and we should note Mario Cipollini and Michael Rasmussen have done celebrity dance shows too. Virenque's got several business interests these days but keen to stay in the limelight but struggles to escape his past and remains an incarnation of Pinocchio for some.
More Muur
Talking of slippery surfaces, the 2014 Omloop Het Nieuwsblad will tackle the Muur van Geraardsbergen in 2014 says… Het Nieuwsblad. The legendary climb's been dropped from the Tour of Flanders but has also been off the route of other races because of roadworks. Now the Kapelmuur will be back for the start of the Belgian classics season. 93 days to go.
2015 Tour de France
No climbs in Utrecht beyond the canal bridges. The 2015 Tour will start in Utrecht with a 13.7km time trial enough to put big time gaps into the field right from the start. Such a long distance isn't unique, think 2000 (16.5km), 2005 (19km) and 2009 (15.5km). The course is flat and with several corners along the way it will suit riders able to handle the accelerate-brake-corner-accelerate routine.
The Dutch media are reporting a big hotel booking in Zeeland, the coastal region. After a prologue we could have a stage exposed to the wind as the race crosses the network of flood defences. You can see the Oosterscheldekering tidal wall behind in the image from the Ster "Zeeuwsche Eilanden" race.
Giro Wildcards


Three teams will get an invitation as the fourth spot is reserved for Androni after they won the team prize in the season-long Coppa Italia series. No Fluo Yellow, after the team embarrassed the race with Danilo Di Luca and Mauro Santambrogio although note their cases have yet to be resolved. Sometimes wildcards are not too wild, a team sponsor can buy advertising or even pay its way in. But this time there's a sporting logic. I think it'll be Colombia and MTN-Qhubeka. Expect to see Bardiani-CSF because they're Italian but remember they won a stage in 2013.
Tour Wildcards
We can't view the Giro invites without thinking about the Tour. Both IAM Cycling and NetApp-Endura might want to ride the Giro but they've also got a big chance doing the Tour de France. Assuming Europcar takes a World Tour licence and qualifies automatically, we can expect Cofidis to take the third place because its French… although the team's successes are becoming rarer.
The fourth pick looks harder. For several years ASO have opened the door for Bretagne-Séché with invites to early season races like Paris-Nice only for the team to look out of its depth so going to the Tour would be an even bigger step up. But look at the list of Pro Conti teams for 2014 and who else can be invited? These teams can't handle two grand tours too easily, the squad size can be small and only has a few leaders.
FDJ to 2016
FDJ announced a sponsorship renewal through to 2016. The French state lottery has backed the team continuously since 1997, a longevity award that's shared by Cofidis. But I think Belgium's Lotto is the longest running sponsor in the sport as it's been involved since 1984 as Tönissteiner-Lotto-Mavic-Pecotex. However it's been a co-sponsor at times, for example Davitamon-Lotto.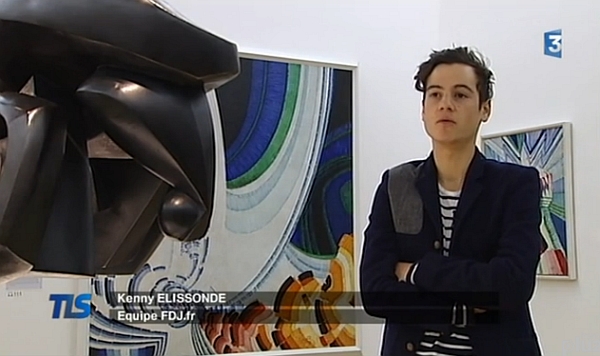 Elissonde the Artist
Finally you can see why FDJ are keen to continue given the talented roster. Virenque might have been on TV last night but the more interesting appearance was a brief feature with FDJ's Kenny Elissonde on another channel. He talked about his appreciation of modern art with scenes filmed in Paris's Centre Pompidou as well as showing his training routes to the west of the capital. Labels are always reductive, for example Marco Pinotti isn't just "the cycling professor" and Wiggins is more than a mod. But if you know Elisonnde for his Angliru win it's always good to see a variety of interests in the peloton.