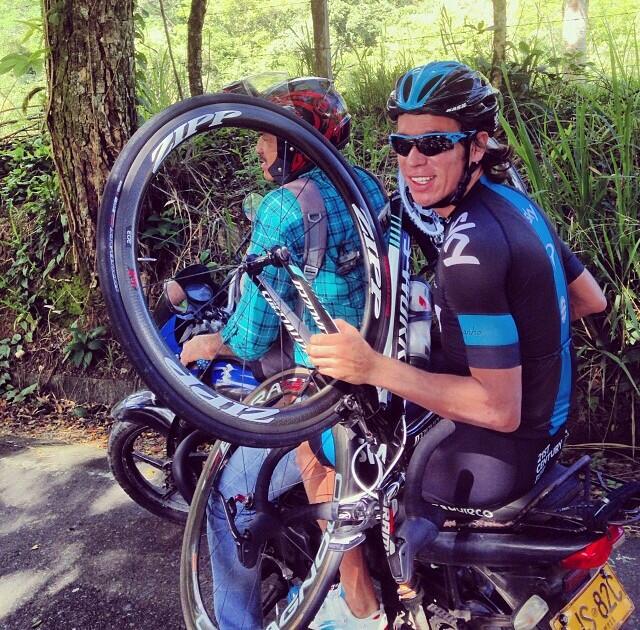 Sometimes you can look at big topics like calendar reform or concepts like "truth and reconciliation". But here's a small practical problem that can be easily fixed.
Rider contracts run from 1 January to 31 December and the timing has some absurd consequences.
The first absurdity is the visual spectacle of the team training camp. Right now several teams are holding training camps and team building sessions and new recruits for 2014 are taking part although they're still salaried by their old team. And because riders are still technically employed by their team until the end of the year a new recruit must ride their 2013 team bike and dress in the clothes of their current employer until 1 January. There are three practical problems:
teams inviting the media to a training camp will find harmonious images gatecrashed by new recruits still in their old kit. For example if Astana go for a ride today, Lieuwe Westra must still ride his Vacansoleil-DCM kit until the end of the year
squads are trying to build team spirit ahead of the new season. Team camps at this time of year are practically the only time when a whole squad is assembled in one place. Classics riders and stage racers go their separate ways soon. But nothing says "outsider" more than a rider wearing the kit of a rival team
More important than photo opps and cod-psychology, moving teams means a new bike and often a change in pedals, cleats, saddles, bars and more even if a rider's position is copied across, frame geometry and components can mean getting used to handling requires adjustment. Often a team and its bike sponsor will refine aerodynamics and biomechanics. If the UCI expects riders to start racing in the World Tour on 21 January it cannot expect riders to make all these changes on 1 January and have only three weeks to adapt.
There's also the fundamental point that by time we get to November, a rider who switches teams is no longer working for their old team but is training for the upcoming season with their new employer. Everyone is salaried by their old team but by now their working for their new team. Take Rigo Uran who is still wearing Sky kit for training but he's just visited Specialized wind tunnel because he's riding for OPQS in 2014.
Este es mi estado de forma. Estoy subiendo como una moto! pic.twitter.com/hstEsaO7mT

— rigoberto uran (@UranRigoberto) November 5, 2013
There are work-arounds, for example Astana are giving out unmarked team-issue bikes. Michele Scarponi is still wearing Lampre-Merida kit but riding a stealthy Specialized. Others just ignore the rule, Rigoberto Uran is riding his OPQS Specialized in the hills of Colombia. Meanwhile BMC Racing got all riders to pose in BMC kit for a photo several weeks ago, putting the likes of Peter Velits, Darwin Atapuma and Peter Stetina in red and black – but only after seeking permission from their current employers. But breaching the rules isn't good and only highlights the petty problem.
Simple solution
With the World Tour season stopping in October it makes sense to align the contractual period around the cycling season rather than the calendar year. The UCI could bring the contractual year forward so that a rider is employed by their team from 1 November to 31 October.
It's hard to think of the negatives here, perhaps the transition makes a difference and you'd might want to move the team licensing process back in time but that's something else that's worthwhile. Some teams still want to use the 1 January to unveil new kit but that can still be done.