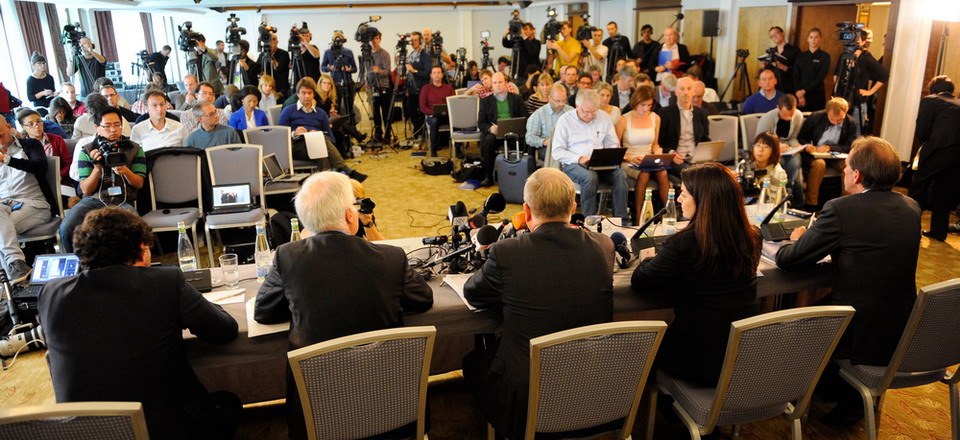 One year ago the UCI gave its response to USADA's reasoned decision and the ban imposed on Lance Armstrong. The media was convened to a hotel in Switzerland where Pat McQuaid announced the UCI accepted USADA's verdict and it would ban Armstrong and strip him of almost all his results.
For a moment it prised open the UCI and its decision-making process but in the weeks and months that followed the UCI seemed to regress back towards obstruction and bizarre press releases. What's happened since?
The UCI's response in the short and medium term was weak and confused. It relied on a strategy that if you say something enough times then people will accept it. Three examples…
"It is plausible that it was only a skin cream indeed"
That was the verdict of a leaked UCI memo regarding the four positive tests for cortisone by Lance Armstrong during the 1999 Tour de France. The UCI kept running with this idea that if it could explain away the cause of the positive test then all would be ok. Perhaps you think of the case of Alberto Contador's clenbuterol positive in the 2010 Tour de France where he could get off if he showed where the banned substance came from? But you'll remember Contador had to prove where any contamination came from, presenting a plausible hypothesis was not enough. But back in 1999 the rules were even stricter. Before a doping control a rider had to declare whether they were using any medication and Armstrong declared "néant" or nothing on the form. With this in mind, we now go to rule 43 from the UCI's rulebook in 1999.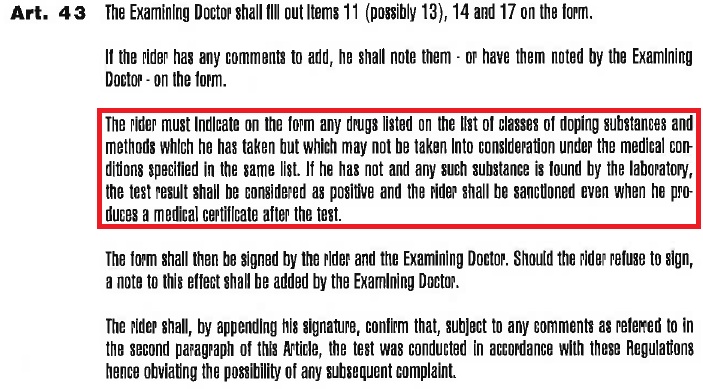 The highlighted paragraph says if the rider fails to list a product like cortisone on the test paperwork then "the test result shall be considered as a positive and the rider shall be sanctioned even when he produces a medical certificate after the test." In other words Armstrong should have been disqualified and banned during the 1999 Tour de France. Even the talk of backdated TUE letters, which Armstrong confessed to, didn't matter because no matter what was cooked up or even plausible, if there was a positive test Armstrong should be thrown out of the race.
"There was no cover-up of a Tour of Switzerland positive"
Factually correct because Armstrong did not test positive in the 2001 Tour de Suisse. However his samples were marked as suspicious by the Lausanne lab when testing for EPO and the UCI knew this. As this blog revealed in May, the UCI tested Armstrong just ten times during the 2001 Tour de France that followed. Ten tests might sound good but was in fact the minimum number possible given Armstrong was third in the prologue, won three stages and held yellow jersey for the final week. It's normal for the race leader and the first three on a stage to get tested by default every day. Additionally only five of these ten tests included EPO tests. So the "strongly suspicious" lab data appears to have got no follow-up, Armstrong was only tested in set-piece anti-doping controls and half of these didn't have an EPO test. No cover-up but the UCI appeared to ignore the formal warning signs.
"Lance Armstrong has no place in cycling"
That was Pat McQuaid's response after the UCI press conference. He tried to sound tough… but later rowed back on this. Yet it was the actions prior to this outburst that made McQuaid's words bizarre. The UCI had been pushing back against USADA's efforts to prosecute Lance Armstrong and others, a fight it had not tried on behalf of others. At times the UCI's communications looked like a copy n'paste from Armstrong's legal team and it was very awkward to watch the UCI issue misguided press releases attacking WADA or witness Pat McQuaid appearing ignorant of his own rules. We still don't know why the UCI tried to obstruct USADA. It seemed the UCI was acting on behalf of Hein Verbruggen and the Dutchman was clearly rattled, launching a bizarre tirade against WADA to his IOC colleagues.
Stalled reform
Regardless of motivation, once the USADA verdict was out the UCI had to act: accept it or appeal. It should have been the start of something but just as the UCI stalled before, it stalled after too. We got an Independent Commission but it became too independent and was dissolved by the UCI. McQuaid floated the idea of "an audit" but it never got started. Arguably the handling of of the USADA verdict cost McQuaid his job as UCI President, there were other mistakes but this compounded everything.
Truth and Reconciliation
Now with President Cookson there is a "high level dialogue" between the UCI and WADA to establish a "truth and reconciliation" process (T&R). Hopefully they can find a better name to start with but I'm sceptical about the process because there's little incentive for riders to come forward
Doping is a criminal matter in some countries and if athletes confess to WADA they cannot expect immunity from criminal prosecution
Riders have got away with it for years and trade on their reputations. Look at Stuart O'Grady, venerated as hero but he'd kept quiet about his EPO use. His confession looked bungled but anyone who's got away without being caught has no incentive to come forward
Events are so long ago and there's no proof. If one rider comes forward and accuses a team mate or a doctor they need proof to make it stick otherwise it would become a forum for calumny and counter-claim
The risk is that T&R becomes a vehicle for Lance Armstrong rather than the sport as a whole
And there's more
One year on and there are more loose ends than a bowl of spaghetti. Lance Armstrong got banned and purged from the history books but prosecutions against the likes of Johan Bruyneel, Michele Ferrari and Jose "Pepe" Martí are still simmering on some USADA backburner, in part held up by the lawsuits between Armstrong and others and various agencies of the US government and also it seems some are delaying their lawsuits in anticipation of a T&R process.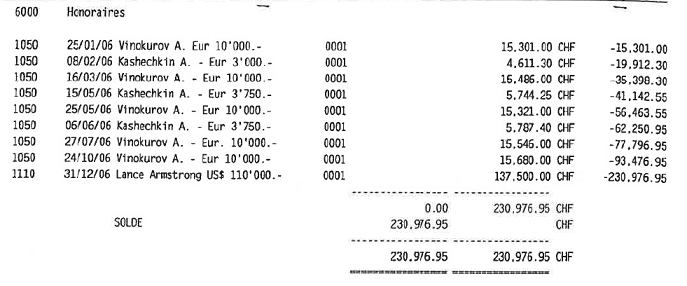 The reasoned decision was packed with more. Take the bank listings above which includes a familiar manager of the Astana team. Investigations are still rumbling on in Italy over doping but also following a tax-dodging trail of money. The UCI did start an investigation but it seemed to stall, it invited Kolobnev and Vinokourov to answer questions but they were called in on Christmas Day on the Russian calendar and you can imagine the no-show. We've yet to get an explanation of what Vinokourov was doing wiring large sums of money to Ferrari.
Media industry
If the procedural aspect has ground to a halt there's been plenty of action elsewhere. Armstrong might have stopped the charity work and lost his sponsors but the media circus rolls on. Oprah chat shows, multiple books, documentaries and as you read this a feature film is in production. It's as if everyone except the UCI wants to explore the story.
Conclusion
Plenty has happened in one year but the UCI hasn't gone anywhere, as if pedalling on a bike with no chain. Armstrong should have been banned in 1999 and they haven't explained why he got the minimal number of tests despite the 2001 suspicious lab tests. As it happens we still haven't seen the receipts for Armstrong's donations either. Much of the UCI's effort has gone into justifying what it did in the past rather than asking whether those actions were appropriate.
Pat McQuaid has gone and with him Ian McClure and Philippe Verbiest, the pair behind so many of the angry press releases. The communication was poor but it wasn't media management, it signified a siege mentality.
At least the UCI and WADA are reconciled now but it'll be hard to see where the truth and reconciliation process goes. Meanwhile the likes of Bruyneel, Martí and Ferrari still haven't been prosecuted; the wheels of justice have punctured. Maybe we'll have to revisit this subject again in October 2014?