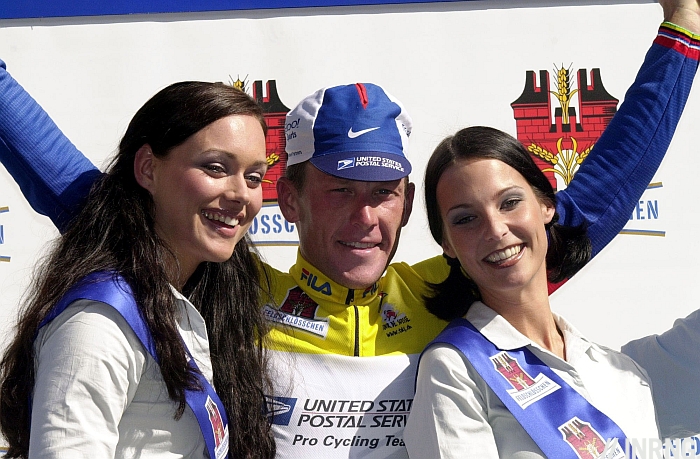 On his way to winning the Tour of Switzerland in 2001, Lance Armstrong underwent several anti-doping controls. On two occasions in this race Armstrong's samples were suspicious with data suggesting the strong probability of EPO use but crucially not firm enough to launch a formal prosecution.
A major athlete with strong suspicions of heavy doping? You'd think this would have set red lights flashing and alarm bells ringing within the UCI. Did it?
Let's go back to June 2001. If this feels like a long time ago, I'll explain in a minute why it's relevant for today. During the Tour of Switzerland Armstrong had five anti-doping controls. Two samples came back with a remark from the Lausanne laboratory that there was a "strong suspicion of the presence of EPO" but "the positivity criteria are not all met."
To explain more, the EPO test isn't like litmus paper where you dip a stick into the urine sample and it turns red or blue, positive or negative. Instead it is a mix of qualitative and quantitative analysis involving a percentage of isoforms where a reading over 80% was positive and would result in an anti-doping prosecution (for more on this, pull up a chair  in the Podium Café). In short a score over 70% was seen as suspicious, indicating a strong probability but crucially not prosecution-proof certainty.
For Armstrong's two suspicious samples, the Lausanne lab produced a complete analytical report. One sample showed a score of 75.1%, the other 70%. For the record 70.2% was the "suspicious" threshold but the Lausanne lab still flagged Armstrong's 70.0% sample.
So here we have two suspicious tests. You'd think alarm bells should be ringing and the warning lights were flashing in the UCI only there seems to be little follow-up.
Minimal testing at the 2001 Tour de France
I can now reveal the UCI tested Armstrong ten times during the 2001 Tour de France. It might sound good but was in fact the minimum number possible given Armstrong was third in the prologue, won three stages and held yellow jersey for the final week. It's normal for the race leader and the first three on the stage to get tested by default every day. Additionally only five of these ten tests included EPO tests. So the "strongly suspicious" lab data appears to have got no follow-up, Armstrong was only tested in set-piece anti-doping controls and half of these didn't have an EPO test.
Why rake up the past?
Because it's contemporary. Six months on from the USADA verdict the UCI is still trying to defend its actions from 2001. In briefing documents the UCI is trumpeting the fact that it did not cover-up a positive test for Lance Armstrong, refuting the claims made by Floyd Landis and Tyler Hamilton. Indeed from the evidence this seems to be true: there was no positive test and it's almost impossible that one of could have been buried.
But in defending themselves against Landis's and Hamilton's wilder claims they've inadvertently pointed out that Armstrong provided strongly suspicious data and yet little was done with this intelligence. Not one extra test during the Tour de France according to their own defence documents. Who knows what happened, perhaps the data wasn't shared and that's why then UCI President Hein Verbruggen was led to believe that Armstrong never doped, telling Dutch magazine AD the following (my translation added):
"Ik herhaal het nog maar eens: Lance Armstrong heeft nooit doping gebruikt. Nooit, nooit, nooit"
I repeat it once again: Lance Armstrong has never used doping. Never, never, never
What is certain is that the Lausanne lab produced a complete report on these suspicious samples. We can't know the reasons why there were no extra tests in the 2001 Tour de France. Note in 2001 the UCI ran anti-doping testing, it wasn't for the French or WADA to decide who to test. Appendix F of the USADA verdict includes a copy of the UCI's anti-doping rules from 2001. The governing body decided who was tested both in and out of competition and note the 2001 rules say out of competition includes stage races as well as periods between competition.
It's not about Armstrong
This story has only come out because of the USADA investigation, the claims by Hamilton and Landis and the UCI's need to refute them. So if you think Armstrong got some kind of special protection, then think about the other riders. What if other riders were ringing alarm bells with suspicious data too? We know EPO use was widespread in the peloton at the time. In 2001 the UCI conducted 271 EPO tests and caught nine riders but we now know many sailed through the net. What we don't know is how many others were in the suspicious camp and whether the UCI thought to act on this intelligence or not although we know some riders were given private warnings (here and here etc)
The problem for the UCI here is that if they were to say nobody else provided suspicious samples then their lack of follow-up looks protective of one rider, if they say many riders gave suspect data then it looks like they didn't follow-up on a range of cases and ignored a chronic problem despite obvious warning signs.
Perhaps the good news is that this is all in the past, the UCI has taken down many big names in recent years, using data with an intelligence-based approach to catch some.
Conclusion
It might all be in the past but it's only in the last month that we've finally been able to get the question about how many follow-up tests Armstrong got after the suspect data from the 2001 Tour de Suisse. The UCI is still deciding on measures to take in the wake of last October's USADA report.
In rejecting claims of a cover-up of any positive doping test for Armstrong, the UCI's revealed that when it was given suspicious test data there seemed to be little follow-up. Certainly during the Tour de France Armstrong appears to have got the minimum number of tests possible, only controlled because of his stage wins and race leadership. And when tested only half of his samples were subjected to EPO tests. Crucially we don't know if this was a general policy applied to suspicious data from other rider. It's only because of the Armstrong case and the fallout that we know this much.
The lesson from all this is known already. You don't catch dopers with tests alone, you need to use intelligence and data to target the cheats. The sport has improved this a lot and tools like the bio-passport are reliant on finding suspicious data to test and test again. More than ever – as the recent Deloitte report reminds us – the UCI needs to separate its anti-doping function and ensure the Cycling Anti-Doping Foundation's controlling board members are separate from the UCI, if only for reasons of perception of meddling.