Remember 2012? Tom Boonen was imperial in the cobbled classics, Bradley Wiggins wore yellow and then went to the Olympic games? It all seems a long time ago but the UCI's published its 2012 annual report today. Here's a look at the income and expenditure of cycling's governing body for the year.
First a few notes from the annual report before we crunch some numbers:
The UCI has plans for a salary cap in pro cycling
Approval was given to a system of rider transfers with compensation payments
The biological passport results taken over several years "show clear improvements in the riders' profiles"
A mysterious technological project is "in the stages of development and will hopefully see the light of day in 2013. This should contribute to a necessary innovation in TV coverage"
Staff average age is 37 and almost half-half male-female
The World Cycling Centre took on 99 riders across all disciplines as trainees. These are riders in a development programme and typically from nations without funding to bring on talent to an elite level
It's a strange read as Pat McQuaid's introduction looks forward to things that have come and gone and the report is full of initiatives that were announced so long ago you've probably forgotten them
Income Statement
The UCI's income soared in 2012, largely thanks to the Olympics.
Think Olympics and you might think gold as in medals but it's gold coins for the UCI thanks to valuable TV revenue and marketing income which brought in CHF 21.5 million
CHF 12.4 million of this Olympic cash was set in reserve and the UCI is using it on training and development funding, a sum of CHF 3.1 million per year for 2012-2015
The World Championships remain a big income earner for the UCI with CHF 15.3 million of income and only CHF 2.3 million of "direct competition expenses"
Road cycling accounts for two thirds of the World Championships income
After a shortfall from the 2011 Worlds in Copenhagen, the 2012 Worlds in Valkenburg brought in more a lot more income
Note the income of CHF 1.3 million from anti-doping fines, I believe most of this is from Alberto Contador's 2010 Tour de France clenbuterol positive
All this extra cash has swollen the UCI's balance sheet substantially. It is investing the spare cash in financial assets until the time it needs to spend it
On the spending side the marketing and communication budget doubled from CHF 0.9 million to CHF 1.6 million, a big increase but where it went would be interesting to know as 2012 didn't see a big change, at least when viewed with road cycling glasses on although  maybe the Olympics ate up cash. There's mention that "the amount of work for the Communications Department increased massively" but this presumably meant late nights rather than extra staff?
"Fees and expenses" jumped from CHF 0.7 million to CHF 3 million and remember this is 2012 and before the aborted "Independent Commission" started to bill for its time although it could include plenty of legal bills as the UCI tried to stall USADA's investigation into Lance Armstrong/US Postal
UCI World Tour
As the accounts say, the UCI WorldTour is not an independent legal entity, but an activity of UCI that is partly managed by an ad hoc committee, the Professional Cycling Council (PCC), that is under the responsibility of UCI's Management Committee.
Here you can see the funds paid in by teams, races and a contribution from the UCI too. The "legal and financial" cost is likely to be taken up Ernst and Young, an auditor, billing for its work to check team accounts as part of the annual licensing process.
In 2012 €200,000 was given to the Volta a Catalunya to cover the race's financial difficulties
Cycling Anti Doping Foundation
This is the anti-doping unit that is increasingly being moved out of the UCI, witness the move in September where Pat McQuaid stood down as a director to make way for independent experts. But there's a long way to go before anti-doping becomes truly independent from the UCI, on a small level its offices are down the corridor from President Cookson's office, more fundamentally it is funded by the teams, race organisers, riders and the UCI itself meaning it's dependent on rather than independent from on the UCI. In 2012 CHF 7 million was spent on the UCI's anti-doping programme. Here's a breakdown of the activity and funding sources: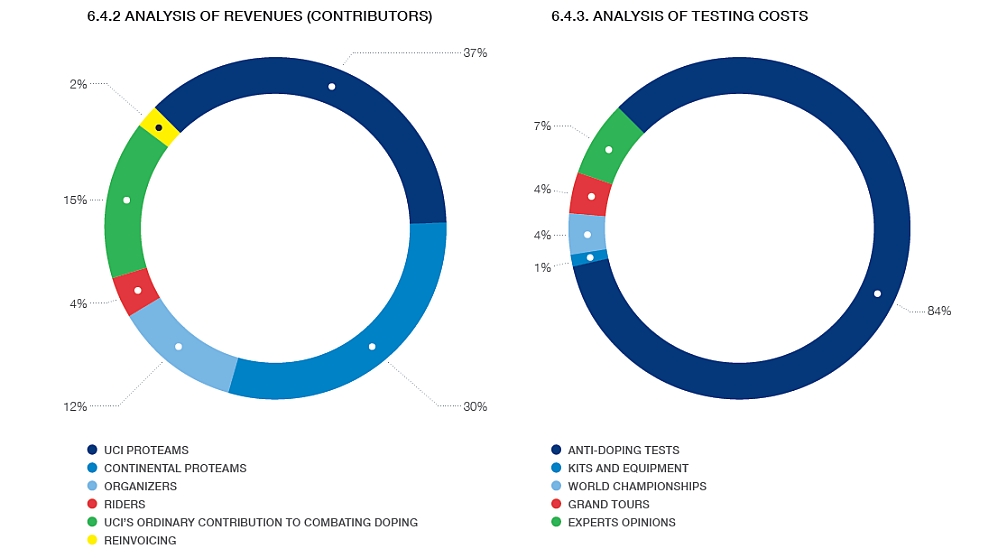 Global Cash Penalty
The UCI's venture into race promotion with Global Cycling Promotions (GCP), a wholly-owned business, has been a conflict of interest at best, putting it in competition with race organisers when it's supposed to sit above the sport. Witness the way it rushed the Tour of Hangzhou on to the World Tour calendar only for the race vanish before it even started because the agreements hadn't been signed.
Much of the impetus behind the Tour of Beijing came from Hein Verbruggen, a figure now vanishing from sight in cycling's rear view mirror but his legacy is proving costly here. In 2011 the UCI siphoned off €136,000 from the UCI Pro Tour Reserve Fund, the third consecutive year of subsidy. The good news is that in 2012 GCP is no longer tapping the World Tour for fund… … the bad news is that it's getting cash direct from the UCI accounts and in 2012 GCP was awarded CHF 600,000 but still finished the year at a loss. GCP was once promoted as a means to generate income for the UCI.
It's possible GCP turns a corner and makes a profit but it's role as an events promotion activity just sits at odds with the fundamental task of a governing body and it'll be interesting to see what Brian Cookson does with it, I suspect the accounts for 2013 will be of greater interest.
From McQuaid to Cookson
Next year should see the accounts come out faster if Brian Cookson meets a specific pledge to speed up publication. McQuaid has left the UCI in good financial health but that might be thanks to others, the accounts were not his strong point as he revealed in a WADA Committee meeting:
Mr McQuaid said that he did not normally get involved in financial discussions as he was not a finance person and never had been ; he could not even understand budgets.
Summary
The 2012 Olympics provided more than gold medals. The UCI has set aside half of the income to create a steady annual flow of money, it did this with the 2008 Beijing games too. No doubt the velodrome provided a good share of income but men's pro road cycling continues to provide the big audiences, the big TV deals and the big team licence fees.
But strip out the one-off bonanza from London 2012 and the UCI's annual budget is less than Team Sky's spend; cycling's governing body has money to spend but it's budget is modest compared to other actors in the sport like ASO, RCS or the big pro teams.
GCP remains a concern, it's losing cash every year and the cash consumed in 2012 is three times the emergency payment needed to keep the Volta Catalunya going. If GCP wasn't owned by the UCI then it's very unlikely it would ever get continuous funding from the UCI.
Beyond this the salary cap proposal is an interesting one but it will be very hard to implement, European laws don't permit this and if teams subscribe to a pact, a rider is of course free to get additional sponsorship.
Footnote: Here are the exchange rates used at the end of 2012: USD / Swiss Franc CHF = 0.9153; EUR / CHF = 1.2067. The full annual report is available online at http://www.uci.ch/docs/UCI_AnnualReport_2012.pdf (PDF).