A straight battle between Mark Cavendish and Peter Sagan? That seems to be the settled view. But how does the route suit each rider and what of other contenders?
The more you look at the 2013 Tour route, the more chances Mark Cavendish will have but if he's good, he's got plenty of competition from others. The Tour de France is arguably the only race of the year where we get to see all the top sprinters in competition.
A contest of arithmetic
Points are awarded on the finish line and the single intermediate sprint. Crucially more points are available at the finish for a flat stage than a hilly one. On a flat stage the first three get 45, 35 and 30 points with points down to 15th place whilst on a hillier stage the first 15 get points too but with 30, 25 and 22 for the first three. And on the mountain stage there are even fewer points available. The intermediate sprint offers 20 points for first place with again points for the first 15. The full scale and the stage rankings, aka "coefficient" is listed over at inrng.com/tour.
If there is addition, there is subtraction too. Ask Matthew Goss who was docked 30 points after switching in the sprint.
Note the bias towards pure sprinters. In practical terms a finish for Mark Cavendish earns more points than an uphill finish for Peter Sagan. In total there are eight Coefficient 1 stages with maximum points for the green jersey whilst only three Coefficient 2 and 3 stages.
Mark Cavendish is my choice for green. Given the number of pure sprint finishes, the extra points available and a strong team he is the prime pick. He's also a rider who seems to be improving every year, I'm impressed by his athletic ability whether in team time trials or the ability to finish the Giro when he could have gone home mid-race. Already in fourth place on the count of Tour de France stage wins he should add more wins and take home the green jersey. The Omega Pharma-Quick Step team is very strong on paper, especially if Tony Martin and Sylvain Chavanel are deployed to control breakaways before Niki Terpstra, Gert Steegmans and Matteo Trentin work as the boosters on the sprint rocket to launch Cavendish.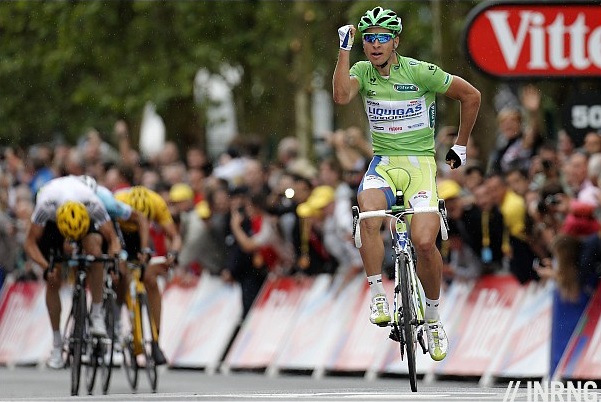 Peter Sagan won last year and is another obvious pick. It was so easy last year he was planning his victory salutes in advance with a committee of friends. But this year's route is less suited to him. He will need to score points in the bunch sprints, to top-up on the hillier days with stage wins and mop-up the intermediate sprint points on a mountain stage or three. Sagan's problem here is that if he can be fast enough to win bunch sprints it's easy to imagine Cavendish and Greipel beating him. Plus there aren't many Sagan-esque stage finishes where he can win whilst the pure sprinters are dropped. He could score in Corsica but by the time Stage 14 to Lyon arrives, the GC will have big time gaps and a breakaway is likely to go up the road, it's hard to see Cannondale contain the race and besides, the finish might not even be tough enough to drop the likes of Cavendish. This isn't to write him off, just that he's got fewer chances this year.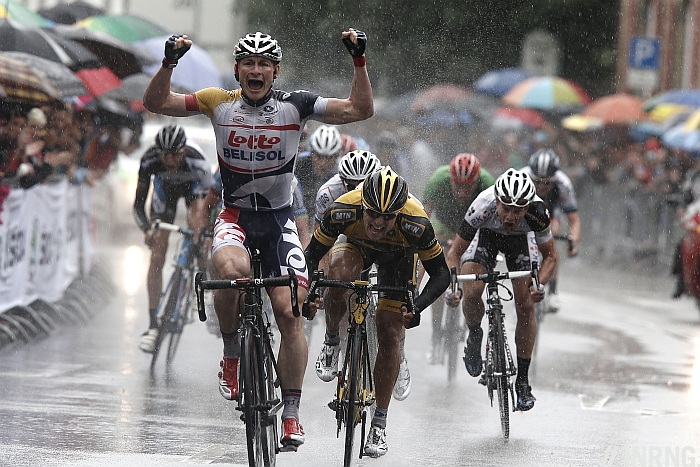 Competition
The contest should be more than a duel. Peter Sagan was well ahead last year whilst Mark Cavendish was fourth in the points standing. André Greipel was second and the new German champion is one of the few riders who can beat Cavendish, we saw this in the Tour last summer.
Missing last July was Marcel Kittel. He was in the race but whilst his rivals were applying themselves, stomach problems meant he was applying the brown chamois cream. He's got the pure speed – he beat Greipel and Cavendish in the recent Ster ZLM Tour – and comes with a dedicated team, including John Degenkolb where it will be interesting to see how the pair work. Degenkolb copes well with uphill finishes and won five stages in the Vuelta last year and one in the Giro this year.
Matthew Goss has to come good sometime. But he's won fewer races with Orica-Greenedge in 2012 and 2013 than he took with HTC-Highroad in 2011 when he was the team's second sprinter to Mark Cavendish (and John Degenkolb was there too). But if the wins have not been prolific, the points are and he's a regular in the top-5. Another outsider is Katusha's Alexander Kristoff, a fast-finisher who is only getting better and the Norwegian is versatile for the uphill sprints too. Compatriot Edvald Boasson Hagen is worth a mention, he's likely to be on team duty although a stage win is possible.
Now perhaps you might not think of Goss, Boasson Hagen or Kristoff as green jersey contenders but they can spoil the ambitions of others. A stage win for Boasson Hagen could come at the expense of Sagan. So all these names mean points are spread across a wider mix than the Slovako-British duopoly.
We'll also see others sprinting. FDJ bring Nacer Bouhanni for his first taste of Le Tour and he's proved able to win big but has yet to become a peer of Cavendish and Greipel. Lower down the pecking order come Tony Gallopin (Radioshack-Leopard), Boy Van Poppel (Vacansoleil-DCM), Daniele Bennati (Saxo-Tinkoff), Julien Simon (Sojasun) and J-J Rojas (Movistar).
Can a climber win?
Some call the green jersey "the sprinter's jersey" but strictly-speaking it's the points jersey. However given the points for a flat stage are double those of a mountain finish it means Chris Froome or Nairo Quintana would have to win every mountain stage and time trial just to be in contention. Therefore the green jersey in the Tour is unlike the red points competition in the Giro or the Vuelta's green jersey where a GC contender or a climber can be in contention during the final week.
Intermediate Sprints
There's only one per stage. With its hoardings, gantry, crowds and fixed TV camera the intermediate sprint in the Tour can look more impressive than the finish of many another pro race. We will see riders sprinting if points are available but often a break will go and mop up the points.
Risk
Sprinting can be risky given the speed and tension. A flick here and a rider loses position and therefore points. Crashes are common, at best the rider gets up and makes it to the finish but cannot score points, at worst they can leave the race for good. So all the above scenarios need to be discounted for the dangers involved. Cavendish does seem to defy the odds but cannot be immune.
Summary
Beaucoup sprint finishes and few mid-mountain days mean the balance is tilted away from Peter Sagan towards a pure sprinter like Mark Cavendish but the British champion will find many rivals in the sprint every day. A spill or a commissaire could change the maths for green. Rather than see the race as a duel between two riders the only certainty is that the Tour de France sees nearly all the best sprinters in competition together.