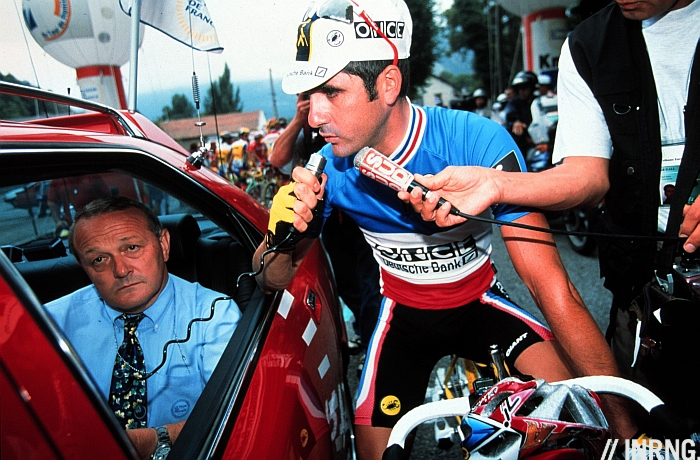 L'Equipe reports Laurent Jalabert tested positive for EPO after tests were done on samples collected from the 1998 Tour de France. Like many a scandal it's not the evil deed but the cover-up that causes controversy. A pro cyclist from late 1990s using EPO? Big deal. But a contemporary media figure stuck in a tangled web of half-truths and denials? Awkward.
But look beyond the headlines and the promise of sample storage is an added deterrent. Whilst many in France shoot the messenger, being able to test samples from the past is an advance, the only problem is that the test results needed an enquiry by the French senate to link names to the positive sample. More names are coming.
Jalabert et les autres
A batch of samples kept from this race were retroactively tested for EPO as part of a research project to validate the urine test for EPO. Done anonymously so no rider could be caught at the time it turned out so many samples tested positive for EPO that the doctor in charge wondered if the testing was wrong. It's believed 44 out of 60 samples tested positive for EPO, then being over the 85% threshold for the isoform, a threshold that has since been reduced.
But back in the day there was no test for EPO and its use was widespread. Remember this was the Tour where Festina were ejected, and Marco Pantani was probably injected on his way to winning. Laurent Jalabert himself left the race along with his ONCE team in protest. It is similar to Lance Armstrong's positive EPO test from 1999 that was splashed on the front of L'Equipe after his retirement in 2005.
Nor should the timing of Jalabert's positive come as a surprise. The French Senate is enquiring into doping in sport and when "Jaja" was appearing in front of the senators in a public hearing he was told the samples from the past were being linked to names, for example Velonews ran a piece with the headline "French legislature could match 1998 Tour samples with names."
Jalabert's appearance at the Senate was surprising, a case study in verbal sidestepping for students of Machiavelli. He downplayed his win in the 1995 Vuelta, suggesting his rivals weren't that good and when asked about doping he said he never went out of his way to hire an infamous doctor or buy EPO for himself. But as we know, ONCE was like Festina: they kept it all in-house, whether the team doc buying EPO in bulk to inject most of the riders. Scottish journo Kenny Pryde examines Jalabert's stance in full on his site. All the ambiguity of the Senate hearing now collides with the positive test.
All in the past?
If Jalabert is just a figure of the past, think twice. Yes he was trying to stay with Pantani on the road to Oropa or fighting for stage wins in Paris-Nice against Armstrong and that was a long time ago. But today he's a media figure and one of the voices of cycling in France. He's just stepped down as the French national selector but better known to the French as the co-commentator for France Télévisions' cycling coverage and during the Tour de France he has his own radio show, "Club Jalabert" on RTL, France's biggest station.
It's here Jalabert's problems begin to build. His authority as a broadcaster takes a hit. First because of the damage done by the headlines about doping. But second because his denials see him caught, unwilling to admit but not firm enough to deny. Unable to come clean under oath in the solemn setting of the senate, how can he talk straight about a race? If he can't discuss his own practices, is is able to comment on doping scandals in the sport?
Now I think he probably can provide race commentary. L'Equipe's story probably ranks alongside last Saturday's "confession" by Jan Ullrich for the surprise factor amongst season cycling fans. But the wider public might feel let down by these "revelations." We'll see what his employers do but note some of those who have confessed have lost their jobs, for example Michael Boogerd and Danny Nelissen in the Netherlands.
There's also the potential for media mischief. With several radio stations competing for audience share, giving RTL a good kicking over Jalabert might be tempting. You could say the same for TV where Eurosport offers rival coverage to France Télévisions… only the channel has Richard Virenque.
The Fridge That Rattles in the Night
When it's quiet at night you can sometimes hear the fridge in your kitchen whilst you lie in bed. Now the dodgy riders get the same treatment whilst they lie on the airwaves. A fridge full of their blood and urine rattles away in some distant lab and it could stop a few from sleeping well at night.
We should celebrate the storage of samples. Indeed the French Senators had found one attendee offering advice that "maybe a sample should be kept to analyse later." The name of this sage? Laurent Jalabert. But we can lament the time it's taken to connect names to the samples. If only more retro-tests were done although WADA agrees, the principle of retesting is accepted and Russian cyclist Alexandr Serebryakov looks to be caught by this.
Conclusion
French uses two main forms of the past tense, the passé composé and the passé imparfait. As Jalabert's past catches up with him his denials don't look so composed and his explanations about unknown injections seem imperfect.
But those sharpening pitchforks to stick into L'Equipe or Jalabert should note the French senate warned this would happen and if Jalabert is named today, the problem was systematic with the ONCE team and the sport as a whole. We can expect others from 1998 and 1999 to be named. Hopefully they have time to prepare themselves rather than resort to denials that border on comedy.
Coming just days ahead of the tour this brings all the wrong headlines but longer term the storage of samples needs to become a firm policy in order to make the present and the future less tense.