A media and business theme to this week's shorts. There's been plenty of satisfaction in Italy with Vincenzo Nibali's Giro win. A home winner is always going to pull in the crowds but his punchy style has been a real draw for TV audiences. La Gazzetta Dello Sport reports an average daily TV audience of 1.56 million on RAI, up 16% on last year. The audience peaked at 4.3 million for last Saturday's stage finish at the Tre Cime di Lavaredo. This means over a third of the TV audience, an impressive stat.
There were big crowds for the finish in Brescia too. If the start of the 2014 race is the odd choice of Belfast, the finish town is not certain. As for TV audiences, the numbers above are before you add on all the other channels carrying the race around the world.
RAI did a great job filming the race in HD and I enjoyed the commentary from Francesco Pancani and the well-informed ex-pro Davide Cassani as well as the post-stage "Il processo alla tappa" show. Il processo has a long history and was one of the first sports TV broadcasts to use slow motion and other production techniques to analyse the day's racing. We can sometimes take this insight for granted but it was a radical innovation at the time.
Did you watch BeIn Sport?
I'd be interested to know the views of US readers who watched the Giro via BeIn Sport. The Qatari channel bought the rights to the Giro in France as well and I caught some of their French language coverage and it was excellent. They'd clearly deployed a significant budget to have pre-race commentary then excellent live commentary, followed up by a roving reporter on the finish line to interview riders. With the race over they returned to Paris for post-stage studio commentary from a panel of experts. This is cycling coverage as it should be and well ahead of French TV's Tour de France coverage.
L'Equipe


The best coverage in France is usually found inside L'Equipe. Philippe Brunel's pieces during the Giro were excellent and the paper's coverage of the Tour de France is the best. But the paper is suffering from falling sales as the chart above shows. French business newspaper Les Echos reports the newspaper is undergoing big changes to be revealed in July.
Makarov's $3 billion deal
Talking of the business pages, Russian oil and gas company Rosneft is to buy Itera, the company founded by Igor Makarov, the Katusha team owner, UCI management committee member and boss of Russian cycling. Reports in the Kremlin-konnected Kommersant and relayed in Reuters say Rosneft will buy out Makarov's remaining 49% holding in Itera for around $3 billion, making him the wealthiest man in pro cycling.
Makarov gets to cash in and probably doesn't have much choice. His company flourished but got squeezed by the rise of Gazprom and the Kremlin made Itera a deal it could not refuse. Makarov's kept his political pals onside by various patriotic duties including running Russian cycling but as the results show, the Katusha team's results have yet to match its budget. The team is very dependent on Joaquim Rodriguez for its results, in other words its Russian cohort doesn't bring much to the table although if they're patient it will work.
Trek to take over Radioshack
In money terms Flavio Becca's small fry compared to Igor Makarov, but the Luxembourg entrepreneur is still very wealthy. Only he's surely poorer after years behind the Leopard team in its various guises. A report by Stephen Farrand of cyclingnews.com says Trek is to take over the team for 2014. If so it marks the return of another industry sponsor to the sport with several teams named after cycle manufacturers. In a way it's good, teams represent the bikes they ride rather than flooring products or laminated steel but it shows the problem our sport is having when it comes to attracting outsiders to join in.
Schleck's Kit
It will never get boring! Car running me over in early training ride. Outsch that hurts. twitter.com/schleckfrank/s…

— fränkschleck (@schleckfrank) May 27, 2013

Frank Schleck got hit by a car yesterday. I wish him well. The picture shows him in Radioshack kit and I've had several questions from readers asking why he's wearing Radioshack-Leopard kit during his ban. Well the answer is he can wear what he likes, the ban does not impose clothing conditions only that the athlete cannot take part in competition or events. Events are not just cycling-related, Movistar once had to reschedule their team presentation as they planned to make a big show of Alejandro Valverde but he was still under a ban and therefore unable to take part in this promo event.
WADA vs Di Luca?
On the subject of banned riders, note Danilo Di Luca's A-sample test for EPO was conducted in the Cologne laboratory rather than Rome. Was there a reason to send the samples elsewhere? I don't know. But I gather WADA is working with the German lab to improve the EPO test with the goal to detect so-called microdosing. The procedure involves conducting several tests for EPO and then applying a statistical analysis to the results to deduce EPO use.
I don't know what the deal is with Di Luca but the Institute of Biochemistry at the Deutsche Sporthochschule Köln seems to be leading a lot of the anti-doping developments, it's done work to validate a test for AICAR too.
Quiet week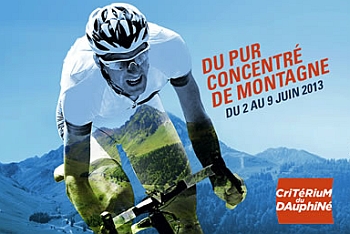 There's a lull in the racing this week with only the Tour of Estonia starting on Thursday… until the Critérium du Dauphiné starts on Sunday. The race is one of my preferred races, a mini-Tour de France that edits out many of the dull roads that the Tour is obliged to visit in order to lap France. This year's Dauphiné is particularly hard as even the stages promised for the sprinters are harder than they look. The race will let us judge the relative form of riders like Chris Froome, Alberto Contador, Alejandro Valverde, Joaquim Rodriguez, Jurgen Van Den Broeck, Andrew Talansky, Nairo Quintana, Pierre Rolland and more. There will be daily stage previews of the race.
Dauphiné vs Suisse TV timing
The Dauphiné and the Tour of Switzerland clash, although just for one weekend. I've not sure about overlapping these two races but they both function as excellent races in the approach to the Tour de France.
One thing to note is that if you're planning to watch the Dauphiné race note that the stage finish each day is planned for around 2.45pm each day, much earlier than usual. This seems to be designed to prevent a clash with the TV schedules for the Rolland Garros tennis tournament. By contrast the stages of the Tour of Switzerland will start around this time each day with the stage finishes due to finish soon after 6.00pm each day.
2r Mag


Finally a reminder that if you have an iPad then you can get pleny more cycling coverage via 2r magazine. It's now available for iPhone users too. The format's moved to a twice monthly edition so my columns in there are in alternate editions. But never mind my words, read the latest edition for the wide-ranging Marco Pinotti interview or to see what Dan Martin, Theo Bos Lars Boom would do if he was President of the UCI for a day.