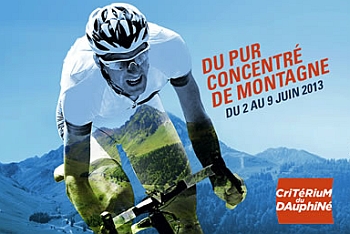 A miniature de Tour de France concentrated in the Alps, there's something for everyone in this race with its variety of stages although 2013 is particularly mountainous. The race normally captures France in the summer but the wet spring looks set to continue into June.
We'll soon discover the relative form of Chris Froome and Alberto Contador but if these two are the prime picks, there's a big cast of contenders with Alejandro Valverde, Joaquim Rodriguez, Andrew Talansky, Jurgen Van den Broeck, Tony Martin and many more.
Here's a preview of the race including with a short take on each stage plus a look at the likely contenders and plenty more including the new TV schedules.
Stage 1 | Stage 2 | Stage 3 | Stage 4 | Stage 5 | Stage 6 | Stage 7 |  Stage 8 |
Route Summary | The Contenders | The Jerseys | TV Viewing | Rider List | History |
There will be a daily "Spin" preview of each stage but here's an overview of the race with additional information.
Admin: you're reading a blog post which is a copy of the the permanent page at inrng.com/dauphine with the same information but which will be updated with the startlist and rider abandons. Bookmark it or use the navigation bar at the top of the page:


| | | | |
| --- | --- | --- | --- |
| Stage 1 | Sunday 2 June | Champéry > Champéry | 121km |
| Stage 2 | Monday 3 June | Châtel > Oyonnax | 191km |
| Stage 3 | Tuesday 4 June | Ambérieu-en-Bugey > Tarare | 167km |
| Stage 4 | Wednesday 5 June | Villars-les-Dombes > Parc des Oiseaux | 32.5km TT |
| Stage 5 | Thursday 6 June | Grésy-sur-Aix > Valmorel | 139km |
| Stage 6 | Friday 7 June | La Léchère > Grenoble | 143km |
| Stage 7 | Saturday 8 June | Le Pont-de-Claix > Superdévoluy | 187.5km |
| Stage 8 | Sunday 9 June | Sisteron > Risoul | 155.5km |
| | | | |

Route Summary
This is a mountainous edition with very few opportunities for the sprinters as even the apparently easy stages head for the hills, meaning opportunities for the likes of Edvald Boasson Hagen and Gianni Meersman but their teams will have battle to control breakaways.
Stage 4 is a 32km time trial to set the tone for the race and give us a hint ahead of the Tour de France so if the time gaps won't be too big we'll get a good insight into rider form.
There are two pure summit finishes and one uphill finish after a big mountain pass. But all of these are on big ski station access roads built to ferry coachloads of tourists which suggests the race is for an all-rounder, someone who can take time in the time trial and then turn on the power for the summit finishes, they'll certainly need to have their climbing legs but for the most part this is not the Giro where double-digit gradients mean riders are using compact chainsets to scale the slopes. It's also a course to suit the big teams who can deploy their mountain trains to pace their leaders.

The Contenders


Chris Froome comes with a strong Team Sky looking to repeat last year's performance by Bradley Wiggins although the 2012 route was different, dominated by a giant time trial followed by much less climbing. But with wins in the Tour of Oman, the Criterium International and the Tour de Romandie, Froome seems to be copying the Sky plan from last year of winning all the way to the Tour without fear of peaking too early. He comes with a strong team including his Tour de France "bodyguards" Richie Porte, Vasili Kiriyenka and David Lopez and there's Edvald Boasson Hagen for team work and sprint wins alike.

Saxo-Tinkoff's Alberto Contador has yet to peak this year, in fact we've hardly had a peek at him in races this year but when he has raced it's been solid stuff, fourth overall in the Tour de San Luis, second in Oman, third in Tirreno-Adriatico and fifth in Pais Vasco. It's all good but we've grown used to him winning and arguably he's not the same in time trials as he was when coached by Pepe Marti so it'll be interesting to see how he fares in the time trial on Stage 4 as it's pan flat and not suited to him. He comes with a strong team with Michael Rogers and C-A Sorensen.
Movistar come with Alejandro Valverde as well as a several girini like Capecchi, Inxausti and Cobo. Katusha bring Joaquim Rodriguez. We'll see Rodriguez and Valverde lose time in the time trial but they should be climbing well and are obvious candidates for the mountain stages.
OPQS bring Gianni Meersman for stage wins and Tony Martin will surely obliterate everyone in the time trial but how will he climb? He was off the pace in Romandie but could find the climbs more suited although I would not pick him to win the race overall. The Belgian team also come with young talent Michał Kwiatkowski. Talking of other white jersey contenders, Garmin-Sharp come with Andrew Talansky who won the Tour de l'Ain last year and some of the roads here could be familiar to him. Other young talents to watch are Blanco with T-J Slagter. Argos-Shimano's Warren Barguil has been hit by injury, as soon as he turns on the power he gets back pain; if not Reinardt Janse Van Rensburg is one for sprint finishes.
Turning to the French teams, Cofidis bring their A-team with Jérôme Coppel, Chris Le Mevel, Yoann Bagot and Dani Navarro all capable of stage win whilst the enigmatic Rein Taaramae can finish on the podium. FDJ bring sprinter Nacer Bouhanni but climber Kenny Ellisonde is the one to watch, although he's perhaps more a pick for the Vuelta? Europcar have Pierre Rolland and Thomas Voeckler, Rolland first became France's next big thing in 2008 when he took the mountains jersey in the Dauphiné and aged 26 he's still just about got this label. Don't expect too much as he was off the pace in the Dauphiné before shining in the Tour although the 2013 Dauphiné suits him more. Watch Eritrea's Natnael Berhane, impressive in the Tour of Turkey. Remember Christophe Kern? He won a stage in the Dauphiné in 2011 and has a big engine but it's coupled to a weak knee.
Don't forget Jurgen Van den Broeck. He won a Stage of the Dauphiné in 2011 and it remains his only win, an incredible stat for someone who finished fourth in the Tour de France last summer. In other words he can climb and time trial with the best but his victory salute is as elusive as a Yeti.
Finally Vacansoleil-DCM bring plenty on paper with Lieuwe Westra, Thomas de Gendt, Wout Poels and a returning Johnny Hoogerland. You almost want them to win but statistics are against them, the team has had only two wins this year. One of these wins came via Westra in the Tour of California where NetApp-Endura impressed so watch out for Leopold König and co. BMC's Thor Hushovd has declared himself to be in great shape so we'll get confirmation or otherwise. Astana's main man is Jacob Fuglsang, the Dane has been off the radar a bit this year but first appeared on the radar after fifth place on Mont Ventoux in the 2009 Dauphiné. Radioshack had a disaster in 2012 when Andy Schleck crashed out, this time Tony Gallopin is one to watch as he can sprint but seems capable of more. Lastly Orica-Greenedge come with Simon Gerrans and Michael Matthews, stage win picks perhaps?

Stage 1 – Champéry > Champéry, 121km


A tricky opening stage with a climb to heat things up right at the start and then the Col du Corbier which probably doesn't merit the first category label but remains a proper Alpine climb into the Abondance valley before an uphill finish.

Stage 2 – Chatel > Oyannax, 191km


Listed as "en-ligne" this is really a medium mountain stage with a selective final 50km where riders and teams could do real damage if they work at it. A series of climbs and descents should thwart many sprinters before the race reaches Oyonnax, a town long famous for plastics and once the home of Bollé, the sunglasses company but a place where industry is on the slide after numerous factory closures. It's also the setting for one of the few well-regarded literary works to feature cycling: Roger Vailland's 325,000 francs.

Stage 3 – Ambérium > Tarare, 167 km


Another day, another town struggling to make its way as Tarare was once a major centre of textiles in France but has struggled to cope with factory closures. But someone will manufacture a win here. The Col des Sauvages is not as wild as it sounds, only 4km at 5.5% but it's near the finish meaning the sprinters will be tested. It's also the sister climb to the nearby Col du Pin Bouchain, the very first col ever used by the Tour de France in 1903.

Stage 4 – Villars-Les-Dombes – Parc des Oiseaux, 32.5 km TT


A time trial that a copy of Stage 11 of the 33km Tour de France between Avranches and Mont St Michel only this one is even flatter passing through a wetland area that's a big habit for migratory birds. We'll see who amongst the GC candidates for this race and the Tour de France will take flight. Look closely at the profile, the course is so flat that a steeply banked velodrome provides more elevation. Here the slightest breeze will be felt.

Stage 5 – Grésy-sur-Aix > Valmorel, 138.8 km


The stage is so short that the race leaves the start town of Grésy to do a lap in the countryside before returning after 21km in order to add some distance. The race then crosses the Bauges mountains via the easy side of the Col du Frêne before driving fast to the foot of the final climb. The first summit finish of the race to Valmore awaits. It's 12.7km long at 7% and a big wide regular road, the classic kind you find in the Alps.

Stage 6 – La Léchère-les-Bains > Grenoble, 143 km


A day for the sprinters? The race could have stuck to the big valley roads but instead heads for the mountains for several climbs in the middle of the stage, notably the Col du Barioz, 7.1km at 7.3% on a rough and irregular road and the deviation into tough terrain continues. So if we get a sprint finish it'll be a good test of overall fitness rather than pure finishing speed.

Stage 7 – Pont de Claix> Superdévoluy, 187.5 km


A taste of the Tour de France with the race heading uphill from the start to tackle Alpe d'Huez as the hors d'oeuvre chased by the Col de Sarenne and its wild descent. Both of these will feature during the Tour de France. Then onwards via the scenic Col d'Ornon and the finish over the Col du Noyer to the ski station of Superdévoluy, a finish of 4km at 6%. If there's a stage to watch on TV it's this one as the views alone should be great.

Stage 8 – Sisteron > Risoul, 155.5 km


The final stage crosses the 2,000 metre threshold with the tough Col de Vars, 10km at 7% but with the last 4km at 9%. The finish to Risoul is much steadier, a big wide road for 13.9km at 6% for most of the way. The Dauphiné has visited before as has the Tour de L'Avenir when Nairo Quintana used this climb to win the race outright.
Jerseys
Yellow jersey: officially the maillot jaune et bleu, the yellow and blue jersey. It's for the overall leader in the race, designated by the shortest cumulative time for each stage. There are no time bonuses in the race. The final winner collects €16,000
Green jersey: the points competition. 15-12-10-8-6-5-4-3-2-1 points for the first 10 on all the stages including the time trial. There are 5-3-1 points for the first three at the intermediate sprints. The final winner collects €2,000
Polka dot jersey: for the mountains. Unlike the Tour this is a red jersey with white dots. Hors catégorie : 20– 18-16-14-12-10-8-7-6-5 points for the first 10 riders ; 1st category cols offer 15-13-11-9-8-7-6-5 for the first eight, 2nd category climbs have 10-9-8-7-6-5 for the first six, 3rd category climbs offer 4-3-2-1 and 4th category climbs have 3-2-1 points. The final winner collects €2,000
White jersey: for the best young rider overall, who must be born after 1 January 1988. The final winner collects €1,000
Stage winners earn €4,000. The sum total of prizes adds up to €125,000

TV Viewing
Live on French TV which means there should be a stream to watch and it's on Eurosport too as well as other countries around the world including NBC in the US and SBS in Australia. Subscribe properly rather than use a pirate feed and you'll be treated to an HD image.
If you've been scheduling things around the Giro for three weeks note the hours are different here. The stages will finish before 3.00pm Euro time presumably to avoid a clash with the Rolland Garros tennis tournament in Paris.

Startlist
pending publication but note the updated list will be maintained online at inrng.com/dauphine

History
First run in 1947 to celebrate the demilitarisation of the Alps following World War Two, the race was won by Franco-Polish rider Edward Klabinksi. It was organised by local newspaper le Dauphiné Libéré, itself named in celebration of the liberation. But three years ago it was bought by ASO, organisers of the Tour de France. As a result it's no longer called the Critérium du Dauphiné Libéré but the Critérium du Dauphiné.
Four riders have won the race three times Nello Lauredi (1950, 1951, 1954); Luis Ocaña (1970, 1972, 1973); Bernard Hinault (1977, 1979, 1981) and Charly Mottet (1987, 1989, 1992). In recent years winning the Dauphiné was seem as problematic as the victor peaked too soon but Bradley Wiggins' success last year could have changed perceptions.
Dolphin-Friendly

Dauphin means dolphin. How come a land-locked region of France is associated with a marine mammal? In the 12th century the local ruler Count Guigues IV of Albon bore a dolphin on his coat of arms, no doubt to signify his well-travelled status. Nation might be too strong a word but the Counts ruled over a separate fiefdom from the French kingdom nearby. But it became crippled by high debts and the rulers had to sell up. Some things don't change.