Time for the annual update on the wealthiest people in cycling.
If you thought this meant Alberto Contador, Mark Cavendish or Philippe Gilbert time to think again. They are mere millionaires riding in the service of billionaire team owners. And, new for 2013, the list is no longer exclusively male.
Andy Rihs – BMC Racing
Rihs – pictured above – is the Swiss owner of BMC and the big benefactor behind the BMC Racing team. Perhaps you've played in a fantasy cycling league like Velogames and wanted more credits to buy extra players? Rihs is playing for real and has almost limitless resources to fund the team. That's why he's got the likes of Cadel Evans, Philippe Gilbert, Thor Hushovd and more on his team.
Yet Rihs isn't wealthy thanks to BMC bikes. Instead he founded a hearing aid business that went from his garage to a global consumer healthcare giant called Sonova (formerly known as Phonak) and at the time of writing it is worth about US$7.5 billion. According to the Sonova Annual report Rihs owns 8.7% of the business, a stake valued at $650 million meaning he nets $7 million a year in dividends alone.
Rihs is quieltly growing BMC, you might be familiar with the brand by now but look at the 2013 team jersey and it features the names of BMC, Bergamont and Stromer on the left breast. They're all brands belonging to Rihs's BMC Trading AG, the bike company owned by Rihs. Bergamont sell mid range mountain bikes in Germany and into Central and Eastern Europe whilst Stromer is a premium brand of electric bikes.
You might also notice the La Coquillade logo on the jerseys, this is another venture of Rihs, with tourism and winegrowing in France not far from Mont Ventoux. He's also got interests in watch-making, normal since the BMC factory in Grenchen is near the Breitling HQ and this area of Switzerland is famous for its luxury timepieces. His latest project in the region is a velodrome and he's generously put up two million Swiss Francs to fund this and construction work has begun to make it happen
Igor Makarov – Katusha


Russian tycoon Igor Makarov is a contender for the richest man in the sport, only nobody knows how much he is worth. If you read the Tinker, Tailor, Cyclist, Spy piece you'll know he is part of Russian Premier Vladimir Putin's komanda of oligarch business owners. Makarov is probably a billionaire. He has appeared on Forbes' rich list in the past based on the value of his declared holding in ITERA but it is possible he has greater wealth. His wealth via corporate ownership and other dealings is not exactly transparent. One piece by the Jamestown's Institute's Eurasia Daily Monitor makes some bold claims:
According to recently acquired documents, Makarov is the Ultimate Beneficiary Owner (UBO) of a slew of companies affiliated with Itera, many of which are registered in the British Virgin Islands (BVI) and other offshore tax havens including Cyprus, as well as in the Czech Republic, Germany, Italy, Russia, and the UK (confidential documents obtained by the author).
The article makes some even more bold claims, but I'll leave those for now. Note the Jamestown Foundation is reputed to be a front for the CIA, a US intelligence agency. Either way, it is certain that he turned 50 last year owns several luxury properties including a villa on the shores of Lake Garda, just up the road from his Katusha team's service course.
Since last year there have been two important developments for Makarov. First Makarov has got richer thanks to Rosneft, Russia's second largest energy company, buying a six percent stake in Itera and launching a joint-venture with the new partner. Second, he's been busy on the cycling political front. There has been talk of a run for the role of UCI President, either by Makarov or his protégé Andrei Tchmil. Certainly this would be well-funded. But the busiest man in cycling – as well as running Itera, sitting on the UCI's board and owning the Katusha team, he's head of Russian cycling – might feel frustration given his Katusha team has been rejected by the UCI.
Oleg Tinkov – Team Saxo-Tinkoff


New for 2013 is Oleg Tinkov. Like Igor Makarov he's a former cyclist turned self-made Russian billionaire. Tinkov was in Uzbekistan for a race and spotted some blue denim jeans, then the height of fashion and above all very rare. He spent all his cash to buy four pairs of jeans and returned to St Petersburg where he sold them for four times their price and continued onwards to today via dumplings, breweries and now online banking with Tinkoff Bank, the co-sponsor of the Saxo Bank team.
But the similarities with Makarov soon stop. Tinkov is an outsider who often pitches himself against the Moscow oligarchs, a popular capitalist in the mould of Britain's Richard Branson with a similar eye for self-publicity. Here's a line from his biography:
"I want entrepreneurship in this country to advance so that fewer people work at Gazprom [the oil and gas monopoly] with fat faces and grey suits, and more people become young, innovative entrepreneurs"
He's already on to a new venture with Tinkov digital, an "internet incubator" that will buy purchase and develop new online and mobile advertising technology-based businesses, a joint venture with US bank Goldman Sachs.
A keen cyclist, Tinkov probably racks up more riding than all the others on the list combined, enjoy the roads that surround his villa in the Italian region of Tuscany. He'll be a regular at races this year and don't be surprised to see him dressed in team kit going for a recovery ride with his team. It's good publicity after all.
Kim Fournais and Lars Seier Christensen – Saxo Bank


If we have Oleg Tinkov, we must have Kim Fournais and Lars Seier Christensen, the co-founders of Saxo Bank who hold 60% of the business between them today.
The bank label can confuse. Like Tinkov, they've grasped that a bank is no longer a big building with a safe vault but a secure technology platform. But unlike Tinkov, they sell sophisticated financial products, acting as a brokerage and technology platform. The pair met in London and 20 years later have a financial services giant that puts each of them amongst the very wealthiest in Denmark. Saxo started as a brokerage but the pair were quick to harness the infant internet for the business.
Christensen and Fournais are outspoken types, reaching beyond finance to comment on Danish politics, railing against Denmarks's socio-political model. Ayn Rand's "Atlas Shrugged" was translated into Danish and given to all employees. Perhaps this explains the rush to grow the business abroad? Either way their business has been buying up small companies around the world to enlarge the Saxo empire. Neither has a big cycling background but funding a team has been a useful way to spread the Saxo name from Denmark to Europe and now beyond and they've proved a resilient sponsor over the years, supporting Bjarne Riis through thick and thin.
James Murdoch – Team Sky
The younger son of Australian-American media mogul Rupert Murdoch, James is a British citizen and keen cyclist, a factor behind the creation of Team Sky although Sky seem keen to play this down.
The British-based satellite TV company Sky is part-owned by the Murdoch family. It's been a tough year for Murdoch in Britain and he stood down from his role as Chairman of BSkyB following a scandal over media ethics and the cycling team was probably a ray of French sunshine for Murdoch during a dark year. As displayed on here last August BSkyB is the prime contributor to Team Sky and some have wondered if James Murdoch's departure will have a negative effect. But it seems the team is generating so much publicity that this is out of the question. BSkyB spends billions on marketing so having the strongest team in the sport is cheap and cheerful.
James Murdoch is not in the same league as Rihs or Makarov in terms of asset wealth but can call on the influential media empire for support. for now but his ultimate wealth depends on the performance of News Corp and the will of Rupert Murdoch; he could inherit a business worth billions at some point in the future.
Marc Coucke – Omega Pharma-Quickstep


A pharmacist by training, Coucke co-founded Omega Pharma in 1987. A cycling fanatic, he has sponsored several cycling teams and today he has the likes of Mark Cavendish, Tom Boonen and Tony Martin riding, literally, in his colours.
During 2012 Coucke bought back Omega Pharma from stockmarket in a bid worth some €880 million although he didn't front up the cash, instead he was borrowing the money. The company was amongst the BEL-20 index of companies in Belgium and now Coucke personally owns a large consumer healthcare and para-pharmaceutical business empire.
A maverick at times, Coucke is known for his loud suits and pink shirts but doesn't always live the life of a tycoon. Riders have learned that he is famously tough on prices and wages; he refused to pay the wage demands of Philippe Gilbert and in 2009 gave up his Bentley for a Skoda.
Zdeněk Bakala – Omega Pharma-Quickstep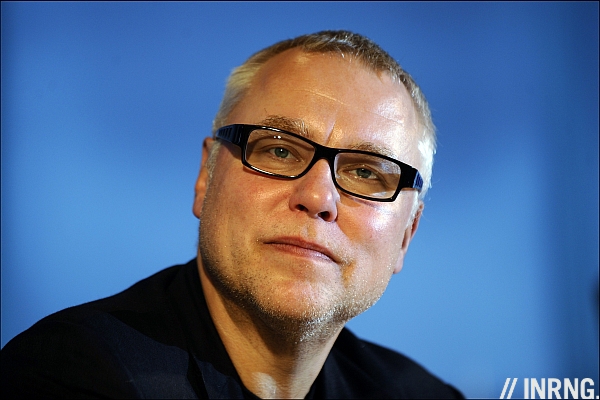 Co-owner of the team with Marc Coucke, Bakala is a billionaire financier from the Czech Republic and sits on the Forbes list of the most wealthy people in the world. He crossed the Iron Curtain for business school education in the US and then became an investment banker and soon returned to open the offices of Credit Suisse, a Swiss bank, in Prague, then at the frontier of capitalism. In time he then started his own bank and later sold this to a Belgian bank to make his fortune.
He then parleyed this capital in to a range of businesses interests from mining to restaurants, including one of Europe's largest coal and iron operations in Ukraine and Poland. Business New Europe described the deal in their September 2008 edition:
Zdenek Bakala… is widely regarded as having pulled off one of the deals of the decade by doing a leveraged buyout of the coal miner for a reputed €400m in November of 2004, then set about stripping out assets worth around €2bn, and then flogging off the remains to an eager market that valued the firm at €4.5bn.
He bought the Quickstep cycling team with Bessel Kok, a chess-playing telecoms executive he worked closely with during an aborted bid to privatise the Czech national telecoms business. Indeed just as he tried to reshape the telecoms sector, he is working hard to reform pro cycling with the idea of simplifying the calendar and has an exclusive deal with the UCI to present his plans. This could be what the sport needs but a fear is that when a billionaire dangles money in front of the UCI the wrong decisions can be taken, but this is a story for another day.
He was instrumental in building the Havel library in Prague and organised the late Vaclav Havel's birthday party last year. He now lives with a former Miss Czechoslovakia and their three children.
Marie-Odile Amaury – ASO


ASO run the Tour de France and the A stands for Amaury. Amaury Sport Organisation belongs to the Groupe Amaury, a family business and Marie Odile took over the reins when her husband died in 2006. She's been labelled the organisatrice du Tour de France but there's plenty more to it as Amaury owns daily newspapers L'Equipe and Le Parisien, a combined circulation of over 800,000.
The Amaury family is reported to be the 136th richest in France. The question is whether she is in cycling? For example I've excluded wealthy manufacturers because they don't play much of a role in the sport itself. But ASO is incontournable as they say in French, unavoidable when discussing cycling. She was instrumental in ejecting Patrice Clerc from the Tour de France in 2009 after the Tour director took a strong and confrontational anti-doping stance that might look right now but was seem as bad for business. It was she who brokered a deal with the UCI, telling Clerc "I am the boss, I'm the one who decides."
"[The Tour de France] is at the centre of the group. I'm very attached to it."
At the same time the daily administration of ASO and it's stable of cycling races is left to others. Son Jean-Étienne is President of ASO and will one day inherit the empire. Despite owning a media empire she is discreet and interviews are rare. Aged 72 it is said she likes to listen to Led Zeppelin, Guns N'Roses, Metallica and AC/DC amongst others.
Michel Thétaz – IAM Cycling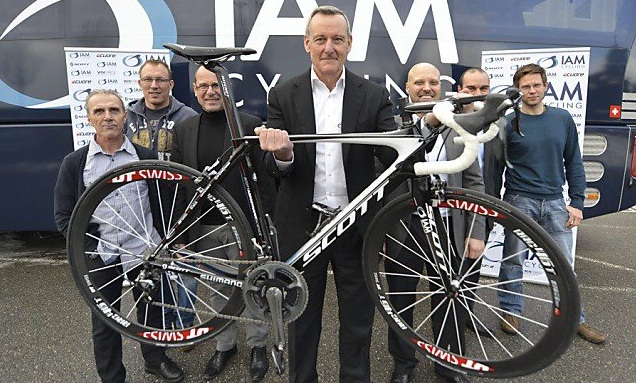 Another new edition for 2013 is Michel Thétaz. Aged 61, the Swiss man is behind new team IAM Cycling and worth reported at 200-300 million Swiss Francs. An estimate that Thétaz would surely frown on, first for its imprecision as he's made a career in financial services where exactitude matters and second because it's indiscreet to boast about money in Geneva, the city that thrives on offering discreet financial services to the wealthiest in the world.
IAM is a fund manager and Thétaz seems to be a Swiss version of Warren Buffett, a wise investor who avoids financial fashion. A proponent of "slow finance," he's criticised hedge funds as speculation tools, bemoans the easy money made by the explosion of financial services in recent years and takes a contrarian approach to investment, buying when others sell and avoiding the herd. Similarly much of the finance industry is built around predicting the future despite little evidence of predictive ability but Thétaz avoids this, saying "I'm no Madame Soleil", a reference to a once popular French astrologer.
He's a cyclist who rides 5,000km a year but investing in a team for publicity with a view to selling his funds to the general public in Switzerland and beyond. That wealth for now funds a second tier Pro Continental team although it is one of the stronger squads with ambition, Thétaz spent the winter trying to get Fabian Cancellara out of his Radioshack contract. But money can't buy everything.
Gerry Ryan – Orica-Greenedge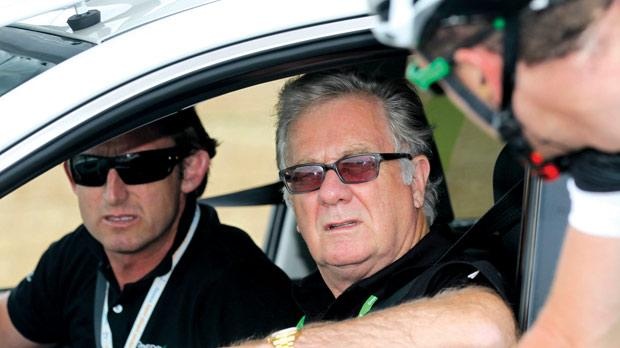 The Australian caravan king founded Jayco and is a long time supporter of cycling "Down Under". Today he is the man behind the Orica-Greenedge cycling team and still funding it until a co-sponsor is found. Reports have put Gerry Ryan's net worth at around $180 million Aussie dollars. Ryan's son Andrew is also closely involved in the Greenedge cycling project and Gerry said:
"my son Andrew whose role is sponsorship, has the greatest incentive to go out there and make it happen because it's his inheritance that I'm spending".
A sports fan Ryan has bankrolled many sports, a generous benefactor behind some sports and an investor in others. He's also funded non-sports activities and is the prime investor behind Global Creatures which owns the "Walking with Dinosaurs" franchise, placing Ryan as the biggest earner in Australia's entertainment sector, ahead of rockers AC/DC.
Flavio Becca – Radioshack-Nissan


The Luxembourg real estate and sporting mogul Flavio Becca remains in pro cycling. After launching in 2011 in front of Luxembourg's royalty, the Leopard team went from fanfare to, less than a year later, being folded into Radioshack. This was largely because the team did not attract a sponsor and Becca was losing a lot of money as a consequence. 2011 wasn't a vintage year for him after headlines in the autumn reported his home and offices being raided by police. 2012 went from bad to worse with Fabian Cancellara and Andy Schleck crashing just before their crucial races and Frank Schleck's doping test being unveiled in the stellar limelight of the Tour de France. Now the team is back with the Leopard moniker although an announcement about a new sponsor to accompany Radioshack is expected this spring.
Becca is the owner of several Quick burger bar franchises, a hotel and sports stadium in the Duchy. 2012 saw plans to build a new national stadium in Luxembourg stall. The decision by the Duchy's government to put the construction plans on hold meant Becca's plans for a shopping mall and other facilities crashed too. Worse the parties involved have been bickering and talking of lawsuits. A millionaire many times over, the native Italian somehow looks impoverished compared to some of the others listed above.
Out goes last year's surprise, Sergey Taruta of ISD, the man who got J-Lo to sing at his daughter's wedding. The steel magnate has stopped sponsoring Lampre with Asian carbon frame manufacturer Merida coming on board.
Commentary
This piece isn't a Forbes 500 version for pro cycling, nor a celebrity wealth watch to wow at their wallets. Instead I hope it explains the backgrounds of some of those sponsoring the sport, an introductory "follow the money". Bakala is probably going to be the name to watch this year as he oversees plans to redesign the sport.
I think it's great to see these people putting their money into sport. More ordinary people might play fantasy cycling or have a bet on a race but these team owners and sponsors are spending millions instead. If you were a billionaire, you might do it too. Each case is different, for example Marc Coucke will watch his team's budgets closely whilst Andy Rihs is building velodromes and Gerry Ryan funds a range of Australian sports.
At the same time these sugardaddies signal the absence of corporate sponsors, despite the giant publicity generated by the Amaury's Tour de France, naming rights and "real estate" on the team jersey often can't be sold. After all a billionaire can own a cycling team and rent out the space, something we see at Omega Pharma-Quickstep and that was the plan with Leopard. But in other cases scandal, demographics and the complication of the UCI licensing process can combine to scare away corporate brands.