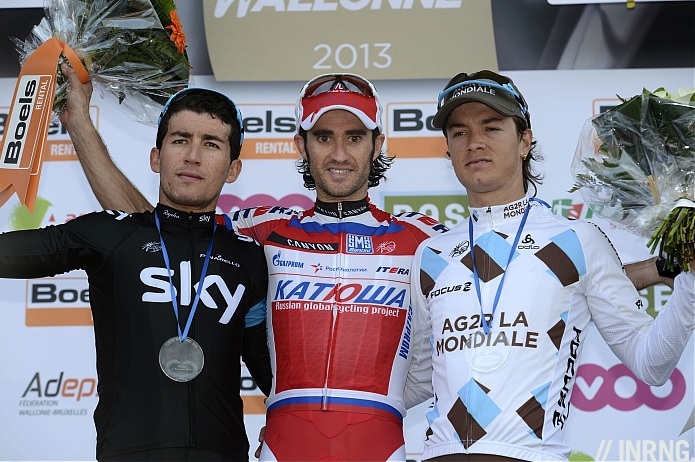 Sergio Henao and Carlos Betancur flank Dani Moreno on the podium. If all three speak Spanish, two are Colombians. It comes after several other remarkable results by Colombians this year, notably Nairo Quintana's win in the Tour of the Basque Country.
With the emergence of several Colombian riders this year I've seen many citing their nationality and background as a factor for success. In particular the altitude of several South American countries is cited as an explanation for improved performance. Does being born at 3,000m above sea level give you an advantage? Can living higher than the Passo Stelvio or Col du Galibier make a rider faster?
I come from a small village called Boyaca that is at 3,000 metres above sea level. Every morning I rode to school down in the valley 16 kilometres away. And in the evenings you had to climb back up home. We did the route with five friends. I was the strongest so I started racing. I did my first race aged 16 wearing football shorts and sneakers. That day I was bitten by the cycling bug.
That's Nairo Quintana speaking after his win in the Tour de L'Avenir in 2010. Did riding at high altitude from an early make him a better rider? I don't think so.
First a quick primer on altitude. Some people say air gets thinner the higher you go. But what we're really talking about is a lower partial pressure of oxygen with altitude. There's a linear aspect where the higher you get the more the partial pressure of oxygen drops although if it helps, it's said once you pass 1,500 metres above sea level the body begins to adapt and 2,400m is deemed "high altitude." These are easy labels of course because if you are at 1,499m and move to 1,501m you can't tell the difference. Also there are other issues once people go above 4,000m but that's well beyond any race.
Humans can acclimatise to altitude but having scanned the literature there's little permanent benefit. In other words you can go on an altitude training camp for a few weeks, you can stay for a few months or even a few years and your blood chemistry will adapt to the hypoxia from the altitude but once you go back down towards sea level the gains are lost. This is to skip over the subtleties of altitude training but for the sake of brevity, the gains, if you get them, can be totally lost in a month.
In fact Quintana lives in Pamplona, Spain where the elevation is about 450 metres. Even if his bedroom is on the top floor and he's in the hillier part of town he's sleeping no more than 500 metres. It's not just Quintana but Team Sky's Sergio Henao and Ag2r's Carlos Betancur all live in the same house along with the building owner Rigoberto Urán, Sky's mane man. In other words the childhood altitude is some 8,000km away and "base camp" for these riders is at a comparable altitude for almost every other member of the pro peloton.
Besides, be careful of the lazy assumption that all Colombians live at altitude. Yes there is the altiplano area and Colombian capital Bogota is at 2,600m but many other areas are much lower. The country has a fine Caribbean coastline.
Genetics
There are genetic gains for populations at altitude. One Italian study show people in the Himalayas, especially the Sherpas, have undergone some evolutionary gains to altitude. But a lot of Colombians are Spanish/European in DNA because of the conquistadors and colonialism. Even many of the indigenous "Amerindians" are believed to have settled on the high plateaus of Peru in the last 15,000 years compared to perhaps 500,000 that period for some people in the Himalayan regions.
Another paper compared the genomes of Tibetans to Han Chinese and found some adaptive changes. But it should be noted many would-be sherpas on lucrative mountain treks have to turn back because of the difficulty. Put simply just because someone is from Tibet doesn't mean they can carry big loads at altitude. By extension we can't equate being Colombian to being a mountain climber.
Environment and culuture
I could easily be wrong but for me Colombia is just a part of the world where cycling is popular. In a country where the sport has networks of clubs, teams and other structures then it helps to take ambitious young riders onwards to success. It's quite possible that the person you see on the bus, train or at work tomorrow has the DNA to win the Tour de France but they've never given sport a thought. By contrast in Colombia cycling is a way out, a way to earn a living.
Boyacá is where Quintana is from and Matt Rendell in "Kings of the Mountains" describes this as Colombia's mining heartland. The mines are always hard work and cycling has many tales of riders who escaped grinding poverty thanks to cycling. See Jean Stablinski or Tom Simpson for examples. It's not the altitude that makes riders, it's the climb out of the mine.
National Ramp Test
Cycling remains a popular sport in Colombia and the altitude has one obvious feature: climbing. There's no better way to detect ability than a long climb. On a hard mountain pass the benefits of sitting on a wheel vanish, it quickly becomes a personal test of power to weight. Assuming nobody is especially heavy then it's all about the natural ability to produce power and it only takes a few races to discover this. Or as Quintana's anecdote recounts, he crushed his classmates. This must have felt good so he persisted with the cycling.
The Counter Case
Let's take Alpe d'Huez as the proxy for cycling's ultimate summit finish. Which nation has won most often there? Hup, hup Holland. Yes, the a quarter of the Dutch nation is below sea level but it has produced eight winners on the Alpe, one more than Italy.
Beyond Cycling
Athletics has seen many Kenyan runners achieve success. The reasons for this are still up for debate. There can be genetic advantages, there are cultural values where importance has been placed on herding skills on foot and more recently children would run to school, those that got to class with ease would surely find a career spent running a natural choice.
Altitude plays a part, in fact European athletes have visited Kenya for altitude training. Also, journalist Hajo Seppelt – the man who flushed out Alberto Contador's positive test from the UCI – found doping was prevalent.
El Dopaje
Which brings us to the D-word. Colombia is not an island immune from doping. Meet Santiago Botero or Óscar Sevilla. But an interview with Carlos Betancur says one reason behind the Colombian resurgence is the retreat of EPO and blood doping. Here's an excerpt from Velonews
Betancur echoed a growing sentiment for why Colombian riders are suddenly doing well again in the peloton. One rationale for the recent Colombian boom is that the abuse of the blood-booster EPO has been greatly reduced in the peloton. With less EPO, the natural benefits of living 10,000 feet above sea level are once again becoming an advantage.

"With so many anti-doping controls and the biological passport, it's helping us because we live and train at altitude," he said. "So when we come down, it's a bit of an advantage for us."
The Antioquian has a point if riders are coming straight from Colombia. But if some do travel direct to races, several are staying in Europe for long enough to lose the advantage. Or in the case of riders like Urán, having to visit Tenerife for altitude. I'm wary of Betancur's hypothesis, it's a nice idea but I don't see why Colombians have been noble in their refusal to dope when huge sections of pro cycling have been caught in recent years. It might explain why Betancur is doing well because he's not having to race against supercharged riders but can it explain a national resurgence? Only if we see three or four riders as a national phenomenon.

Timing
There's also the boring aspect of timing. As discussed on here recently Nairo Quintana convincingly won the 2010 Tour de l'Avenir. The 2009 U-23 world championships saw Carlos Betancur cross the line with his arms high… although Frenchman Romain Sicard had been their first but Betancur was still on the podium along with Astana's Egor Silin. Looked at it another way these two won big as amateurs so pro success is no surprise.
Conclusion
Don't think of Colombians as some Amerindian race from afar. Because of history it's a much more complicated story. After all the country has a big coastline where many live at sea-level. But even if the champion cyclists inherited special DNA there are few gains from being born at altitude. Instead maybe it's the hard life and the popularity of cycling in Colombia that explain some things?
Perhaps the real story is our human frailty to look for comforting patterns? If several Colombians start doing well we search for unifying theory, a shared experience, an explanatory factor. But for now it's just three or four men succeeding in sport, hardly a statistically meaningful sample. Just because we see three or four Colombians winning does not make a pattern. It's as if we try to look at Australian cycling via Cadel Evans and Matthew Goss or British cycling via Mark Cavendish and Chris Froome when in fact their career paths are so different.
The only thing is that these riders are new and exciting. What ever might explain their success, it's good to watch.