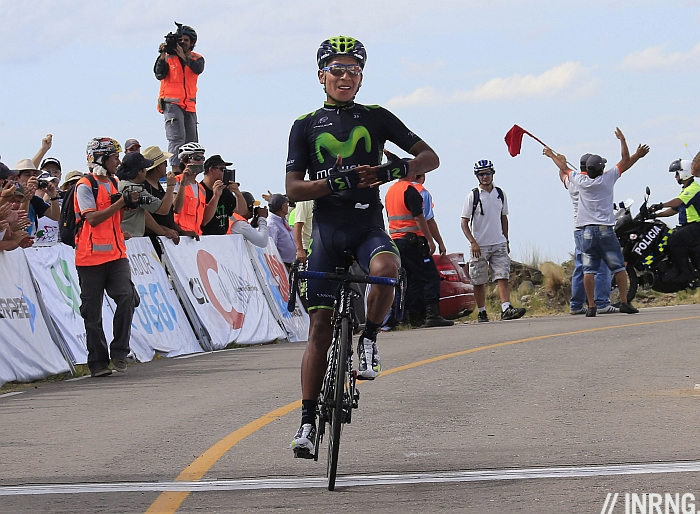 L'Avenir is French for "the future" and as the name suggests, the Tour de l'Avenir is meant to be reserved for the stars of tomorrow. With this in mind, time for a quick look back at the 2010 edition because it was dominated by the likes of Taylor Phinney, John Degenkolb, Andrew Talansky and especially Nairo Quintana.
Stage
1st place
2nd place
3rd place
Overall Winner
Prologue
Taylor Phinney
Alex Dowsett
Michael Matthews
Taylor Phinney
Stage 1
John Degenkolb
Michael Matthews
Michał Kwiatkowski
Taylor Phinney
Stage 2
Anthony Delaplace
Bert-Jan Lindeman
Romain Hardy
Alex Dowsett
Stage 3
Yannick Eijssen
Darwin Atapuma
Andrew Talansky
Yannick Eijssen
Stage 4
Romain Hardy
Romain Bardet
David Rosch
Yannick Eijssen
Stage 5
John Degenkolb
Jesús Herrada
Nélson Oliveira
Yannick Eijssen
Stage 6
Nairo Quintana
Andrew Talansky
Mikel Landa
Nairo Quintana
Stage 7
Nairo Quintana
Andrew Talansky
Jarlinson Pantano
Nairo Quintana
All pro
Every rider listed above is a pro today although German rider David Rösch is at a level lower with the UCI Continental team Atlas Personal-Jakroo.
Race wrap
Remember this is a race for U-25 riders. As the results show Taylor Phinney took an early lead in the race but fall on Stage 3 saw him lose the overall lead to Alex Dowsett. Along the way we see John Degenkolb taking two wins, one in a sprint but the second came from a five-man breakaway. He also wrapped up the points competition.
Stage 3 started in Saint-Pourçain-sur-Sioule, a town on the Tour de France route this year and went into the mountains. Belgium's Yannick Eijssen took the lead after attacking on a descent before the finish, trying to get time because he feared the climbers. Stage 4 was won by Romain Hardy from another breakaway.
The final weekend was dominated by Nairo Quintna who won the road stage with the summit finish to the Alpine ski station of Risoul, finishing solo ahead of Andrew Talansky. The next day the same climb was used for a 13.5km mountain time trial. On the morning Talansky, Jarlinson Pantano, Tom Jelte Slagter, Mikkel Landa, Romain Bardet, Thomas Bonnin and Darwin Atapuma were within range  of an overall win but Quintana had nothing to worry about as he rode up fastest to win.
Quintana's Joy
Winning the race, Quintana told us his story.
"I come from a small village called Boyaca that is at 3,000 metres above sea level. Every morning I rode to school down in the valley 16 kilometres away. And in the evenings you had to climb back up home. We did the route with five friends. I was the strongest so I started racing. I did my first race aged 16 wearing football shorts and sneakers. That day I was bitten by the cycling bug. So winning this, a race like the Tour de L'Avenir, it's a huge feeling. I think a lot about my parents, my disabled father who's unable to work."
That quote is from the race press release but if you want more on his background, read this excellent profile on the Cycling Inquisition blog. He returned home to a hero's welcome in Colombia:

Where are they now?
Hopefully the likes of Phinney, Talanksy and Quintana need no introduction as all have hit the headlines this year already. Quintana is proving to be one of the most exciting riders around because for a brief moment many got visions of a Team Sky mountain train turning the mountain stages of grand tours into an high-tempo aerobic procession. But the Colombian seems to be able to derail any mountain train by himself, in fact he was the first in the world to do this because it was during the 2012 Dauphiné that we saw the Sky train put everyone to the sword… except Quintana who skipped away for the stage win in Morzine.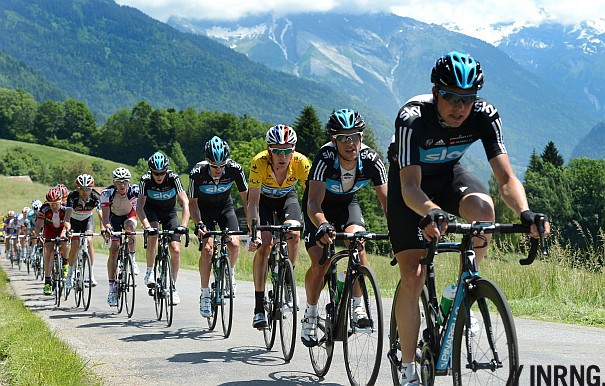 Alex Dowsett is now a team mate of Quintana at Movistar, probably the most opposite rider to the Colombian as the Briton is a time trial specialist recruited in part the classics and team time trials. Yannick Eijssen was once tipped on this blog for big things. As well as shining in this race, he impressed in the Ronde de l'Isard, a Pyrenean stage race that's a crucial test for amateur climbing talent. He's now with BMC Racing but has not hit the headlines too often. He was seventh on the big mountain stage of the Tour of Austria last year and more recently he was tenth on the mountain stage of the Tour of Oman this year, proof he can still climb.
Mikkel Landa's a climber too but more random. A neo-pro, he scalped J-J Cobo and Joaquim Rodriguez to win the mountain stage of the 2011 Vuelta a Burgos, just before Cobo would go on to win the race. Last year was quieter but he's tipped to shine.
Stage 2 winner Anthony Delaplace is with Sojasun and has ridden the Tour de France. He's a big powerful rider, one to lead out sprints or barge their way in an all-day breakaway. Romain Hardy is with Bretagne-Séché and one of the better riders on this modest team whilst homonym Romain Bardet is another watched rider on here. Darwin Atapuma and Jarlinson Pantano have probably the best names in pro cycling and ride for the Colombia team and are perhaps the team's two best riders, each with wins as pros. The same is true for Bert-Jan Lindeman, who won the Ronde van Drenthe as a neo-pro with Vacansoleil-DCM last year.
Summary
Like wines, some vintages are better than others. The 2010 Tour de l'Avenir was fine edition and the first moment when Nairo Quintana appeared on the radar. By then the likes of Phinney, Talansky and Degenkolb had made a name for themselves in other races in Europe and beyond but they confirmed their abilities in this race.
Quintana's already proved capable of outriding the Sky train and in the Vuelta last year he was an invaluable help for Alejandro Valverde. If 2010 gave us a glimpse of the future, there's plenty more to come from Quintana and the others.