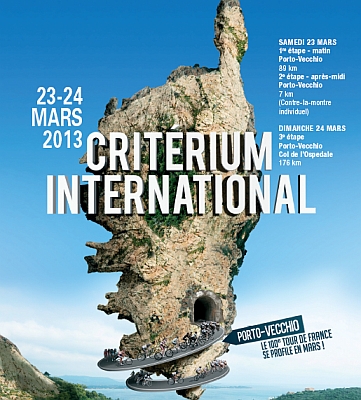 This weekend sees the Criterium International take place on the French island of Corsica. A race in its own right, it's also an avant première of the Tour de France and its opening stages in Corsica, complete with several big names who face a tricky sprint stage, a long mountain pass and a short time trial.
Here's a preview of the route, the riders, the TV and more.
Stage 1 Saturday morning: Porto-Vecchio > Porto-Vecchio – 89km


89km and flat, this might look easy but it's a tricky course with several figure-of-eight loops that pass the coast before speeding back to finish in Porto-Vecchio. Last year saw the race split into several groups and the sprinters and overall contenders alike won't want to miss out. The finish is slightly uphill with six roundabouts in the final five kilometres to mix things up.
Stage 2 Saturday afternoon: Porto-Vecchio > Porto-Vecchio – 7km
A short time trial around Porto-Vecchio. To break it down, the course is a series of one kilometre stretches of road interrupted by a roundabout or a sharp bend, therefore requiring high speed but also power to accelerate. The course was the same last year with an eclectic top-10 where Cadel Evans beat Michael Rogers by a fraction of a second.
Stage 3 Sunday afternoon: Porto-Vecchio > Col de l'Ospedale 176 km


The mountain stage which is dominated by the final climb of the Col de L'Ospedale, 14.1km at 6.2% but the average is flattered by the softer start and the way the gradient eases to the line as the profile shows.


In other words the long climb saps the riders with a gradient that averages above 7% most of the way. The black section is the usual place for attacks.
The Contenders
Sprinters: the sprint stage often chucks up a random result, the stage is so short that often everyone has fresh legs and wants to sprint and it becomes "who dares wins". We have FDJ's Nacer Bouhanni back in action after his Paris-Nice faceplant. The short distance could suit Jonathan Cantwell of Saxo-Tinkoff whilst Garmin come with Raymond Kreder, Steele Von Hoff and Robbie Hunter. Blanco's Theo Bos is probably the fastest rider, can he get into position?
GC: Cadel Evans won last year. It's interesting to Cadel Evans and Tejay van Garderen racing together, their only teamwork before they return to Corsica for the Tour de France. Both are single-minded riders and the Tour de France is their goal so it'll be interesting to see their results as well as how they race together, neither has got victorious notable results so far this year to suggest they can outperform Team Sky. Maybe this changes this weekend? Another question is how the team rides, they're not as strong on mountain climbers as a squad of their ambition might be.
Another interesting double-act is Chris Froome and Richie Porte of Team Sky, both have won races in recent weeks and each is equally capable of winning this race. Perhaps the time trial will be used to decide who is the protected rider for the final climb? But that's assuming both stay in contact during the frantic  moments of Stage 1 and that both are climbing as fast. By contrast to BMC they come with a lot of climbers but these include inexperienced neo-pros.
Michael Rogers was third last year but he's wearing a Team Saxo-Tinkoff jersey this time and he's yet to show much form so far this season. J-C Péraud of Ag2r is a pick for the podium given he can time trial and climb well and did well after in Paris-Nice. Similarly we'll see Andrew Talansky tested again on a long climb that's pretty similar to the Montagne de Lure stage of Paris-Nice. Team Colombia put the wild in wildcards and we could see the likes of Darwin Atapuma shine on the mountain stage, although I fear the Ospedale is not steep enough for him and his collegues to express themselves fully.
Amongst the outsiders, there's Pierrick Fédrigo of  FDJ who's a past winner and third last year. He's a force of nature but often erratic and his team mate Alex Geniez has done well in this race before too. Pierre Rolland of Europcar and Rein Taraamae of Cofidis could animate the mountain stage. Blanco's Bauke Mollemna is another outsider, the team needs a result. Andy Schleck is back and looking to finish his first stage race. He's not had the easiest of times but this is an event that can suit him, at least the final climb and he set up brother Frank for the win in 2011.
Others: it's worth watching two neo-pros, Radioshack's Bob Jungels and Ag2r's Julian Kern as both were very good in the U-23 ranks last year, indeed Jungels has already won a race this year. For the time trial Sojasun's Jimmy Engoulvent is an outside pick.
Weather
Europe's unusually long winter won't go away. Normally mild and sunny by now, Corsica won't escape some of the bad weather. Saturday will be sunny but temperatures will only reach 14°C with a breeze coming in from the east. Sunday brings rain and temperatures no higher than 13°C and a wind from the north-east meaning a tailwind for the crucial final part of the Col de l'Ospedale.
TV
Only Sunday's mountain stage gets TV coverage with the French video feed from 3.20pm to 5.00pm Euro time.
The History
The race has been run since 1932 since it began outside of Paris in the hilly Chevreuse valley area that's popular with Parisian cyclists. But it is an itinerant race with 24 different locations, often spending a few years in one place before moving on. In a way the format can be transplanted but this is also a weakness because of all the races run by ASO, this has a synthetic feel. The Tour de France is unique and Paris-Nice can take many a route, the same for the Dauphiné but they each have a purpose, a feel and a story. The Criterium International doesn't have the same prestige and stands as a lesson to race organisers, old-school or breakaway-new that simply creating new events is not enough, you need a story and something to link the sport to the land.
The Future
Have the Criterium International and Tour de France started something? Next year will see the return of the Tour de Corse, a professional race that disappeared years ago. It's good to hear of a new race and very rare for old events to get resurrected.