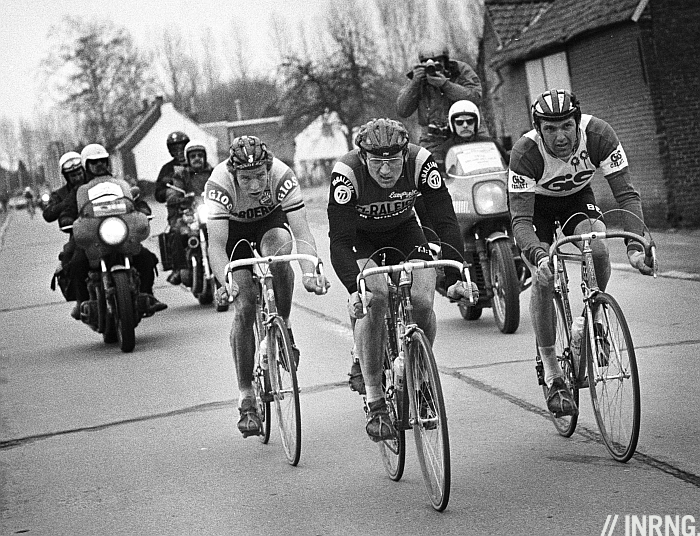 The spring classics are here and for all the talk of steep climbs and cobbles there's another feature of Belgium's roads that rarely gets discussed, the betonweg.
Many races in Flanders feature cobbles, from suburban roads with their decorative pavé to farm tracks surfaced with medieval stones. These can be flat sections or steep hellingen and they're often strategic points in a race, crowds gather and they make for great TV.
But there's also something else that's part of the Belgian racing experience: the concrete road, known as the betonweg. Safer and smoother than the cobbles, Belgium has many rural roads surfaced with concrete instead of tarmac. These are cheap to build and work fine for the secondary road network. They are large blocks of concrete and separated by small gaps, partly for drainage but also to let the material expand on a hot day, to avoid the surface buckling under expansion.
These roads aren't crucial to the racing but they're not without their problems:
The blocks are often laid with a central channel in the middle of the road, see the picture above. This gap is inconveniently the width of a wheel meaning a permanent "tram line" that can trap the careless cyclist, especially when riding in the bunch and the gap isn't easy to spot
The concrete is smooth but each block has a gap meaning a constant thump… … thump… … thump every few seconds as you ride along. This only adds to the fatigue after hours of riding
These things don't determine a race, no way. But they do drain a rider and, whilst not unique to Belgium, these roads are typical and as Belgian as a cobbled road. Look out for the betonweg.