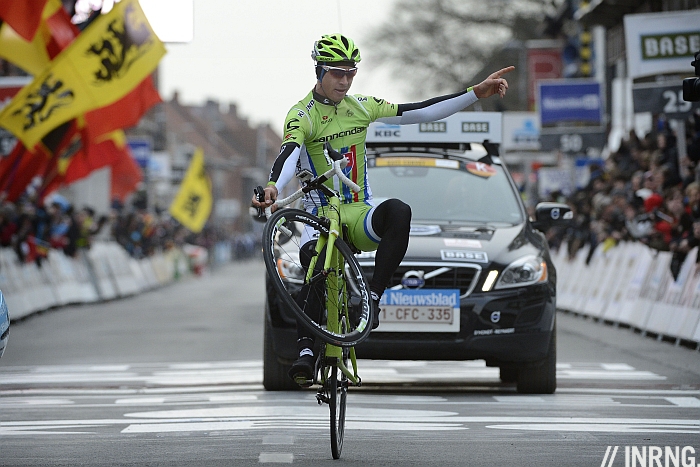 No finishing straight in a Belgian race at this time of year is complete without a big yellow flag with a black lion. But whilst the "Lion of Flanders" is part of cycling lore, it's also loaded with politics and nationalism and these flags can be an attempt to hijack the race, using sport to play politics.
An opinion poll over the weekend suggested that one third of Belgians believe their country will break-up. Sure these polls can be gamed but it's true that Belgium is a divided country at times and there is a strong political movement in Flanders for the region to become autonomous, if not independent. Leading separatist politician Bart De Wever has said he wants this in time for late 2014. Of course he would say this but the time frame indicates he is not marching to a distant horizon but looking instead to Belgium's next set of elections.
Geopolitical primer
By surface area Belgium ranks as the world's 140th largest country, about the same size as Lesotho. If it was a state in the USA, Belgium would be amongst the ten smallest, about about the size of Maryland. The country as we know it today emerged in 1830 with the Belgian revolution.


Today Belgium has three regions: Flanders, Wallonia and the Brussels capital. Flanders (in yellow) is where they primarily speak Flemish, a dialect that's very similar to Dutch whilst Wallonia (red) is where they mainly speak French. The country is a composite nation.
Those Flags

Flags are used to represent nations, statehood, ideology and other political concepts and the Lion of Flanders is no exception. Belgium's flag is the black, yellow and red stripes. The regional flag of Vlaanderen, Flanders, is the black lion on a yellow background but, crucially with red claws. The separatist politicians and their supporters wave a similar flag only with black claws. The flag of Wallonia is a cockerel. You'll see all these flags at races but remember one is the national banner, two represent regions and the fourth is a disputed political symbol.
Here's Philippe Gilbert with some world champion baiting in Belgian magazine Humo decrying those who wave the Flemish flag:
"Extremists, they're everywhere, even in Wallonia. It's like the National Front in France. People don't believe in politics any more and give their votes to these parties. It's negative voting, the electorate don't know what policies they're voting for."
It was a select quote but a few politicians jumped on it. Gilbert had to clarify his words saying when he's racing in the World Championships he wants to see the Belgian flag in support.
Boonen vs Gilbert?
There are elections in 2014 and these will help set the country's course. We're still no nearer to seeing Tom Boonen, a Fleming, and Philippe Gilbert, a Walloon riding for separate nations because the separatist politicians in Flanders want a settlement with increased autonomy but probably still under the Belgian flag. This is partly because of pragmatism, it is easier to achieve, both in terms of recovering powers on a practical basis but also because the country can't be split in half Korean-style because capital city Brussels is largely French speaking but sit in Flanders.
Summary
Despite talk of national division, several things unite the Belgium people. The royal family is one thing and cycling is another. Of course bike racing is not for everyone, just like monarchy, but Belgium is the country where polls show the greatest popular support for cycle sport.
It's that time of year when the yellow flag is everywhere and this Sunday's Tour of Flanders is a national event, Belgium's Superbowl. But it takes only a handful of people, some bamboo poles and a few flags to ambush the finish line of a Belgian race. You might think it's part of the scenery and sometimes people can be out supporting their local riders with these flags. But it can be a political hijack too. When this happens it's got little to do with sport.