Peter Sagan rides away from the lead group with 3.5km to go whilst Greg Van Avermaet, Bernhard Eisel and Borut Božič try to chase. These three riders were Sagan's greatest rivals in a sprint finish. So instead of outsprinting them, he outrode them. This was the moment the race was won.
Cycling fans in Europe didn't know where to look. The Criterium International in Corsica, the Volta a Catalunya or Gent-Wevelgem? In the end the multiplex worked out fine. You could watch the final lap of the Montjuic circuit in Catalonia to see Thomas de Gendt grab Vacansoleil-DCM's first win of the year and Dan Martin seal the overall win, an outcome uncertain until the last moment given Michele Scarponi was up the road and Joaquim Rodriguez tried a late move.
Things were more certain in Corsica where Team Sky got a 1-2 after Chris Froome rode away from race leader Richie Porte and everyone else on the Col de l'Ospedale, almost a replay when Froome led the yellow jersey of Wiggins. Only this time the team orders were to set Froome up for the win. So off he went. By the time the podium was decided with Tejay van Garderen securing third place it was time to head to Belgium… although as viewers reached for their remotes further down the mountain Cadel Evans and Andy Schleck were still riding up.
Perhaps riding up a mountain in Corsica was still preferable to racing in Belgium given the cold in the Kingdom. Overnight snow shortened the distance, a relief for some riders but not ideal for the legs with next Sunday's 255km Ronde awaiting. Many riders abandoned the race, some by choice because they wanted to avoid the cold but others after crashes and misfortune. Tom Boonen was onne, hitting the cold ground in a small incident that saw him up and riding but dropped and he soon quit.
It took a while for the whole race to warm up, at least in terms to make the television producers cheer. The race was being thinned out by a strong breeze which scattered the peloton into smaller groups but we'd yet to see the big names try. First was Philippe Gilbert but they say he's still honing his form. From the front group Assan Bazayev (Astana), Juan Antonio Flecha (Vacansoleil) and Matthieu Ladagnous (FDJ) went away, three strong riders in their own right but always a holding pattern whilst others behind bided their time.
Behind Heinrich Haussler (IAM Cycling) launched his bid on the Baneberg and was followed by Peter Sagan (Cannondale) and soon a group of 12 formed with Bernhard Eisel (Sky), Greg Van Avermaet (BMC), Andrey Amador (Movistar), Borut Božič (Astana), Maciej Bodnar (Cannondale), Yaroslov Popovych (Radioshack-Leopard), Stijn Vandenbergh (OPQS) and Jens Debusschere (Lotto-Belisol) and Ladagnous and Flecha, with Bazayev ejected. Haussler was again riding without gloves, testimony to a winter spent cross-country skiing and to the simple fact that he's often visible at the front of races again.
This set up a large group which pulled out a lead on the chasing "peloton" led by Lotto-Belisol for André Greipel after their man Debusschere punctured. Several Lotto riders are seem to be unlucky with punctures this season. Jurgen Roelandts was another today too and worse, he got hit by a race car and taken out of the race.
The struggle between the leaders and what was left of the bunch was not obvious, the strong headwind made everyone look slow and it was not gripping TV. The gap only began to fall until it stood at one minute with 10km to go. Further on and Cannondale lost Bodnar, he'd done his job driving the group to help Sagan. Would someone  attack? Nobody wanted to go alone into the headwind. Stijn Vandenbergh tried but his move was so slow and obvious. But what else could he do?
Then Peter Sagan went. On paper he was the best sprinter although Eisel, Van Avermaet and Božič can all finish fast. No, what separates Sagan from these riders is more than sprint, it's raw power that can be turned on for minutes instead of metres. And so Sagan launched his sprint with 3.5km to go and rode away. Eisel and Van Avermaet tried to chase but were losing ground.
Sagan came in with 28 seconds and pulled a wheelie on the line to celebrate. It was a fun gesture but not as easy as it looked. He had to shift gear, sit back and pull on the bars, a technical moment that was not that fluent in its execution. In fact the whole day was harder than it looked.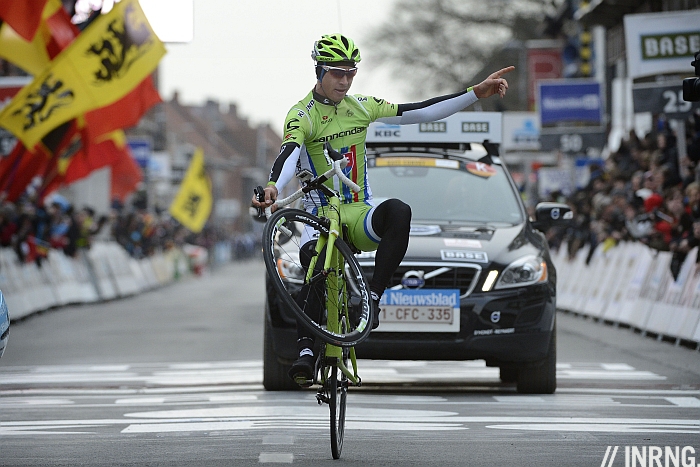 The Verdict
This wasn't the easy win the result might suggest. Yes Sagan soloed away but he was helped by Bodnar's work to drive the group. Sagan himself was taking turns but the presence of a team mate was valuable. But his late attack was a sign that he won't just wait for the sprint. After all he tried to ride clear in Milan-Sanremo as the race came off the Poggio and if that looked a foolish move, today his attack was more sensible as it ditched rival sprinters.
If Sagan had been caught it could all be so different but the winners get to write history and Sagan finally gets his name engraved on a classics trophy.
With the Tour of Flanders just days away now Sagan's versatility will help him. The next week will see the Belgian media go to town on OPQS, BMC and Team Sky, each of the sport's "super teams" are coming away with little more than podium places. For me the E3 and Gent-Wevelgem might be World Tour but they're nowhere near the Tour of Flanders or Paris-Roubaix but still Sagan and Fabian Cancellara have won whilst their rivals are still waiting. Less than one week to go…
Women's Gent-Wevelgem
Kirsten Wild won the women's race. She took the sprint from a lead group of 13 riders but, perhaps it was the headwind, she finished the sprint in the saddle and with her hands on the tops of the bars.