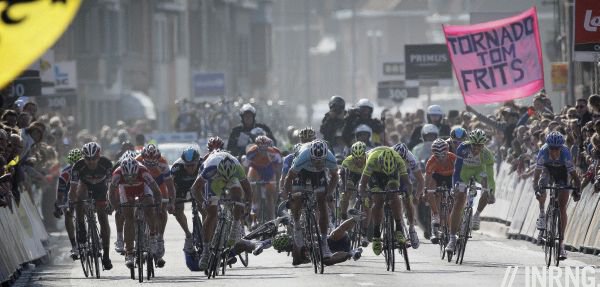 Yesterday's piece looked at the politics behind the flag-waving you see in many Belgian races. But it's not just politicians seeking publicity, businesses also want to get in on at the act.
Look at the image above and you'll see riders sprinting for the line, maybe you spot Peter Sagan and Tom Boonen. Then you'll probably find your eyes drifting to the giant pink Tornado Tom Frits banner. Perhaps you'll then notice the crash happening. Either way the pink banner is more visible than the official sponsors whose signs line the finishing straight.
One of the oldest is Dirk Hofman Motorhomes. The simple white sign has been spotted at many races including those beyond Belgium. I've not spotted it this year. There was one at the Louisville cyclo-cross worlds but I think this was a play on the meme as the text layout was different. It's become an internet thing with a twitter account, t-shirts, someone's registered the .com internet domain and even British rock bands are exploiting it.
The business behind is simple, it sells and rents out camper vans. Two years ago your correspondent called the company to ask for a quick interview but… they said didn't want the publicity. Irony aside perhaps they were shy about being called out for their ambush marketing?
Another common sight is a man waving a LUC banner. You can see it several times in a race but actually it is one man called Luc from Geraardsbergen in East Flanders. He started out with a banner saying "Boeketje" which was the name of his wife's shop… but he got divorced and he found himself with a lot of free time at the weekends to follow his sport. According to Het Nieuwsblad he uses a scooter to hop across his home region with the aim of getting himself and his Luc flag filmed several times during a race. He even carries a portable TV so he can instantly check whether he scored or not.
"Tornado Tom" is one of Tom Boonen's nicknames but no one moniker has ever stuck. As proof the nickname isn't exclusive, someone pops up at races with a giant pink "Tornado Tom Frits" banner. This an elusive one, frits is dialect for fries but I can't find any related restaurant or van. The man behind the banner is Franky Bonne, a super fan of Boonen and the Etixx-Quick Step team.
Hype?
One observation here is that if these people go to great lengths to display their banners besides the road, finding the actual business they're promoting is harder. Try finding them on Google or even Belgium's Golden Pages phone book and you reach a dead end. For example, Tornado Tom Frits has proved impossible. Tracking down Dirk Hofman brings up more jokes, merchandising and other derivative content from cycling fans than the actual business itself.
As seen on TV
Luc, Dirk Hofman and Tornado Tom are three flags but there are more. Didi Senft is better known as The Devil, the man who waves a trident at the Tour de France and other races. It's fun and amusing but he's made a small business out of the notoriety too. Similarly the Tour de France shows off the work of farmers as they decorate fields to welcome the race but it's business again and part of a plan coordinated by the FNSEA union, France's largest agricultural lobby group.
Obviously there are the official sponsors who get to string their corporate banners on crash barriers and hoardings or even get an inflatable arch over the road in the last few kilometres. But sometimes these signs are so much part of the landscape we don't notice them as much as someone waving a large pink bedsheet held between two broom handles.
Others businesses try to get in on the act. Watch a race and it's common to see trucks and trailers parked along the route, even standing in the middle of the field. The idea seems to be that the company get get their truck on TV although you wonder whether it ever brings in any business.
1.067.922 (67,9%) Vlamingen keken gisteren naar Gent-Wevelgem. Meer dan dubbel zoveel als in 2012. Om 17u07 zelfs 1.364.000 (67,9%) #record

— Karl Vannieuwkerke (@Vannieuwkerke) March 25, 2013
The answer might be yes. The tweet above is from Belgian sports journalist and TV presenter. During last Sunday's Gent-Wevelgem, one in six of the Flemish population were watching the race on TV, a crushing 68% of the audience share.
Hijacking is a serious thing. At the last Olympic games people were employed to check what clothes being worn by spectators in case they promoted, say, Pepsi instead of games sponsor Coca-Cola. Riders in the cycling events had to use bikes where even the decals on the frames were controlled in case they gave too much publicity away. Perhaps this is too serious but the fact that these things are codified and enforced by lawyers and the courts shows the money at stake. Of course you can control a stadium or a frame but a bike race is very different. You can't stop Luc of Geraardsbergen.
Conclusion
Watch the Belgian classics for a few years and these flags and banners are like old friends that reappear at the roadside or a sign of spring like the sound of a cuckoo. But like the politicians with their flags, it can be serious. As fun as they are these attempts can hijack sponsors who've paid good money to support the race.
Such is the popularity of the race these banners are easier to find than the businesses behind them. Dirk Hofman, Tornado Tom Frits and Luc are seen around the world from California to Queensland. Unknowingly some of these Belgians are the match of any viral marketing agency.