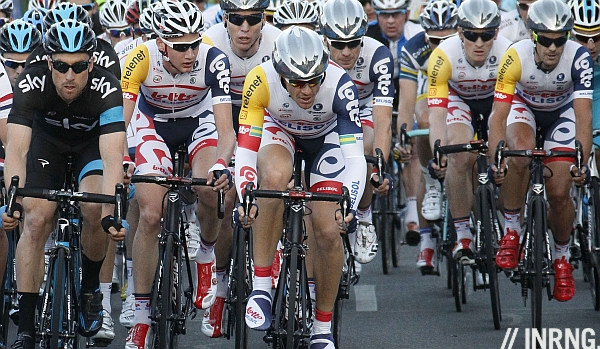 We've only had one exhibition criterium in Adelaide but already some sharp eyes have seen that some riders are using more narrow handlebars, a trend that's probably coming to a ride near you.
The humble handlebar has not changed much over the years. Carbon is replacing allow but the shape remains, indeed the UCI rules specify the "traditional" shape. Instead width and rider position and rider position are changing.
Great to see Adam Hansen rocking his 38cm bars… #sonarrow

— Toby Shingleton (@tobyshingleton) January 20, 2013
That's Lotto-Belisol's Adam Hansen riding on bars that are 38 centimetres wide. You can measure width differently but 38 is narrow, what you'd expect on a small climber, especially as Hansen is a big rider with broad shoulders. As a rule, they say bars should be as wide as your shoulders. Hansen looks like a rider who'd take 42 or even 44cm bars. The idea is that keeping your arms straight is efficient and helps keep the chest open for breathing. But, as any glance at a time trial bike shows, moving the arms in can improve air flow. As you can see with the zoom below the bars are narrower than Hansen's shoulders. By comparison, Team Sky's Bernhard Eisel uses bars similar to shoulder width (note he's turning and the bike is leaning, that's why his shoulders are offset).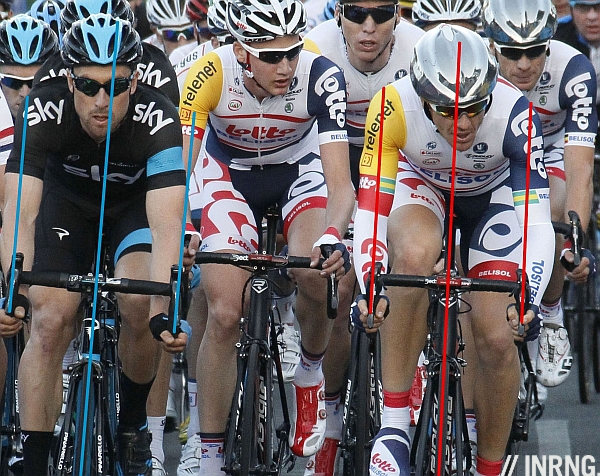 See the DJ Connel blog for another image to view Hansen's bar size. Moving from 42cm to 38cm is a marginal gain which counts for someone like Adam Hansen whose job involves pulling at 60km/h an hour in the finale of a race when every watt counts. It's the same with track racers, for example we've seen track sprint champion Chris Hoy adopt very narrow bars. And bike design expert Gerard Vroomen has expressed a personal preference for narrow bars too.
42cm to 38cm is incremental, not radical, a 10% reduction. And it's one thing to change the bar width but another to change position. You could simply twist your wrists but leave your elbows pointing out, letting the air flow into your chest rather than around, reducing any gains.
Urban messengers and their fakenger cousins have long known about narrow bars letting you squeeze in between traffic, even cutting their bars shorter than the width of their hips. There's a benefit in racing too as riders can get into smaller gaps with narrower bars, something that matters for sprint trains. However high speed stability and control can be sacrificed. I've not tested this but instinctively this feels like a "reduce to the absurd" argument, a messenger will notice it but go from 42cm to 38cm and you won't notice much.
We can note other things with Hansen too:
One piece skinsuit but that's normal, instead see the long sleeves despite the warm weather
The Lazer helmet with no vents
Shoe covers offer more logo placement but can help with aerodynamics
Hansen's not using it but the team's Ridley Noah frame and forks have an integrated brake system which helps reduce drag
Does it work? Well it helps but short of measuring these things independently fans and consumers are left with the sell-side claims of manufacturers.
The Rules
It's all legal. Rules state a bike "shall not measure more that 185 cm in length and 50 cm in width overall" which includes the bars and that "only the traditional type of handlebars" can be used. There are more on positioning and set up but bar width is not mentioned. The bars must allow the bike "to be ridden and manoeuvred in any circumstances and in complete safety."
History Repeating
Toying with bar width is not new. I can remember the late Frank Vandenbroucke experimenting and Chris Boardman used narrow bars for his hour record. Go back further and you'll find more examples.
Conclusion
A marginal gain. This can help with aerodynamics and it's also useful for riders trying to get into a gap. But changing the bar width is necessary but not sufficient to improve aerodynamics as the arms need to move inwards too, the position has to improve.
Adam Hansen's the case study and with André Greipel winning, there's a bright spotlight on him. But others in the pro peloton are looking at this although it goes without saying most aren't in a hurry to change. Still this is a low cost gain compared to aero wheels or a new frame so on't be surprised to see this on a ride or in a race near you too.