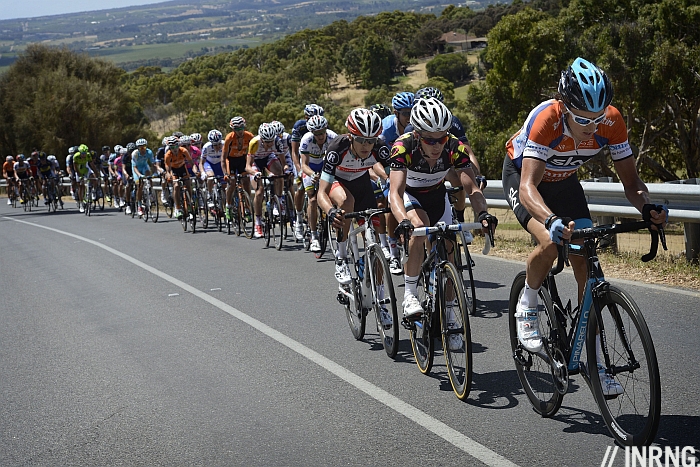 What can we learn from the start of the season? We might have had only a few days of racing but there are a few observations to make and points to note from this race and the way it sits alongside the Tour de San Luis in Argentina.
André Greipel was comfortably ahead of the others. His finishing speed was that big higher but his team worked to perfection. The teamwork looks easy on TV but that's only because it's so good. Holding off rival teams and imposing order on the chaos of a bunch sprint is an impressive feat.
Greipel's a big guy and you might not want to battle with him during the final moments of a race. But the brute force seems to stay on the bike. Everyone seems to have a good word to say about him… and not out of respect but genuine admiration. He's now got 100 wins, an impressive feat as he's 30. Also note that he looks huge but he's 80-82kg which is certainly big for the pro peloton but he's far from the heaviest. It's a little known fact that he was German national hill climb champion as a junior. I can't find out if this was on a 100 meter berg or in the Bavarian Alps but just remember he can climb. The Poggio is the ultimate test as he wants to win Milan-Sanremo.
Team Sky aren't invincible. Maybe it's obvious but on Stage 2 Geraint Thomas was fastest up the Corkscrew and then outsprinted his rivals into Rostrevor. With this kind of display and the likes of Edvald Boasson Hagen playing domestique it seemed that he was destined going to win the race overall. But instead he was outplayed by Tom Jelte Slagter of Blanco who was the strongest on Willunga Hill. Simon Gerrans had a good go but perhaps got more room as he had dropped out of contention for the overall win. But when Slagter attacked, nobody could follow. It was the moment the race was won.
Slagter is Dutch for butcher, at least in old Dutch so the Dutch media have something to play with when it comes to headlines. It's good news and makes a change from all the doping scandals in the Dutch media of late with many ex-pros confessing to EPO use during their careers. In fact it's better news in the long term as for years the Dutch squad came close to victory but often didn't match rivals with a similar spend. There have been wins along the way and the team will need more to secure a sponsor but this is very well-timed fr them.
The butchers of Adelaide will have been busy as many cycling fans in Australia got the barbie going. Big crowds lined much of the route, estimates say 110,000 on Sunday alone. For some time politics and power-plays have messed with the Australian calendar. Put simply Tour Down Under promoter Mike Turtur had a seat on the UCI's management committee and acted like a handbrake to stall other races in Australia, thus ensuring the primacy of his event. The UCI blocked attempts by the Sun Tour, arguably the country's second biggest race with a history going back to 1952, to reposition itself on the calendar. Some might call this an outrageous abuse but others might not. What is certain is that Australia deserves more racing.
As well as quantity, Australia could also get a greater quality with the Tour Down Under itself being reformed. It's been said the Tour Down Under can't have a time trial stage because the logistics of flying out time trial bikes for the peloton is too much, hundreds of bikes and special wheels just for one stage. But if you've got teams flying out the equipment to Argentina for the time trial stage of the Tour de San Luis then then you can do it for Australia given the World Tour points and the TV coverage.
That said the 2013 race was an improvement, especially the addition of the Corkscrew Road climb which helped to break up the overall classification and give a move mixed result to the race.
A reminder that Slagter wins as many points from the Tour Down Under as if he'd won the Dauphiné, Tour de Suisse or a spring classic like Paris-Roubaix or the Tour of Flanders. Now we can debate whether this is right… but that's conversation. What is certain is that this is a race not to be missed by teams anxious to earn points. Especially since the result is so obvious. Crosswinds, punctures, even cracking after hours on the bike – none of this exists. Instead the overall classification is decided by the modest climb of Willunga. As such this is a race to target, 100 points can be won after a seven minute effort and points go down to 10th place overall. We might say there's no point being in shape so early but these points – like or not – are so valuable that teams have to consider naming a couple of riders to be in peak form for January, if only so they can rest afterwards and build again, say for the Ardennes Classics.
Perhaps fans should not have to decide as the racing in the Tour de San Luis has been varied this week but it's still a strange sport where Alberto Contador, Peter Sagan and Mark Cavendish are racing in Argentina whilst there's a World Tour race on. Perhaps you or I can grasp the subtlety of the calendar but it's still a strange sport for outsiders who see the premier calendar of UCI races only without many of the best racers. Put yourself in the shoes of one of the Tour Down Under sponsors. You've just forked out hundreds of thousands to back this "World Tour" race only a lot of the big names aren't there. Now we can't have all the riders racing all year but still, perhaps there's a way to imagine a calendar where, if there's a World Tour race on, nobody ranked in the top-100 can race in another event elsewhere. A subject to return to.
Finally on the subject of the calendar, note the calendar page on inrng.com. If you've downloaded the iCal file then be sure to update from time to time as races are vanishing and others are changing slots.
…Actually, I said finally but talking of last place a quick mention of Andy Schleck. He quit the final stage in Adelaide. I've got time for him although a lot of followers seem frustrated. His attack in the 2011 Tour de France and stage win on the Galibier was impressive alone. But the sport is full of myths, labels and legends. Just ask Raymond Poulidor, the "eternal second" who made a career out of playing the country bumpkin loser when in fact he was razor sharp although certainly he had a share of bad luck. Schleck's misfortune is worse, instead of finishing runner up he's quitting plenty of races. But give him time, if he can recover from the spinal injury he can improve.
Conclusion
Don't extrapolate too far from one early season race. André Greipel has won 100 races now so he's no surprise and he came equipped with the best wagons of his sprint train. Blanco are no longer blank as they've won a race. Beyond this the Tour Down Under is now past 15 years and is continuing to evolve. With more work and perhaps supported by other races it can grow.
Now on to more races. Many riders from Adelaide will fly to Doha for the Tour of Qatar starting next weekend. Before this is the Etoile de Bessèges race in France and the start of the women's season with the Ladies Tour of Qatar. The off-season is over.