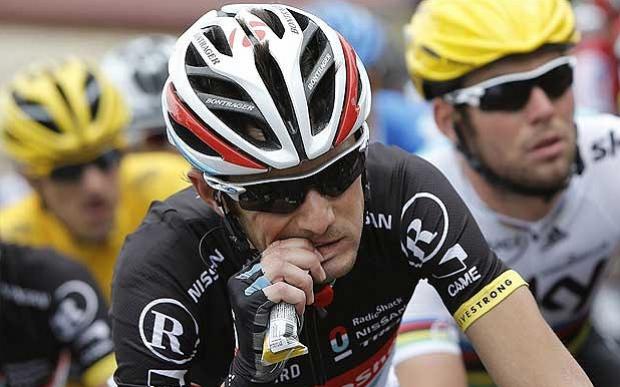 Frank Schleck has got a one year ban after his positive test in the 2012 Tour de France when the rules say he should have got a two year ban. He's got lucky after the Luxembourg Anti-Doping Agency appears to have dropped the strict WADA Code, preferring instead to speculate on the source of contamination as a reason to reduce the ban, something the Spanish tried to do with Contador after his 2010 Tour de France positive until the UCI and WADA teamed up to fix things.
So this is might not be the end of the story. WADA won't enjoy seeing its Code applied selectively and there's now every chance of an appeal and a longer ban.
The one year ban is imposed from July last year meaning he could return in July this year, too late for the Tour de France. But how did he get a shorter ban? Here's the applicable part of the WADA Code:
10.4 Elimination or Reduction of the Period of Ineligibility for Specified Substances under Specific Circumstances

Where an Athlete or other Person can establish how a Specified Substance entered his or her body or came into his or her Possession and that such Specified Substance was not intended to enhance the Athlete's sport performance or mask the Use of a performance-enhancing substance, the period of Ineligibility… [shall be] …. at a minimum, a reprimand and no period of Ineligibility from future Events, and at a maximum, two (2) years of ineligibility.

…To justify any elimination or reduction, the Athlete or other Person must produce corroborating evidence in addition to his or her word which establishes to the comfortable satisfaction of the hearing panel the absence of an intent to enhance sport performance or mask the Use of a performance-enhancing substance.
Let's run through that again. Schleck has to establish how the substance entered his body and then he could a reduction in the ban.
So how did he get a reduction? Well the Luxembourg Anti-Doping Agency (ALAD) has imposed a proportional ban. Here's their reasoned decision:
195… le Conseil de discipline estime qu'une suspension d'une durée de 12 mois doit être prononcée comme étant proportionnelle à la gravité intrinsèque de la violation de la règle antidopage.
This says a 12 month ban is proportional to the anti-doping violation. Can a ban be proportional? Yes as we've just seen above it can be reduced so long as the athlete can establish how the substance got there. Only Schleck has failed to do this so he's not eligible for a shorter ban.
Curiously ALAD isn't just ignoring the WADA Code, it appears to be inventing new rules:
165: Sur base de ces considérations, le Conseil de discipline entend retenir qu'au regard des développements précédents et des circonstances factuelles établies par les expertises scientifiques corroborantes versées tant par l'ALAD que par Frank SCHLECK et au regard du fait qu'aucune autre thèse n'a été invoquée, la présence de Xipamide s'explique par l'ingestion de compléments alimentaires contaminés…
If you don't speak French then the last line says "the presence of Xipamide is explained by the ingestion of contaminated diet supplements." But this is only a hypothesis as there's no proof of contamination, for example no bottle of vitamin pills was tested and found with the substance. ALAD think it is likely… but they don't know. This guesswork is outside of the rules, an anti-doping agency is not supposed to speculate. Once again the rule says "Where an Athlete or other Person can establish how a Specified Substance entered his or her body" only here ALAD are offering what is at best a reasonable hypothesis. ALAD are breaking the WADA Code.
Note deduction can be possible. We've seen table tennis players excused after eating contaminated meat in China and footballers in Mexico too, but here the idea of widespread contamination of the food chain was documented but there's not much evidence of contamination for Schleck, for example nobody else using the same products has tested positive.
A two year ban might seem unfair for such a small quantity but neither you nor I are here to rewrite the WADA Code. You might be Frank Schleck's number one fan or his worst enemy but fortunately the rules try to exclude this bias. The same is true for ALAD. There's little room for personal interpretation. In fact in their judgement (para 185) ALAD even try to anticipate the new WADA Code by citing a proposed rule change due in 2015 to support a reduction in the ban. But again you can't rely on proposed rule changes when judging a case from July 2012.
Contador Case – Compare and Contrast
Alberto Contador tested positive in the 2010 Tour de France. The rules are slightly different but in summary the Spanish Federation inititially cleared Contador after accepting his hypothesis of a contaminated meat. But this was another liberal interpretation of the rules and so WADA and the UCI took an appeal to the Court of Arbitration for Sport (CAS). Here's an excerpt of the CAS verdict:
In the Panel's opinion on the basis of the evidence adduced, the presence of clenbuterol was more likely caused by the ingestion of a contaminated food supplement.
Note it too ventures a likely cause of contamination. But since this was not proved it could do nothing else but award a two year ban on the Spaniard.
What next?
This is where it gets interesting. If ALAD's invented a reason to be kind to Frank Schleck then WADA will want to put a stop to it in case every national agency decides to offer clement terms to their home athletes, undermining the international code. But normally WADA would team up with the UCI to launch an appeal only the two are at war right now. There's a chance Schleck will get lucky because WADA is too busy.
But Schleck can't celebrate. WADA's Code is its canon, it's scripture and faith in the international agency is built on its rules so interpretations like the one made today will probably tempt WADA to call the CAS.
Conclusion
The day the B-sample came back last July I wrote "Schleck has a positive A and B test against him and no proof of poisoning. In the absence of the proof he's doomed and will be eligible to return to the sport in July 2014" only I also said "We could see the Luxembourg authorities be clement and offer a reduced ban to their "big fish" but they have little scope for that and if they tried this, the UCI and WADA would likely appeal."
It feels awkwardly to quote myself but the words ring true. Six months of delay later and we're back to where we started: Frank Schleck still can't explain where the Xipamide came from so the rules say he is out for two years. Remember this is not a verdict on doping, simply on the presence of a banned substance and yes strict liability really is very strict. Call it harsh but I don't remember Frank Schleck calling for the principle of strict liability to be reviewed when Alberto Contador got stripped of the 2010 Tour de France.