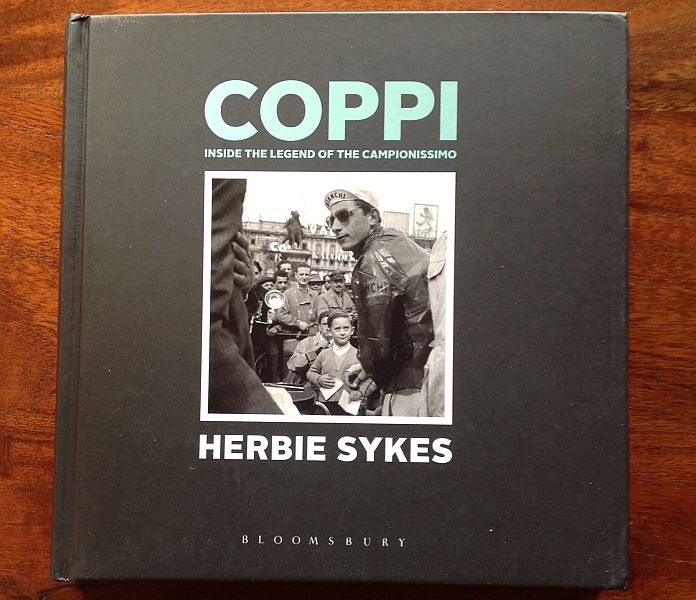 Herbie Sykes promised never to write about Fausto Coppi. Visitors to Italy will find even village tobacconists sell magazines and books and these include often many cycling books, especially biographies of past Italian riders from the region. A resident of the Piemonte, the home of Coppi, Sykes had seen too many books about the man, a palimpsest of texts had obscured the past. But this is different.
This is a collection of photos accompanied by short accounts from 21 riders who were contemporaries of Coppi. The photography is excellent and surpasses the normal sports clichés. If there are one or two podium photos, there's not one image of a victory salute.
It's said Coppi was elegant on the bike but aloof of it with his gangly legs that earned him the nickname of Il Airone or "The Heron" because he could fly but standing still he was less gracious. But the books are full of glamour, Coppi sports dark glasses or wears a sharp suit and even amidst a rural hunting party his slick hair stands out. One picture of him looking at an Alfa Romeo reminded me of image from James Bond with its sophistication and luxury.
As many have remarked there's a lot more going on in photos from the past compared to today's images. Modern riders are hidden behind a mask of plastic helmets and glasses but the old days can show every facial expression. But Coppi never looks like he's suffering and indeed if he's in the middle of the frame often it's the crowd or the scenery that is more revealing. There's an image of Coppi climbing with Defilippis and the camera is behind, all you see of the riders is taught leg muscles and numbers on their backs. But the faces inside an official race car and roadside spectators show plenty. But most photos show Coppi when he's not riding. At dinner, waiting for the start of the race, hunting, signing autographs, surrounded by crowds.
Italian reconstruction
At times it's far more that Fausto Coppi and his peers. The pictures reveal plenty about Italy and would be useful for sociologists and historians looking to illustrate the rapid pace of change in Italy that occurred during Coppi's career. Political, economic and cultural change was everywhere and you see it in the book. A peloton passes a railway being repaired or a giant new viaduct being built, building sites see Coppi signs hanging from ladders. Note the rise of the motorcar and the early consumer branding on jerseys and shorts. See how everyone wore suits on Sunday to watch a race back then.
Voices
The photos are great but what separates this from, say, the great Il Dolore photo blog is a structure and some text. First the photos go in order of his career and the 21 rider accounts are special. Each rider gives a personal account or anecdote and they don't comment on the photos, instead they paint a picture of a moment from the past. Franco Franchi tells how he was a humble gregario tasked with fetching waterbottles. Pietro Nascimbene explains how he was a pro but earned little in the way of a salary, they relied on the team leader winning and then sharing the spoils. Ercole Baldini tells of rivalry with Coppi but like many, he doesn't have many hard words to say and laments the media who tried to make a sporting rivalry into a greater animosity.
Golden Age?
This is pure nostalgia, a festival of the past. Sykes talks of cycling's "golden age" and I'm not sure if the past was a better place, after all we learn of riders struggling to put food on the table and Coppi died because the study and understanding of tropical medicine was not what it is today.
Still, if the sport remains accessible today the images from the past show just how close people got to the riders and suggest they worshipped the champions, the crowds appear to be in communion. Today the public seems more indifferent and it's hard to imagine a book in 50 years time with 300 pages of photos venerating Alberto Contador but that probably says more about Contador than anything else. Visually things were better and Coppi cuts a dash even when walking down the street in a suit. Today's riders in branded team-issue leisurewear rarely look remarkable.
It's heavy. At 1490 grams this book weighs as much as a pair of racing wheels. The weight isn't normally associated with book reviews but it's worth mentioning as this is a solid hardcover production with 320 pages which perhaps helps explain the price. Published in Britain by Rouleur, the book seems to be available in Europe for £24 or €30 and will be released in the US on March 1.
Summary
A collection of Fausto Coppi photos? Yes and the images are great alone. But for me the 21 accounts from Coppi's contemporaries are what make the book special, voices that bring the past alive.
But this isn't a book for the casual cyclist, I'd say it's more for collectors and cognoscenti. If you can't tell your Coppi from your Bartali yet you'd do well to read a biography of Coppi first to help put the images in context – for example William Fotheringham's "Fallen Angel." Still, if you just want to glimpse the rich history of Italian cycling and wow at the glamour then this should work too.
See for yourself with excerpts of book provided by the publisher at http://issuu.com.
A list of other book reviews is available here.
Note: this copy was sent for review