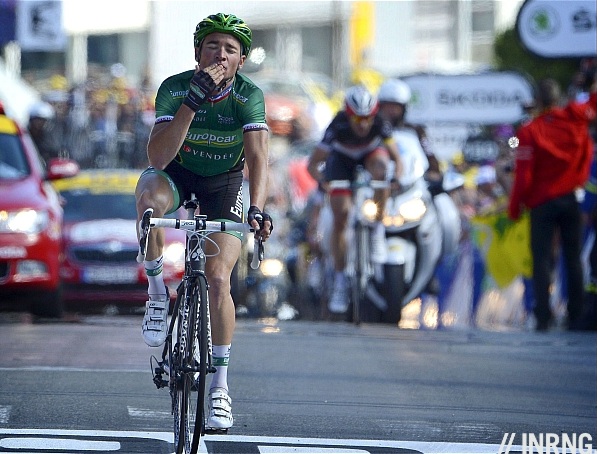 Cycling borrows many French words and for many maillot jaune, peloton and other terms have been absorbed into English, just like blonde or savoir-faire. But panache is an elusive word that's harder to define. Maybe you know it when you see it?
Typically a rider with panache is said to be one who attacks, displaying courage and flair. But the surprise factor counts and a rider who wins too often can lose this label.
But where does the word come from and what does it mean?
The pronunciation features a soft "ch":

A panache was a plume of feathers, generally ostrich feathers, set upright and borne as a crest.
King of Panache
The first mention of panache was on a medieval battlefield. In 1590 King Henri IV was fighting through France and in the battle of Ivry found his forces outnumbered. He rallied the troops with a battle cry:
"Companions! If you today run at risk with me, I will also run at risk with you; I will be victorious or die… …If you lose your ensigns, cornets or flags, do never lose sight of my panache; you will always find it on the road to honour and victory."
King Henri wasn't saying "look at my style," instead medieval knights carried feathers in their helmets for decoration and recognition and this plumage was called a panache. He was telling his troops to follow him into battle.
King Henri won the battle which was so important that it was depicted by Flemish painter Rubens, the Kristof Ramon of the medieval battlefield. Henri went on to lay siege to Paris and by force, politics and theocratic positioning eventually vanquished the Spanish-influenced Ligue and, just about, united Catholics and Protestants in France. Quel panache!
The theme of bravery against adversity was rekindled by playwright Edmond Rostand in Cyrano de Bergerac, a work that sits in the pantheon of French literature. The story has been made into several films and TV dramas – including Hollywood's take, Roxanne, with Steve Martin and Darryl Hannah – and revolves around the brave Cyrano who has fallen for Roxanne but is too shy to approach her yet he is willing to launch into battle. A romantic but a fighter. The play's final words are "mon panache" as Bergerac dies. Rostand has made feathery headgear into something else, from a noun to a notion. He described it students in a lecture (my translation):
"Panache is not greatness but something additional to greatness, it floats above it. It's acrobatic, excessive and a little wild… panache is the essence of bravery. To joke when faced with danger is the highest form of politeness, a gentle refusal of tragedy; panache is the modesty of heroism."
Rostand's speech is lofty. Writing about Cyrano de Bergerac, Susan Lloyd suggests "the pursuit of the ideal is more important than its achievement" which might explain things in simpler terms: panache isn't winning battles, it's the way you fight.
So what about cycling?
That's enough of the literary take but it's been important to understand the term so we can explore its use in cycling. It remains an elusive phrase where a victorious king started the things but Cyrano de Bergerac dies on stage.
Cycling embraces heroism, romance and the notion of panache slots right in here. We welcome long breakaways and attempts to win against the odds. From the early days this gave journalists something to write about, the brave tales of long raids were often exaggerated to appeal to readers longing for adventure. Today television works the same, a long race needs breakaways even if they prove futile. There would be nothing to watch for starters but it's the uncertainty that retains the audience, a coup de panache could see a rider strike clear and thwart a chasing bunch.
The obvious example is Thomas Voeckler, the man who puts the ache in panache. He's got an awkward style on the bike and seems to shift position, like someone with chronic back pain that can't sit tight. He doesn't win much either although when he does, it often attracts headlines with the P-word. A search of the L'Equipe website reveals his name is linked to the word more than any other rider over the past 10 years.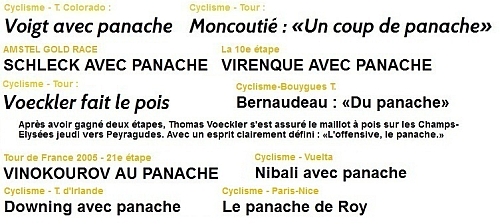 It's not just the chancers like Voeckler. Joaquim Rodriguez reminds me of a swashbuckling pirate with a knife between his teeth. Alberto Contador's Vuelta winning ride is another example and L'Equipe pulled out the P-word to describe Tom Boonen's Paris-Roubaix win. Or see Matteo Rabottini's rampage on Stage 15 of the Giro.
Barging clear off the front of the bunch isn't panache, it has to work from time to time, the rider has to surprise. A lesser rider who makes a breakaway in the Tour de France is making a huge effort but still doing their job; it's only panache a daring move brings an unexpected result. A loser can have panache only long as they succeed from time to time. Win too often and the rider doesn't have panache because they simply end up meeting expectations, they don't beat the odds they merely confirm them. If Contador had held the lead in the Vuelta from the start to finish he could not have displayed the daring needed to excite the riders. Now the feat of leading a stage race for so long is impressive but it's not so exciting, the contradiction where excellence might not excite. In the current edition of Rouleur Magazine Cath Wiggins gives her thoughts on the topic:
"All this panache business – they can kiss my arse, these people. Who's got panache? These people that go on stupid pointless attacks? I don't like panache."
It's here we go back to Cyrano de Bergerac and idealism, where the attempt is more important than result or in cycling terms where the ride matters more than the win. Perhaps Team Sky can't do panache because they don't hope to get lucky and win, they expect it. The team removes hot-headed romanticism, replacing it with a cool empiricism. There's panache when Vincenzo Nibali attacks but meanwhile the Sky rider is checking his powermeter to run a mental calculation about whether to respond or simply hold the tempo. Given most attempts at panache fail, Cath Wiggins is right although a "stupid pointless attack" is quickly written up as tactical genius should the rider win.
This is not new. Sky just use tools available today that others did not have in the past. 20 years ago a calculating rider could set the pace by their heart rate monitor. Long before that a rider like Jacques Anquetil thwarted Raymond Poulidor's plucky panache so often that it was said Anquetil was an inhuman metronome. Similarly people were stunned by Merckx's famous 1969 Pau-Mourenx stage win in the Tour but in time his crushing domination meant Luis Ocaña's failed efforts rhymed with panache.
Lazy
As much as the word conveys excitement what if this word was a catch-all term that you can drop into a headline when stuck for another word? Panache is wide enough to cover everything, from a fearless sprint to a long solo break or a crafty attack under the red kite. Can we file it with epic and heroic?
Panache in one line
It started as a plume of feathers for king and was transformed by a playwright into a code of conduct that lives on today in sport
Summary
I'd heard the phrase used so many times but didn't know where it came from. Once a bunch of feathers, panache has gone from the battlefield via playwright to the field of sport. It's used as as praise, a ready term to describe bold riding that excites the audience with its daring embrace of risk. But should a rider win too often then the panache fades, plucked away by repetition and regularity.