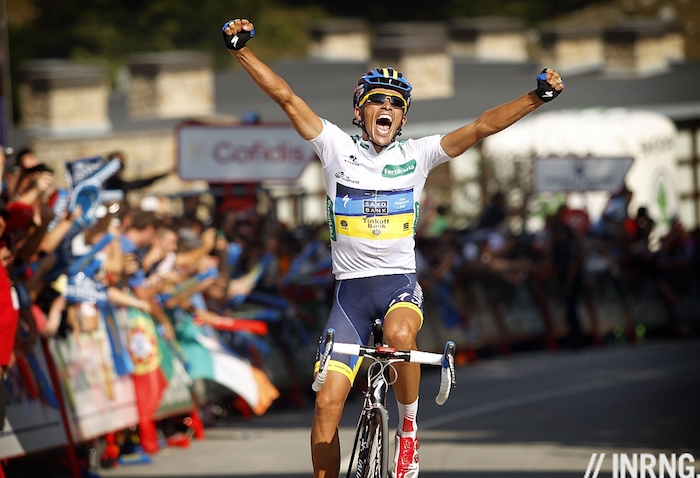 I had an angel on one shoulder, saying "don't do this, they're going to roll you over" and a devil in the other saying "go for it". On this occasion, I didn't listen to the angel. It was attack or die.
Alberto Contador attacked 55km from the finish on Stage 17 and rode on to win the stage and claimed the overall lead. If three weeks of racing are reduced to one moment, it was this audacious attack that won the 2012 Vuelta.
Everyone had expected Contador to crush the race, you could probably bet on the margin of victory before the race begun in Pamplona. But we got the first glimpse on Stage 3 with the Basque climb of Alto de Arrate where we got a quartet of contenders: Joaquim Rodriguez, Alejandro Valverde, Alberto Contador and Chris Froome. The four were to follow each other closely for three weeks before Froome began to fade in the second half of the race but in Arrate Contador looked nervous, attacking but each time being reeled in. Valverde won ahead of Rodriguez.
The next day saw an ugly controversy between Alejandro Valverde and Team Sky. The Spaniard crashed just as the British team was driving the pace in a crosswind on the way to Valdezcaray. Valverde limited his losses to 55 seconds and given his 1.16 margin down on Contador today, the crash probably did influence the outcome of the race and tactics.
Rodriguez soon made a habit of winning and his speed and accelerations on the numerous "summit" finishes, from hills to mountains, paid dividends with the time bonuses he was banking each time. He built up a healthy lead, so much so that by the time the time trial came, he had a cushion and rode well to keep Contador out of the lead by less than one second. It was this this time trial around Pontevedra that saw Froome slip away. Sky like to race methodically but Froome was all over the road on the descent whilst Contador had checked out the course eight times prior to the race and it showed, the Spaniard looked like a downhill skier, slaloming the descent like a Super-G course whilst Froome was hesitant and upright. But Rodriguez kept his lead and then began to build up his margin again.
Froome deserves some credit. He'd been surfing a wave of form since the Dauphiné via the Tour de France and Olympics. He will have learned plenty and fourth overall is notable, especially as he was ahead of other "revenge" seekers trying to salvage the season like Robert Gesink or Jurgen Van den Broeck.
La emboscada de la Hoz
Stage 17 it started fast and an early move went clear with Contador and Valverde but it was quickly brought back although this cost Katusha some firepower. Later a group of 19 was up the road with 60km to go as they raced over the Collado de La Hoz climb and Contador soon attacked and bridged across to the 19 but these riders were fragmenting. Contador got help from Jesus, Jesus Hernandez that is and along with Bruno Pires and Sergio Paulinho, they drove the riders with Contador sitting tight to the final climb when Astana's Paolo Tiralongo also offered his support, having been a previous team mate of Contador and was gifted Stage 19.
Meanwhile the red jersey Rodriguez was beginning to struggle. He had Alberto Losada for help but not much more and as they climbed the gradual ramp to Fuente Dé they could do little to stop Contador. Rodriguez is like a flyweight boxer, he thrives on short sharp climbs, his darting accelerations are like jabs to the lungs of his rivals as he undercuts his rival's mitochondria. But on this long road he could not match the rolling power of Contador and surrendered time, and worse for him, Alejandro Valverde used Colombian team mate Quintana to almost bridge across to Contador meaning Rodriguez ended the day in third place.
Contador is Spanish for accountant but this was no calculated move. It could have failed spectacularly. But it worked, a brilliant move by Contador and his team, harrying his rivals when they least expected. In fact there are no photographs or TV images of the move as the stage was so fast and the move so far from the finish that nobody was there to record it. Off the bike it's hard to get the measure of Contador but on the bike he is a machine, technically gifted and with surely one of the highest pedalling efficiency rates in the bunch and it is nice to see this married to brave mind. Although because we know he can't win any UCI points since he is returning from a doping ban I wonder if this freed him of the conservatism to camp on a certain podium place?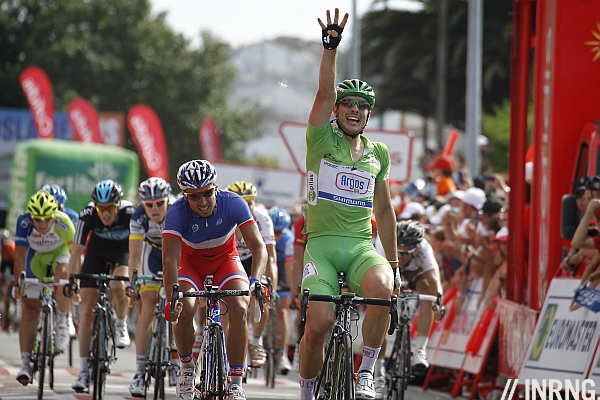 It's also worth mentioning John Degenkolb, if he didn't win the race he won five stages and is only a second year pro. A powerful sprinter with a stocky build, he is actually a more versatile rider and can look to the classics as well as grand tours for more wins.
Conclusion
Joaquim Rodriguez seemed to have everything under control and the steep summit finishes suited him. But team tactics, a bit of luck and a determined Contador turned the race upside down on Stage 17.
In a way it was a shame to see Rodriguez deposed, he'd been attacking non-stop, he was out-climbing his rivals on the wildly steep roads, sprinting for time bonuses and even rode a very correct time trial. He even lost the points jersey to Valverde on the last day. But that's no enough, the charm of cycling is that bold moves can overturn the race, that one big attack can change everything. Contador went when nobody expected it yet delivered the result everyone expected.
Was this the best grand tour of the year? That's subjective. The Vuelta had some stages that were worthy of a siesta but many that had you on the rivet of your sofa. The combo of route and the riders made it a close battle for two and a half weeks. Yet in hindsight for all the summit finishes, the early selection of four riders was repeated each day until Froome faded to leave three. Indeed Valverde's crash on Stage 4 cost him more time than any mountain. And for all the terrible climbs and ten summit finishes it was on the mildest of climbs that Contador powered away from Rodriguez to win the red jersey.