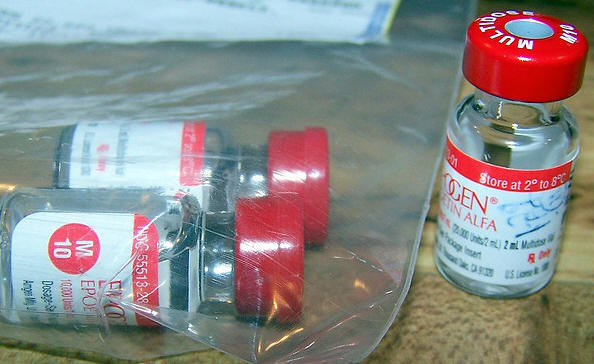 Last month I read Tyler Hamilton's "The Secret Race" and chased it with the USADA Reasoned Decision. There are many references to EPO, the blood boosting hormone that riders inject. So many that it takes on a variety of nicknames, that the method of injection is explained – both subcutaneous or intravenous – and consideration is given to the storage, whether the domestic refrigerator or a thermos flask for portable access. Even the means of hiding it are explained, from making your team mate store the stash to hiding the vials behind the vegetables in the kitchen refrigerator.
But if it was so widely used it's rarely stated that injecting EPO is bad for your health. From blood clots to cancer the use of this drug comes with risks when administered under normal conditions. When abused by athletes, nobody knows what the risks are and that's before we get to the mafia and its role distributing this drug.
First a quick explainer. You probably know it but EPO is short for erythropoietin, a hormone that controls red blood cell production. The red blood cells carry oxygen. So in simple terms taking EPO increases red blood cell production and consequently for an aerobic sport like cycling the ability to take more oxygen to your muscles during competition is a big advantage. EPO is produced naturally but Eugene Goldwasser and others eventually managed to synthesise it.
Blockbuster
The drug has been a block-bluster for the companies that developed it, doping the sales of Amgen and Johnson & Johnson although in recent years it's become a liability because of exposed practices of these pharmaceutical firms but also because of the molecule itself.
After being promoted as a wonder drug at first wider use and statistical analysis began to show it came with risks and by 2007 the US Food and Drug Administration, the national pharmaceutical regulator and by extension a worldwide watchdog, put a "black box warning" on the product, an official warning that's similar to the black and white text found on cigarette packets in many parts of the world. In very simple terms using EPO can increase the chance of cancer by stimulating malignant cells meaning if it's used by cancer patients to help recover from treatment it needs to be used responsibly.
Mass market
But medics weren't always so cautious. In the 1990s EPO became more and more promoted as this TV advert shows, ending with the man saying "I got two speeds, fast and faster":
A recent feature on cyclingnews by Kathleen Sharp* tells how dosages for the medicine were set by regulators – after obvious lobbying – at maximum of 7,500 units:
…Amgen pushed for a higher dose of 7,500 units, said Dr. Joseph Fratantoni, an FDA official who took part in the discussions. "They won the day," he added. In time, the drug's label would list a starting dose of 10,000… …Compare that with the 2-3,000 units used every few days by cyclists in the 1990s
At first glance the comparison sounds OK. Our racing cyclists were taking small doses compared to the approved amounts, right? Only the approved amounts were recommended for people with kidney problems or on chemotherapy or another condition where medicine was needed to recover. In other words 7,500 units was for a sick patient, perhaps somebody with a haematocrit of 30% or less. By contrast the cyclist who had healthy blood and started injecting EPO was taking a leap into the dark. Literally in some cases as early tales said some Dutch and Belgian riders started to use EPO fell asleep and never woke up, suffering a stroke or brain haemorrhage in their sleep but this was never proven.
Alarming bells
In time the dangers were learned in cycling. As well as a portable centrifuge to measure their blood count, the typical pro cyclist in 1990s also invested in another vital piece of medical equipment: an alarm clock. Riders had to wake up in the night to start exercising and get the blood flowing in case their ketchup-like blood began to clot and kill them in their sleep. And so it came that riders were going to bed with three or four travel alarm clocks ticking away on the bedside table, two to wake up at night plus a back-up in case the battery went in one during the middle of the night, plus a normal one to get up in the morning. In motels in France and Italy cyclists would rise at 3.00 am to suddenly start doing press-ups or ride their noisy indoor bikes.
These nocturnal habits were not limited to a few sneaky cheats. Sales of EPO soared in Europe. Italy's Sandro Donati reported:
between 1997 and 2000 the amount of the blood-booster erythropoietin (EPO) sold in Italy doubled even though the number of prescribed kidney patients, for whom the drug was originally developed, remained roughly the same
Donati went on to claim that sales of EPO exceeded clinical needs by a multiple of six. In other words for every vial of EPO going to a sick patient up to six were going to people for doping. Donati's ratio is an estimation, it's probably – surely, hopefully – not so high? It's hard to know the precise multiple. As Kathleen Sharp has shown sales galloped ahead by other means but it is clear that a significant amount of consumption went to healthy athletes and not sick patients.
Easy EPO
One reason why it's hard to track the illicit use has been because the simplicity of buying it. If it was not promoted on TV, EPO has been easy to get. The sale in Italy required a prescription but that's 20 seconds for a corrupt sports doctor on commission. Besides over the border in Switzerland anyone could walk into a pharmacy and ask for some vials of EPO, pay and leave with the goods. In time people were moving house to stay near ready sources and teams were hiring backroom staff thanks to their ability procure EPO at good prices. It wasn't just cycling, the Juventus team doctor was prosecuted and other sports were caught too, from athletics to skiing and remember that track and field sprinters were using it, even horses too.
But Donati's main claim was that much of the sale was being controlled by organised crime. In Italy sales of EPO correlate suspiciously well with the most infamous regions of the country. Normally EPO scored low for sales in most regions, for example 11th in
Lombardy, 30th in Veneto and the 90th best-selling pharmaceutical in Valle d'Aosta. But it was the numero uno product in Campania, second in Basilicata and Sicily, and third in Apulia and Calabria and coincidentally each of the regions is home to a powerful mafia group. But before we get carried away a paper claimed this was due to more legitimate reasons. But both hypotheses are probable.
Crime is no speculation. Police work in Italy did catch several gangs stealing and selling doping products including EPO. Some cases were not solved, for example the raid in 1999 of a pharmaceutical warehouse in Cyprus saw more than 4.5 million vials stolen, an act of very organised crime given the need for careful handling and a refrigerated get-away vehicle, and this just to seize the product, yet alone handle the sales channels. Over in the US authorities were struggling with counterfeit products coming from places like China, Thailand and Russia. EPO isn't just bad for an athlete or a sport but society too.
All this is before we get to the unreported effects. If the FDA and others were reviewing the health risks for chemo and dialysis patients obviously nobody was looking into the health of pro cyclists. Even team doctors busy administering EPO were unlikely to consider the risks involved. But there's more here because EPO might have an effect on the brain chemistry too. Anecdotally riders have talked of depression surrounding the (ab)use of EPO and when they stop using it but clinical trials also link to anti-depression too.
New products
If EPO went from experimental to banal in clinical terms, this happened in sport too. When test finally appeared moves to control its abuse in sport implicitly encouraged alternatives. Just as EPO has been a wonder drug it because it helps produce new red blood cells the real jackpot comes in a product to replace human blood or at least red blood cells, or if not then just haemoglobin, the oxygen-carrying protein. Banked supplies don't last too long as your hospital manager or Riccardo Riccò will tell you. A chemical substitute has been a big goal for many companies.
One company that came close was Biopure with its products Hemopure and Oxyglobin, for human and veterinary use respectively. Only Biopure could never get full international approval and the company was liquidated. But this didn't stop the product attracting attention, with Hemopure being linked to disgraced Dane Michael Rasmussen and the animal version, Oxyglobin, going to Jesus Manzano.
Similarly other EPO-like products were produced but have been dogged by patent claims, for example Mircera for which the manufacturer Roche co-operated with WADA to help ensure a test was readily available, leading to several cyclists being caught in the 2008 Tour de France.
Conclusion
"Got some Poe I can borrow?" The abuse of this product by cyclists is well known to the point where it took on coded "street" names.
Over time the risks of the drugs have become known, whether from clinical trials or tales of cyclists who never wake up in the morning. These days the product comes with explicit health warnings on the box, something you suspect a dodgy doctor doesn't tell an athlete.
Sales of EPO flourished thanks to the clinical needs of many patients but also, as Kathleen Sharp has shown, thanks to soft prescriptions and aggressive sales techniques. In time other versions appeared and the patent lawsuits followed. But questionable sales techniques almost look small alongside the claims that the legitimate use of the drugs has been dwarfed by illicit use of the product, namely for doping athletes. It's hard to quantify as sales channels don't specify the end use. And when the drug proves hard to source we see the involvement of crime syndicates providing a service that the free-market cannot.
The drive to produce these blockbuster drugs and wonder molecules has provided many patients with health and hope and rewarded investors along the way. These days EPO is proving a liability for its makers too as lawsuits and settlements replace prescriptions and profits but Amgen's stock price is close to an all-time high and it is produced by others. To this day it is being abused, see David George.
Looking ahead and the hunt for synthetic blood continues in research labs and clinical trials and any advances in science will sadly show up in sport too.
* I'd been sitting on a draft of this piece but the recent feature on cyclingnews.com was a good motivation to finish it and the information on dosages was useful to this.