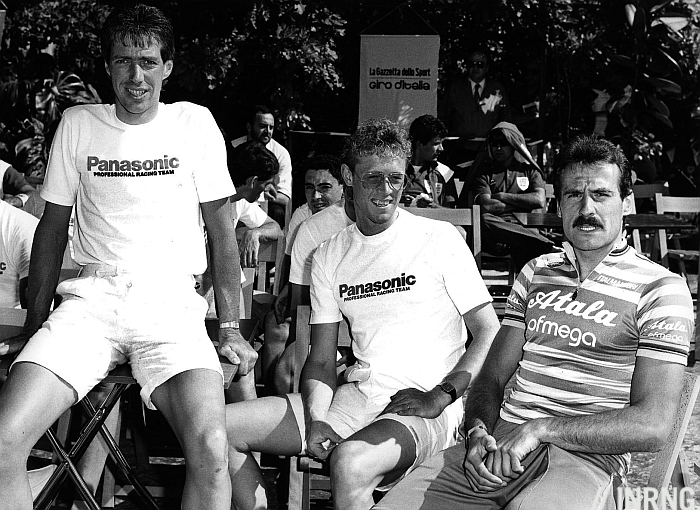 Several pro riders are taking part in "Movember" the sponsored charity attempt at growing a mustache. It's hit many of the Aussie bunch including honorary members like Koen de Kort and more. For a good view of their progress, head over to Cycling Tips.
But these pros have a long way to go if they want to rival Urs Freuler, a man who made the 'stache his trademark. In fact he's still got it today.
Freuler (say Froy-lerr) is Swiss and started winning early on the track with two junior titles for the sprint and kilometre before turning senior and winning the national sprint title. He turned pro quickly in 1980 and within weeks won the European omnium title on the track, a title he won the following year whilst also winning his first world title in the points race, again on the track.
By now you should get the picture that he was a fast sprinter but he was branching out into longer distance events. First came Six Day racing but in 1981 he won a stage in the Tour de Suisse and the Tour de Romandie prologue too before collecting a stage in the Tour de France after he was hired as a guest by the TI-Raleigh team to ride in France. In the space of a couple of years he'd gone from junior sprint titles to international stage races.
But this was only the start for Freuler. The facial hair was clearly no aerodynamic brake as he took three stages of the Giro in 1983 and ended up with a career total of fifteen stages as well as one cyclamen points jersey in the 1984 Giro, helped perhaps by the flatter course designed for Francesco Moser and the cancellation of a crucial mountain stage. May seemed to be Freuler's best month on the road as he'd regularly win stages of the Tour de Romandie and the Giro. He's stayed in cycling and was a manager at Phonak, no doubt exploiting his Swiss connections to get the job but left in the wake of repeated doping scandals, presumably the low of his career. Although he copped a six month ban for testosterone in 1991. Perhaps his natural machismo tripped the test?
The others?
Freuler is know for the distinctive moustache but of course there are others. The first ever winner of the Tour was Maurice Garin and he sported, appropriately, a handlebar variety. But it was unremarkable given this wasn't just en vogue but widespread back in the day, after all Tour creator Henri Desgrange, a generation older, had one too.
Modern Era
In more recent times they have been rare, even in the 1980s when the 'tache made a brief fashion comeback. 1980s Tour contender "Jeff" Bernard sported a shifty shadow and German classics specialist Rolf Gölz did too. The moustache made a flirting comeback with Steve Cozza who used to be at Garmin and he inspired team mate David Zabriskie to copy.
But surely none can rival the brushed beauty and whiskered wizardry of Freuler? He wasn't just a moustache on wheels, he collected wins and also had a great style on the bike with tree-trunk legs and a low tuck. Today he runs a bike shop in Switzerland. In the month of Movember, who can rival Freuler?