I enjoy cycling for the suspense, drama and action. But analysis sometimes means using cold numbers and hard data and often these  confound what we think. Here's a look back at 2012 via some numbers, from the most victorious rider of the year to the nation with the most pro wins as well as other stats from the season.
The numbers below are based on all UCI races rated .2 and above, so all the pro races. This pits big teams against small ones and explains why some relatively unknown riders and teams can appear alongside bigger names below but the point here is the sheer numbers rather than an evaluation of quality.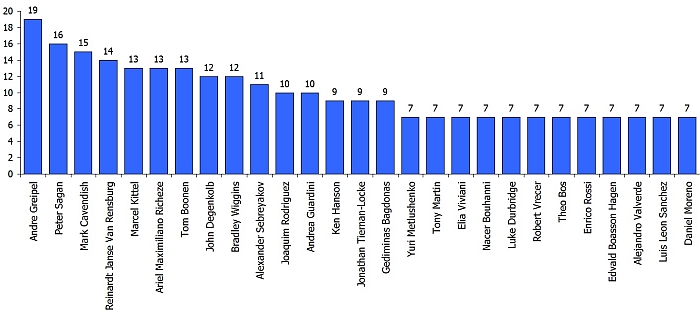 This shows just how open the sport is, that the most victorious rider only takes a small percentage of the wins available. We'll return to other means of measuring Greipel's success below.
Next as cycling is a team sport let's look at the most victorious teams of 2012.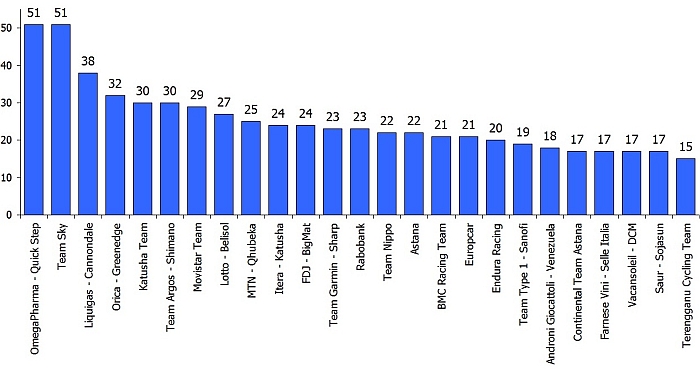 Omega Pharma-Quickstep top the charts and with Mark Cavendish on his way they could do even better in 2013 but the remarkable thing with OPQS has been the diversity of wins with several riders racking up the wins. Orica-Greenedge had a great start with 32 wins, very impressive for a new squad but at the same time their roster is packed with sprinters and fastmen so they've played the numbers right and collected lots of wins in the year. But they don't yet have many GC contenders and mountain men for the big Tour, where even Matthew Goss was a little bit short of Greipel, Cavendish and Sagan in July. Still on raw numbers it's great. Note Lotto-Belisol on 27 wins, meaning André Greipel is responsible for over two thirds of the team's success. Plus FDJ might be worried about ejection from the World Tour but it's done well in the quantity of wins, especially with sprinters neo-pro sprinters Arnaud Démare and Nacer Bouhanni. Note the development teams of Astana and Katusha on the chart above alongside the main teams, they've had a very good year and it bodes well for Kazakh and Russian cycling.
Now talking of nations here are the countries ranked by wins: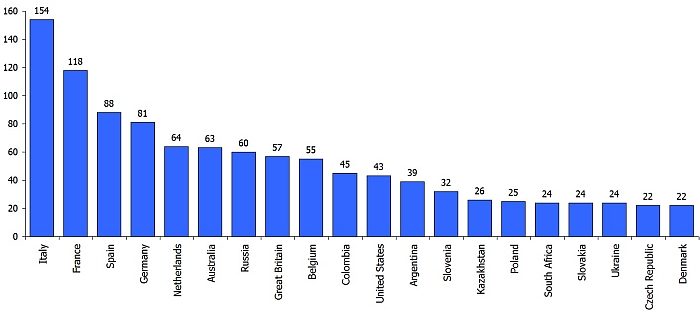 The sport might be spreading but note the dominance of Italy, France and Spain. Germany is interesting because of its sprinters with Greipel, Kittel and Degenkolb winning plenty whilst Tony Martin has done very well and so has Stefan Schumacher, the disgraced rider is racking up wins in smaller races around the world. And if you think the British had a good year, the Russians won more.
Whilst Schumacher is collecting plenty of airmiles as he races in Asia, the king of road miles is Mikhail Ignatiev of Katusha.
Ignatiev has ridden a total of 16,257km to beat Adam Hansen's 16,025km. It's not on the chart but the Russian also "wins" with 104 days of racing compared to Hansen on 103 days. I hope these riders have had a good off-season.
Note André Greipel on the chart again here, he's done 14,978km in 89 days of racing. This means he's won 21% of the races he has finished, a one-in-five success rate and the same winning rate as Peter Sagan from his 73 days of racing. By contrast Mark Cavendish is on 17.9%, still a phenomenal rate. If these three riders start a race then there's a good chance one will win it but don't do the arithmetic of adding 21% + 21% + 17.9% to make a 59.9% chance this trio will win against the others because of course the numbers are often derived when the riders in question are competing in different races. For example in May Cavendish rode the Giro, Sagan the Tour of California and Greipel had a rest for most of the month.
Conclusion
There are many statistics to toy with and here we've seen a few obvious ones. In cycling some wins are worth a lot more than others and so the absolute count of victories needs some relative analysis. But in a mist of statistics André Greipel stands out. Yes most races finish in sprints so it's normal that sprinters come to the fore but Greipel seems to win on quantity and quality too. And despite the Gorilla name he's not really the chest-thumping type. Instead he's polite, a gentle giant and a delight for his sponsors. His website, if infrequently updated, is good example of a rider giving a personal take.
But cycling is a team sport and Greipel's wins mean success for his team mates, whether those who work directly or just the whole outfit. It's less prevalent than it used to be since salaries count for more but repeated wins means repeated bonuses and teams like OPQS and Sky will enjoy the wins and the winnings too.
All the source data is from Cycling Quotient where you'll find other rankings and data