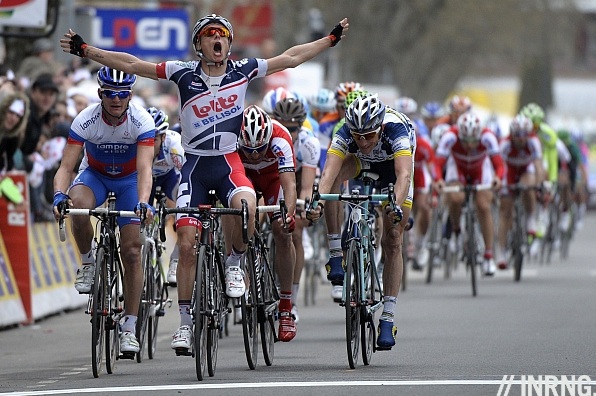 Gianni Meersman had a great start to the season, proving a useful finisher with a stage win in Paris-Nice for example. Now he's leaving Lotto-Belisol, exploiting a break clause in his contract if the squad does not make it into the World Tour for 2013. The team seem to think they will and as set out during the week on here, his ranking points count for the squad on the 20 October deadline. Now he's gone the team get to keep his points whilst the licence is decided but are liable for a giant fine, from 10,000 to 500,000 Swiss Francs (about the same sum in US dollars) under UCI rules. Ouch.
Why? Well they have used a rider's points only he's now gone. But it seems the team are not to blame, they presented Meersman's contract in good faith only because the team has not got its licence yet he's jumped, leaving them without a good rider and possibly a large fine. He can join another team for a good contract but his valuable haul of points won't count as its after the deadline so if he goes to Saxo as some say it won't help their bid for a licence. It'd be odd to imagine Lotto-Belisol out of the top-18 teams in 2013, after all Jurgen Van Den Broeck was fourth overall in the Tour de France and André Greipel has won more races than another other pro in the world this year.
MPCC moves on
The Mouvement pour un cyclisme crédible is gathering more momentum as three new teams sign up, namely Bardiani-CSF (the new name for Colnago-CSF and Conti-level teams BigMat-Auber and La Pomme Marseille. Joining is the easy part, adhering to the values is harder, especially if riders are caught doping. But for now the real question is why aren't other teams joining? What objections do the likes of Team Sky, BMC Racing or Astana have?
Le Tour piles on the Pounds
The Tour de France will start in Britain in 2014 or 2015. It's just a question of where now with rival bids from Yorkshire and Scotland going head to head. ASO will love this as the country is next to France but offers a large untapped market and one that is receptive to the sport, unlike Germany right now. To host a grand départ needs three winning things:
to meet the technical requirements such as space for the media, telecommunications
to offer a sporting course suitable for the race
to put in a winning bid, probably of the order of €10-15 million
Given Britain offers big cities with hotels and telecoms and a variety of terrain for the opening stages it seems the bid will come down to a bidding war. There's plenty to expect in return from international coverage and a gain in tourism, studies show that hosting the stage of the Tour de France brings in a multiple of the sum spent in terms of publicity and coverage although this is always subjective analysis.
Hollywood Boulevard
Thomas Voeckler is to get a street named after him in Chantonnay, a town in Western France near to his home. It's not unique, there are other streets and squares in France named after cyclists, for example the Place Jalabert in Mazamet, the home town of the French selector and Vuelta winner Laurent Jalabert. It's still a rarity, usually these things are awarded to the dead as Jalabert said when told of the decision. As for Voeckler, it's a boulevard. Presumably be the Boulevard Thomas Voeckler rather than Hollywood Boulevard.
Guerilla Cycling Lanes
Finally talking of French roads and cyclists, if the theme here is usually sport, some transport news. Critical Mass activists in the town of Toulon have taken to painting their own cycle paths. A commando operation sees them strike with their paint overnight and residents awaken to find painted paths and symbols on the road. At first the town hall fought back with black paint to remove the markings but in time some of the ideas have turned into reality.