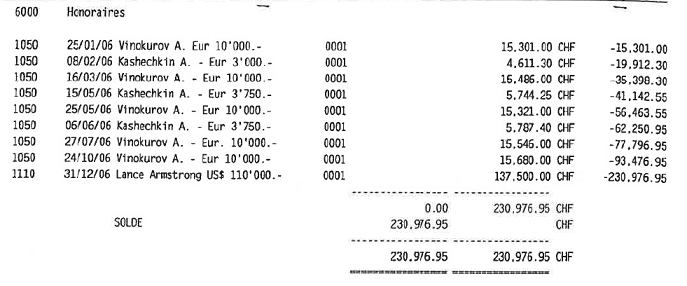 Think the USADA case is about the past, with talk of the Tour de France from a decade ago and the retired Lance Armstrong? Maybe it's over once Johan Bruyneel, Josep Marti and Pedro Celaya complete their hearings?
Wrong. The information released by USADA is so extensive that it will cause aftershocks for months and years to come. Forget the procedural spat between the UCI and USADA and an appeal to the Court of Arbitration for Sport. Instead teams and high profile riders are facing fresh questions and possibly new investigations.
It's hard to know where to start there are so many questions. Let's go in alphabetical order and begin with the letter A… as in Alexandr.
The image above shows payments banked by Health & Performance, a company that belong to the Ferrari family. As well as big payments from Lance Armstrong Alexandr Vinokourov and his former sidekick Andrey Kasheckin are here. Is paying money an offence? No but when Frank Schleck was caught doing the same the Luxembourg Federation launched an investigation; it went nowhere but there is a formal duty to investigate. Especially since the one document above alone details €50,000 of payments in half a year, whilst Schleck's "training plans" only cost €7,000. If you think Vino has been caught before, that's true but it was in 2007 and this was a separate offence. Above all, Vino is going to be manager of Astana, a position of responsibility.
Next up is Team Sky's Sean Yates. A manager with Discovery and Astana, he said he didn't see anything in the audio clip. "I never ever saw any indication of anything dodgy" he says he was aware of "speculation about Lance". Yates is known for having a team bike and riding during the races so he was away from the hotel more than others. But after all the work of managers, doctors, soigneurs, riders and more detailed in all the reports it's hard to imagine Yates labouring under the illusion that the whole team were riding on bread and water, the Truman Burbank of the caravan. But then again, what else can he say? If he were to raise doubts today he could be out of a job.
But Yates is not alone. We must remember that he was one manager at Discovery and Astana with Dirk DeMol and Alain Gallopin, both at Radioshack. Plus rider Viatcheslav Ekimov has just been promoted as manager of the Katusha team. Did all of these people see nothing? Is Ekimov named in the USADA paperwork?
Saxo Bank have problems too. Sworn testimony by Leonardo Bertagnolli is included in the USADA documentation and it names their new signing Roman Kreuziger. For now it's just heat but it's embarrassing and if investigations get going in Italy then – slowly – he could be in trouble. Worse for Saxo is the case of Josef "Pepe" Marti. The former employee of the US Postal team followed Contador to Astana and when the Spaniard moved to Saxo Bank, he wanted to take Marti with him but the Danish squad said no. But the two continued some collaboration, I understand this went at least to the 2011 Giro. Plus if Leipheimer gets kicked of the podium for the 2007 Tour de France after confessing to blood doping, what about his Discovery team mate Contador who won the race? In the past this speculation belonged on internet forums but now USADA's detailed the extensive doping on the team it has brought this into the open, with Leipheimer stating Bruyneel was pressuring him into a blood doping programme for the 2007 Tour. Now, careful, this does not condemn Contador, it merely makes us ask a lot of questions in public. At best Contador should be horrified to learn what was happening inside his team.
And it goes on. You might not remember Volodymyr Bileka, once a Discovery Channel rider who went to Silence-Lotto but tested positive for EPO. He's still going, only not so strong with the Konya – Torku Seker Spor in Turkey. But the Ukrainian has given a witness statement that goes on to name 13 riders he sees training with Michele Ferrari on Mount Teide in Tenerife in 2006: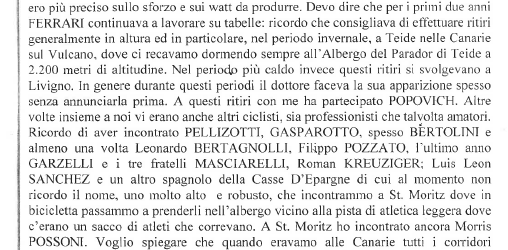 Even if you don't get the Italian, the NAMES stand out. Pellizotti and Gasparotto are known clients of Michele Ferrari and Filippo Pozzato got caught too. I mentioned Kreuziger above and Stefano Garzelli is set to retire. But Luis Leon Sanchez, a client of Ferrari?
If this isn't bad enough for Rabobank, Levi Leipheimer's affidavit also says he got EPO from a Rabobank team staff who was both the coach and overseeing an apparent doping programme. All this has put Rabobank on the spot and they've confirmed and investigation and team boss Harold Knebel has started to voice calls for some sort of truth and reconciliation committee, a move that at least tries to take the team forwards.
Another team with problems is Liquigas. In a statement summarised by cyclingnews.com's Stephen Farrand Leonardo Bertagnolli paints Michele Ferrari as the Liquigas team doctor with management consenting to riders using Ferrari's services back in 2007. Amongst all the teams Liquigas have the strongest response saying they've made big changes and now forbid riders from using external training services. But the past can come back to bite if more documents appear.
Finally there's the UCI. Forget the past allegations of a cover-up from the 2001 Tour of Switzerland, looking forward the test is just how many investigations will the UCI launch or oversee. Does it want to learn from this… or bury it? Because it shouldn't sit still when the reigning Olympic champion and new Astana team manager is caught wiring money; the same for other examples cited above. It needs to verify this rather than wish it away.
When the sport has a doping scandal it often promises change, cites new doping methods, says it is leading the way and toughs out the storm. But that's not good enough any more. The governing body needs radical institutional change. The idea that it can view bio-passport data  from riders before passing it on to the expert panel for review and possible prosecution has to go, the data should be reviewed anonymously. Indeed the whole anti-doping operation of the UCI needs to be taken away from the governing body and placed at arm's length just for the sake of clarity.
But the signs aren't good. Believe France's RMC radio and the waft of fresh bullshit is coming from Hein Verbruggen told the station (my translation):
"I am happy that in the USADA report it says we never hid things under the table. It's very important And I never said Armstrong never doped. What I said was that when Landis came along with his allegations, we'd never had a positive test for Armstrong"
However in 2011 AD.nl reports a different version (my translation):
"I repeat once again: Lance Armstrong has never used doping. Never, never, never. And I say that not because I called a friend of his might, for that is not so. I say it because I'm sure."
Note he doesn't say a positive test but the original quote in Dutch says "Lance Armstrong heeft nooit doping gebruikt", never used doping. If the UCI are getting tangled up here, the rest is a worry.
Conclusion
Look beyond the 20 days for the UCI to review the file and if you thought the future was the UCI vs USADA in the CAS appeal, it's worse and much more complex. Forget Armstrong if you want, he extensive files reveal payments, training camps, methods and more that link up in a web of deceit that goes far beyond US Postal and the bad old days. Active riders, managers of many teams and others all have plenty to account for.
This is no surprise. Many teams were operating on a similar basis, perhaps not as extensively but you wonder if Manolo Saiz feels robbed when USADA described US Postal as "the most sophisticated doping program in sport". What is unexpected with the case is that the USADA investigation reveals more than one team, in particular the investigation into Michele Ferrari has flushed out many new names.
We still need caution, those riders outed by Bertagnolli, Bileka or Leipheimer are innocent for now. But there's enough in the files for WADA and others to consider launching new investigations and demand sworn statements from those involved. The Italian investigation behind these documents is ongoing and could bring fresh prosecutions. Ordinary fans need to be vigilant.
Given the speed of Italian justice and how long it has taken to resolve other sports-cases, we can expect this week's revelations to go on for years.