USADA have published their report on the decision to impose a lifetime ban on Lance Armstrong for doping and drug trafficking. The report is extensive and damning, complete with testimony from unimpeachable sources like George Hincapie and Levi Leipheimer. Indeed every American cyclist who rode the Tour de France with US Postal and Discovery for the seven year period between 1999 and 2005 has now confessed. Except for Lance Armstrong and Kevin Livingstone.
Yet the report isn't just about Armstrong. It contains references to his old teams, to senior officials in the sport, from US Cycling across to the UCI and beyond. Over one million dollars in payments to Michele Ferrari are detailed for example.
The report goes into extensive detail, offering a chronology of the US Postal team and Lance Armstrong's role based on sworn affidavits from 26 people as well as extra information from others, whether media reports or more.
The full report is so damning in its entirety that picking the key points is immaterial, it is the weight of evidence rather than any particular selections that matters. Nevertheless here are some summary points:
The 2001 Tour of Switzerland: The EPO test is not black and white. It is scored and riders can report suspicious levels without going over the threshold that guarantees a positive test. In the Tour of Switzerland several samples showed suspicious levels that suggested EPO use. The lab director has said the UCI told him one of these belong to Armstrong. This is not a positive test but highly suspicious. Soon after Armstrong and Bruyneel visited the UCI and donated at least $100,000. The question for me is whether the UCI rushed to investigate or hurried to bury the story?
Follow The Money: USADA have been able to track down over one million dollars in wire transfers between Lance Armstrong and Michele Ferrari.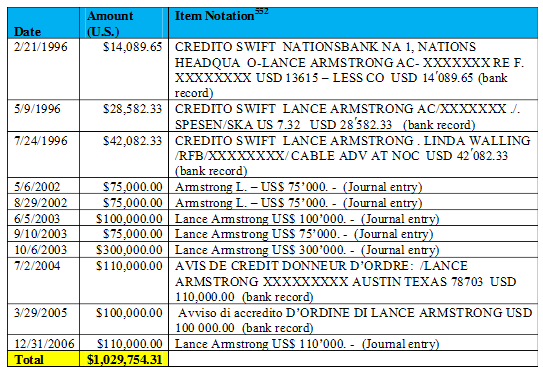 Almost Funny: On page 119 we get details of David Zabriskie's hesitations over starting to use EPO:
Zabriskie began to ask questions. He was fearful of the health implications of using EPO… …Would he grow larger ears?
Which is like something Zabriskie would put on Twitter. However this is not so amusing as we get the sorry tale of Zabriskie who sought refuge in cycling as it "provided an escape from the difficult home life associated with a parent with an addiction" and how he came to see Bruyneel as a paternal replacement before being led into taking EPO.
Dr Good, Dr Evil: There's a split between the avuncular Dr Celaya and his replacement Dr Del Moral. If Celaya initiated the doping programme at US Postal, he was liked because of his personal style. By contrast Christian Vande Velde said del Moral "would run into the room and you would quickly find a needle in your arm" and he seems more aggressive in supplying the team.
Never Tested Positive: But Armstrong was tested over 500 times, right? Wrong, the report suggests he was controlled no more than 200 times and that there were easy ways to avoid being caught. At first there was no test for EPO and when they introduced one, US Postal switched to blood doping, for which there is still no test. However analysis of Armstrong's blood data reveals strong patterns associated with blood manipulation. So the testers were often unable to test for the banned substances and banned methods being used. In addition the team would somehow get at least an hour's notice of testing in a race.
It's here that we see the illicit advice of Ferrari paying dividends. As a new test for EPO is introduced, Ferrari soon grasps that, in crude terms, it compares a ratio of naturally occuring EPO to injected EPO. Therefore he advises riders used altitude tents or travelled to mountain training camps in St Moritz or Tenerife in order to generate more natural EPO and thus give them cover to take artificial EPO on top.
The Comeback: when looking at the blood data from 2009 and 2010 USADA's expert Professor Gore concludes "the approximate likelihood of Armstrong's seven suppressed reticulocyte values during the 2009 and 2010 Tours de France occurring naturally was less than one in a million".
Actually this rings alarm bells for me as courtroom experts are notoriously prone to bias, especially when it comes to the field of statistics and probability. But given Armstrong was working with Dr Ferrari during this time and has a track record of blood doping throughout his career we might put a good probability on the likelihood of blood doping.
The Fallout: Christian Vande Velde and Levi Leipheimer both go on the record stating they doped at CSC and Rabobank respectively, Leipheimer even states the name of the doctor, although this is redacted in the paperwork. A bank log in the name of Ferrari's Swiss company shows inflows from Armstrong… and Vinokourov. A deposition by Leonardo Bertagnolli names a "nephew of Francesco Moser" and cites Liquigas team management as being close to Michele Ferrari. Another statement by Vlodi Bileka names Luis Leon Sanchez as another Ferrari client. Indeed both these statements claim to name numerous clients of Ferrari, from Roman Kreuziger to Enrico Gasparotto and more. This will place others in the sport under question.
Statute of Limitations: this is not applied because of the extent of the fraud. The report says "Armstrong's affirmative actions to cover up his doping and subvert the judicial process clearly constitute the kind of fraudulent concealment sufficient to suspend the running of the statute of limitation under U.S. law".
It is about Lance Armstrong: whilst this is about a conspiracy involving several people the considerable lengths Armstrong goes to when someone frustrates him are notable. After Greg LeMond expressed "disappointment" in an interview on the idea of Armstrong working with Ferrari Armstrong reportedly said "I'm going to take him down" and he could make one call to Trek Bicycles to "shut him up". Similar the report says Slipstream Sports "received several phonecalls from Mr. Armstrong suggesting that Mr. Vaughters should be removed from the management of Slipstream Sports". There are other examples like this. Perhaps this drive and aggressive determination made him a winner but it seems to have contributed to his downfall.
It's not about Lance Armstrong: if you take any message, it should be that this is not the prosecution of Armstrong in isolation. "He was not just a part of the doping culture on his team, he enforced and re-enforced it" says the report as it seeks to convict Armstrong, Bruyneel, Celaya, Marti, Del Moral and Ferrari.
What next?
Lance Armstrong and his legal team are already trying to attack USADA and the document. I can see why, after all to come clean now would be very difficult but for me they're a laughing stock trotting out lines that only embarrass everyone. I can't see how the Livestrong charity can continue any association with someone now exposed for trafficking drugs, abusing medicines and doing everything that runs counter to healthy living.
Talking of Lance Armstrong's lawyers, they could be busy for some time if companies like SCA Promotions decide to take him to court. The company tried before to stop bonus payments for winning the Tour de France but if the UCI strips him of his win they will have a case. There is also the possibility of perjury given Armstrong gave statements under oath to SCA.
However my opinions aside there are formal steps to come. The UCI will receive the document and I believe they have 20 days to act. If they agree with the decision they will have to uphold the verdict and strip Armstrong of all his results from 1998. But they could still challenge on grounds of jurisdiction. Good luck to them hear because now this document is public they cannot ignore the extensive testimony. However senior staff in Aigle are notoriously prickly. USADA is clear that cycling's governing body "responded with disdain and disinterest" towards riders trying to reveal the problems of doping. Statements like this will put the UCI on alert, ready to counter-attack rather than fight the problem.
Bruyneel and Del Moral have asked to go to arbitration. My personal view is that this is a stalling tactic, each extra month that passes before the hearing means an extra month of salary for Bruyneel. Regardless of the precise day, Bruyneel's career in cycling is finished.
The six active riders who have confessed are Levi Leipheimer (Omega Pharma-QuickStep), Christian Vande Velde (Garmin-Sharp), David Zabriskie (Garmin-Sharp), Tom Danielson (Garmin-Sharp), Michael Barry (Sky) and George Hincapie (BMC). They've put out press releases and if we welcome their cooperation, they have only confessed once all avenues of denial reached a dead end. They are banned from 9 September 2012 to March 2013. Normally they would get a two year ban but the WADA Code allows for the tariff to be reduced by up to three quarters and so they all get the maximum relief of 18 months for their extensive cooperation.
Conclusion
202 pages to tell us what we already knew? Perhaps but the detail is the difference, corroborating witness testimonies meet wire transfers and boxes of documents to tell the tale of the greatest sporting fraud ever. If many cyclists had made up their mind, I think the media and wider public will now join them in understanding what went on although let us remember US Postal/Discovery was just one team up against ONCE, Banesto, CSC and all the others.
Once again remember this is not the trial of Lance Armstrong but a conspiracy on the team. The story isn't finished as the UCI will have to act, either to approve or reject this document. We should get got a holding response from the UCI and no doubt they will take their time before deciding their next move.
Finally this spreads beyond Armstrong and US Postal. The exploration into the activities of Michele Ferrari has resulted in many new names being flushed out in public, from Amstel Gold Race winner Gasparotto to Tour stage winner L-L Sanchez and Olympic champion and new Astana manager Vinokourov. Now a sworn statement is not enough to convict these riders but diligent investigation is required.
That's it for now but press refresh as I'll go back and revisit the document for more points and refine the text above.