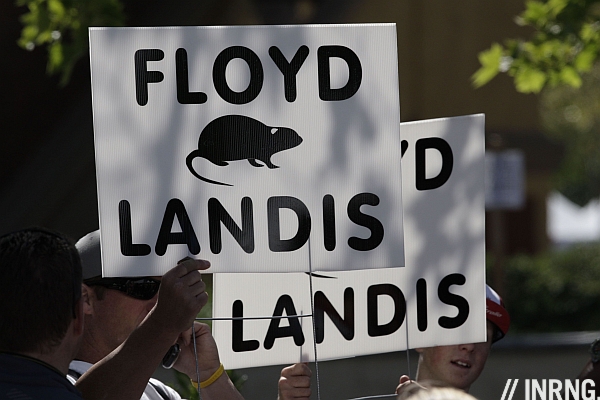 The UCI won its case against Floyd Landis but as victories go, this is a weak one. What ever Landis might have said in the past a Swiss court has ruled he is forbidden to state that the UCI, Hein Verbruggen and Pat McQuaid:
have concealed cases of doping
received money for doing so
have accepted money from Lance Armstrong to conceal a doping case
have protected certain racing cyclists
concealed cases of doping
have engaged in manipulation, particularly of tests and races
have hesitated and delayed publishing the results of a positive test on Alberto Contador
have accepted bribes
are corrupt
are terrorists
have no regard for the rules
load the dice
are fools
do not have a genuine desire to restore discipline to cycling
are full of shit
are clowns
their words are worthless
are liars
are no different to Colonel Muammar Gaddafi
Yes, those are the exact words of the court translated into English, complete with clowns, shit and Gadaffi. If you want to stop reading now and just laugh, go ahead. The extra text below is a bit more serious.
Landis can still appeal this but given he did not take part in the hearing in the first place, it is unlikely he will show up in Switzerland. Once the verdict is in place it means little for Landis. Swiss civil law does not reach beyond Switzerland and Landis will not find himself wearing an orange jumpsuit and handcuffs and extradited to the Vevey courthouse. Here's Landis's lawyer who was contacted by Bonnie Ford for ESPN:
"Floyd was never served with the UCI's Swiss lawsuit, never appeared in Switzerland on the case, and therefore the Swiss Court had no opportunity to hear Floyd on the issues," Cunningham wrote in a statement e-mailed to ESPN.com. "The order is un-American in every sense of that word. It is inconsistent with American law, it flies in the face of our First Amendment, and it would be unenforceable in American courts. It does not affect Floyd's status under American law in any way."
Perhaps even the UCI agrees? Don't take my word for it, here's the UCI's Honorary President speaking in an interview with cyclingnews before he appears to lose self-control:
"The problem is we can't find Landis," Verbruggen told Cyclingnews as he poured himself a glass of wine at a worlds presentation in Valkenburg.
That was just 6 days before the court reached its verdict and if they couldn't find Landis then, they won't now.
So if the verdict has little consequence for Landis, it's probably more serious for the UCI. Let's take two lessons from the US.
As Hunter S Thompson recalls Lyndon Johnson first got elected to the US Congress in 1948 when his opponent was a wealthy and politically favoured pig farmer. Trailing in the polls LBJ told his press manager to accuse his pork farming opponent of "carnal knowledge" of his barnyard sows. His campaign manager was shocked. "We can't say that, Lyndon, it's not true." "Of course it's not," Johnson barked at him, "but let's make the bastard deny it."
In 2003 Barbara Streisand went to court to get an environmentalist to remove a photo from his website that showed her beach-side mansion. In the effort to suppress the photos, Streisand publicised the photo and send hundreds of thousands of people to the environmentalist's website. The end result? A website that few visited was given big publicity and far more people saw the photo than would have otherwise been the case.
In a similar way when the UCI feels it is necessary to send out a press releases to inform us that it's not a terrorist unit, its officials aren't Arab despots nor clowns, well the act of denial looks bizarre. More seriously some of the claims made by Landis are very similar to those made by Tyler Hamilton in his recent book and so the UCI ends up reheating the very stories it wishes would go away.
Oddly we're seeing Floyd Landis go full circle, from hero to villain and now almost back to hero. Once he was the loyal helper of Lance Armstrong who left the team to win the Tour de France, at least that was the spoon-fed narrative. Then it all went wrong, a positive test still left Landis with some supporters but he slid downhill faster than that he took the Joux Plane into Morzine after a botched case, he struggled to return to the sport and finally "ratted" on Lance Armstrong, the action that started the USADA case and which is now rattling the UCI so much. Landis's reputation is being restored, rather than "Mr Evil Doper" many now see him a fall-guy, a victim of the system and someone who refused to stay quiet.
Talking of silence, when it comes to the court ruling we're still left with more answer questions:
The UCI still won't publish the receipts it took for the very large payments it took from Lance Armstrong.
Or what about being forbidden to see it "hesitated and delayed publishing the results of a positive test on Alberto Contador" when we know that it provisionally suspended Contador in August 2010 and did not announce this until over a month later, and only when German journalist Hajo Seppelt had got the story?
As for having no regard for the rules, this blog has pointed out McQuaid sometimes doesn't know his own rules.
And if it's forbidden to say McQuaid and Verbruggen are full of shit, should we deduce they regularly use colonic irrigation?
As for the other forbidden topics listed by the court USADA might have something to say about them soon. And that's just the questions relating to the court and Landis verdict, we're not talking about the conflict of interest concerns.
Summary
The verdict's prescriptive take will have many laughing. As for Landis, nothing much changes except he probably won't be going on vacation to Switzerland very soon
Instead the risk is the UCI's legal activity backfires, we can already see some of the banned topics are actually areas where there are still concerns and far from shutting down talk, it will only refocus attention on the still unsolved mysteries of Aigle.
Finally all this talk of clowns and dictators can fire fire up the imagination. If Pat McQuaid quit the UCI to join the circus what would he look like?