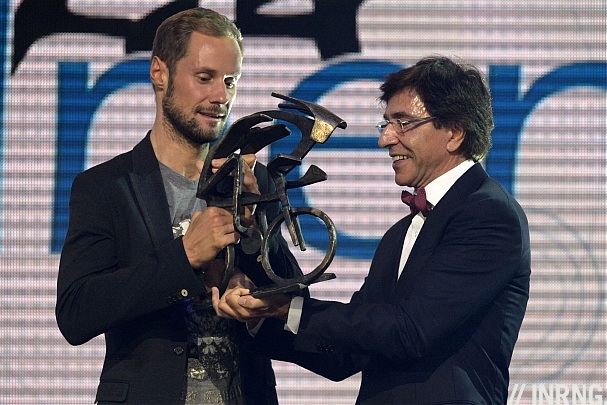 Tom Boonen won the Flandrien prize for Belgian cyclist of the year, collecting the trophy from the Belgian Prime Minister. The annual award has been split in recent times give domestic prize and an international one, this time scooped by Bradley Wiggins.
If you want to understand how big cycling is in Belgium then note Boonen collected the award from bow-tie toting Elio di Rupo. There are not many awards dinners in the world where the head of government dishes out the prizes. Nor awards where a country's top politician finds it worthwhile to be seen handing out the prize.
These awards are subjective but for me, often illustrate the best riders of the season better than the arithmetic of a points-based ranking system.
Rabobank's Liesbet De Vocht won the Flandrienne prize for best woman. There were awards for beginners, juniors and amateurs respectively with Jasper Stuyven taking the latter.
Flandrien is an elusive word to translate concisely, it refers to someone who comes from West Flanders but also evokes a hardman cyclist, the kind who damages cobbles when he rides over them and makes the wind cross. The original Flandrien rider was Alberic "Briek" Schotte, also known as "Iron Briek".
Schotte died on the day of the Tour of Flanders in 2004, "his" race and is not forgotten as a giant mural in the village of Desselgem displays his image, you'll often see it on TV in April. But he's also the first winner of the Challenge Desgrange-Colombo, a season-long competition to identify the world's best rider that started in 1948. The Desgrange-Colombo prize was created by L'Equipe and La Gazzetta Dello Sport and also saw Het Nieuwsblad and Les Sports take part, an international jury from the cycling press coming together to award the prize. This internationalism lives on today with the Vélo d'Or prize awarded by France's Vélo Magazine after it polls cyclesport journalists from around the world. I gather Bradley Wiggins will win the 2012 title.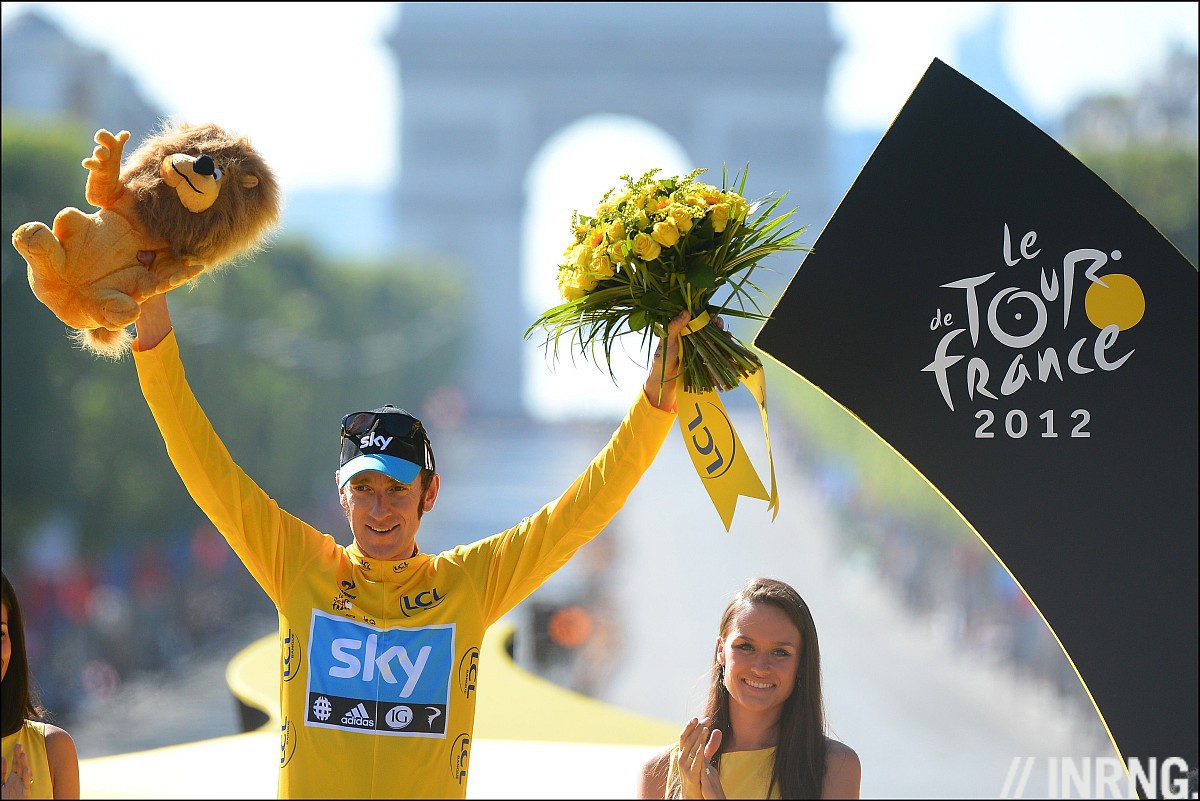 For me these awards are superior to rankings based on points-scoring. Cycling is often about quality rather than quantity and the arithmetic of points doesn't always capture the success of a rider, instead they typically reward consistency.
Joaquim Rodriguez is certainly one of the world's best riders but if he tops the 2012 UCI World Tour rankings, his 2012 season will also probably be remembered for losing his grasp on two grand tours and a consolatory ride in Il Lombardia. Subjective analysis like a jury vote or a reader poll probably wouldn't pick Rodriguez as the best of 2012… although he'd come close. Still, it's a matter if nuance, it's not as if Rodriguez has been invisibly taking points on a stealth raid.
Wins vs Awards
These awards are a nice distraction. When a rider presses on the pedal in training or racing there is no thought of an end of season awards ceremony. There's probably no thought of the trophy on the podium in a race either but I'm pretty sure Tom Boonen prefers his double Paris-Roubaix and Flanders trophies from this year and that Rodriquez would halve his UCI points haul in return for the Giro's Trofeo Senza Fine.
Note these end of season awards are being given out before the UCI's World Tour has even finished, suggesting that someone could win every single stage of the Tour of Beijing and take the overall with an hour's advantage but it makes no difference. Either way André Greipel looks set to end the year with the most wins as he's got 19 victories. Here's the ranking from Cycling Quotient:
1 GREIPEL Andre 19
2 SAGAN Peter 16
3 CAVENDISH Mark 15
4 JANSE VAN RENSBURG Reinardt 14
5 RICHEZE ARAQUISTAIN Ariel Maximiliano 13
6 BOONEN Tom 13
7 KITTEL Marcel 12
8 DEGENKOLB John 12
9 WIGGINS Bradley 12
10 RODRIGUEZ OLIVER Joaquin 10
Summary
It feels like the end of the season as the leaves start to fall and riders pick up awards. Tom Boonen had the best spring classics campaign and rightly wins the award as best Belgian, Gilbert's late season charge wasn't enough. Is Wiggins the best rider of 2012? With Paris-Nice, Romandie, the Dauphiné, Tour de France and Olympic gold I think it's hard to see anyone else winning the Vélo d'Or prize.
Yet these awards are subjective, debate is always open. The awards are great to win but only because someone has had a brilliant season in the first place. Yet for those who don't follow all the races, knowing Boonen is the best rider in Belgium is helpful for public and media alike, a handy label. They're also valuable for those who promote them, for example Philippe Gilbert probably lent publicity to Vélo Magazine and last night's Flandrien awards on Belgian TV drew in a good audience.
Either way we're at the point where the 2012 season is drawing to a close. We start to look back, take stock and slowly project ourselves into 2013.