Today Jakob Fuglsang said the Radioshack-Leopard team merger had been a "disaster". That's true but it's only a fraction of the team's problems. Star rider Fabian Cancellera wore yellow in the Tour and Tony Gallopin is impressing me, even if Thibaut Pinot outshone him in July. But of course Cancellara's spring campaign was ruined by a crash, Andy Schleck has had a year to forget. There's also the case of Johan Bruyneel and team doctor Pedro Celaya being named by USADA. A team sponsor fled mid-season. And the chief executive of Radioshack has just quit too.
And this is before we get to the case of Frank Schleck. He's had an uncomfortable start to the year with pressure from team management and a lack of results, even if he briefly shone in the Tour de Suisse. But the doping positive from the Tour de France overshadows all of this. It might seem like a long time away but we're now one week from the verdict. Unless there's a miracle he'll be banned for two years.
Why a two year ban? Because we go back to the principle of strict liability where the athlete is responsible for everything they take and with matching A and B samples Schleck is going to struggle. Worse, from a escape route perspective, he immediately told the media he did not know where it came from. And as we saw with the Contador case, if you can't explain where it came from, you can have two years away from the sport to speculate. Still the verdict is next Monday and we'll see if anything new is found. Some suspect the Luxembourg authorities might come to a cosy arrangement with their home rider but the days of these actions are dwindling thanks to the World Anti-Doping Agency keeping everything in check.
Do We Ever Learn?
If people wonder about the UCI being complicit in the culture of doping in the sport then Irish blogger FMK makes a good point: each time there's a scandal the UCI is quick to cite its testing regime but even quicker to distance itself from the problem. It's last congress was no different, the UCI ought to be holding an independent commission to investigate the problem and explore solutions but it's voting to forget the past.
Paris-Tours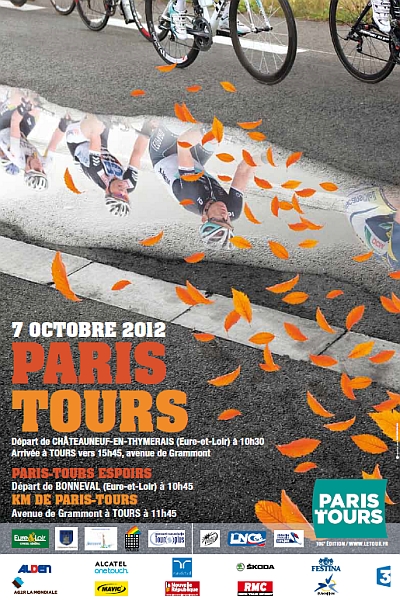 But enough of the past! A reminder that the French classic takes place this Sunday. It's a race that is slipping away in terms of prestige and is not on the World Tour calendar. But it's worth watching because if it has been called "the sprinter's classic", the addition of some short hills and narrow roads right at the end of the race make for a nail-biting finish.
Tour Takes Shape
Talking of upcoming ASO races, the 2013 Tour de France route will be unveiled in a few weeks. A lot of the route is emerging and it looks like there will be two time trials and a good amount of climbing but nothing excessive, nor innovative. Instead expect classic climbs like Mont Ventoux, the Izoard and Alpe d'Huez. We were given an idea it would an edition for the pure climbers but so far it sounds rather conservative. Even the double ascension of Alpe d'Huez, using the Col de Sarenne behind the ski resort to allow the race to descend and then climb the Alpe again was used in 1979.
Cadel Evans vs. Tejay van Garderen?
Once the tour route is announced many will start planning for next year. There's plenty of talk about Sky and the Wiggins/Froome combination but what about BMC Racing's options. Evans and van Garderen are team mates, not opponents, so let's not make out there's any antagonism. But there is competition to be the top stage racing dog on the team. 2012 didn't see Evans repeat his success of the past year and he'll be 36 next season so it'll be interesting to see what his goals are. Is the Giro-Tour double a possibility? Certainly Evans would be a good pick for the Giro because there's a bit less climbing and a lot more time trialling.
Kimmage Fund Update

The UCI put out a press release today to say it was continuing with its legal action against Paul Kimmage. The press release doesn't say anything new but confirms it is pressing ahead. As is the fund raising to support him.
On the subject of Kimmage and his past, if you have ten minutes to spare then his 1999 article on ex-team mate Thierry Claveyrolat is a powerful read and worth taking time over.