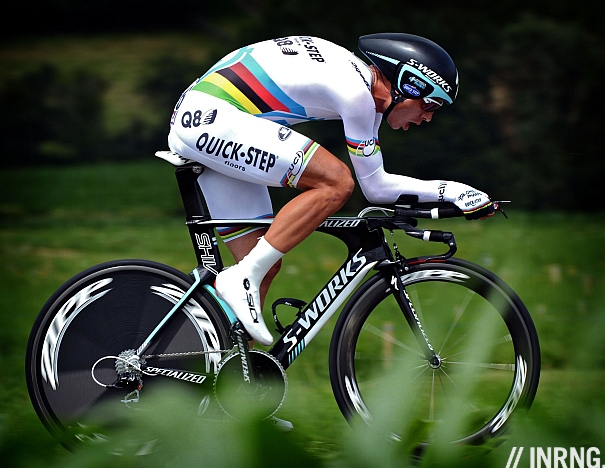 With many of the world's best time trial riders not here, today's field of 58 riders might lack some obvious picks but there are still plenty of contenders, if not for the rainbow jersey then for a medal. The race should be a battle between Germany's Tony Martin and Spain's Alberto Contador but the course is deceptively hard and a surprise is possible, especially with changeable weather forecast.
Here's a look at the contenders, the course, TV listing times and a full startlist too.
Today's 45.7km course is technical. It does not open up for long, often as soon as a rider hits top speed they must hit the brakes and then try to power up again. No steady power curve today, plenty of torque instead. The roads twist and turn, cornering skills matter and riders need to accelerate quickly out of each corner. A criterium race against the watch? Not quite but compared to last year's course in Copenhagen, the Limburg route is hard.
The final climb of the Cauberg is a test of legs and brain alike. Riders need to get their pacing right so they have enough left to cope with the climb. It is not steep, it is not long but it's just the place where riders need to judge their effort right to carry momentum uphill. Once a rider slows they will struggle to pick up pace and the long drag from the top of the climb to the finish line can also cost time.
Reigning world champ Tony Martin starts last and is an obvious pick. A powerful rouleur he is suited to the flat courses, see his dominating win last year in the worlds or his silver medal in the Olympics, gained after crashing out of the Tour de France with a fractured wrist. He can climb though and should be able to cope with the climb and rode almost all the Vuelta so he should come here feeling strong. The next pick is Spanish dancer Alberto Contador. The Vuelta winner is in great form and well-suited to the accelerations and climbs on the course. These two seem well ahead of the others.
Forecasting is always hard but bronze it's especially awkward. Sweden's Fredrik Kessiakoff has surprised with his time trialling this year and forget bronze, he could even win the race. He's won when it mattered, first in the Tour de Suisse where he got selection for the Tour although he didn't do well against the clock in the July, perhaps because he was fighting for the mountains jersey instead. He made amends, winning the Vuelta time trial three weeks ago, finishing ahead of Contador. How tired is he as he's been riding hard since June? Tejay van Garderen managed to drop his team mates on the Cauberg last Sunday, he is clearly in good form and is probably my pick for bronze whilst compatriot Taylor Phinney also has a shot. The French media are tipping Sylvain Chavanel but he's never reached this level before although his Tour prologue back in June was a sign. Others to watch for are Belgium's Thomas de Gendt and his Vacansoleil-DCM team mates Gustav Larsson and Lieuwe Westra, so strong in the Tour of Denmark. Plus the likeable Marco Pinotti is always worth a cheer.
Weather: this matters today. Cool temperatures of 14°C (57°F) and a gusting wind of 20-25km/h from the west means seeking shelter from buildings, hedges and other features helps. It also means a headwind up the Cauberg and for the finish line too.
TV: 2.30-5.00pm Euro time, be sure to tune in for at least the last hour as Tony Martin is due in before 4.20pm.
Startlist
13:32:00 57 ALBOS CAVALIERE David AND
13:34:00 56 ASADOV Elchin AZE
13:36:00 55 OYARZUN Carlos CHI
13:38:00 54 LENGYEL Gabor HUN
13:40:00 53 BORGERSEN Reidar Bohlin NOR
13:42:00 52 KANG Jiyong KOR
13:44:00 51 HUTCHINSON Michael IRL
13:46:00 50 THOMSON Jay Robert RSA
13:48:00 49 ZOIDL Riccardo AUT
13:50:00 48 JURCO Matej SVK
13:52:00 47 SARAMOTINS Aleksejs LAT
13:54:00 46 RAGONESSI Jose ECU
13:56:00 45 KONONENKO Mykhaylo UKR
13:58:00 44 KRASILNIKAU Andrei BLR
14:00:00 43 KOREN Kristijan SLO
14:02:00 42 BEWLEY Sam NZL
14:04:00 41 WACKER Eugen KGZ
14:06:00 40 GRUZDEV Dmitriy KAZ
14:08:00 39 TAMOURIDIS Ioannis GRE
14:10:00 38 BODNAR Maciej POL
14:12:00 37 SMUKULIS Gatis LAT
14:14:00 36 FIRSANOV Sergey RUS
14:16:00 35 KONOVALOVAS Ignatas LTU
14:18:00 34 JANSE VAN RENSBURG Reinardt RSA
14:20:00 33 TAARAMAE Rein EST
14:22:00 32 DE GENDT Thomas BEL
14:24:00 31 DOWSETT Alex GBR
14:26:00 30 MALORI Adriano ITA
14:28:00 29 KELDERMAN Wilco NED
14:30:00 28 KIRYIENKA Vasil BLR
14:32:00 27 BARTA Jan CZE
14:34:00 26 GUSEV Vladimir RUS
14:36:00 25 KANGERT Tanel EST
14:38:00 24 DYACHENKO Alexsandr KAZ
14:40:00 23 GRIVKO Andriy UKR
14:42:00 22 NAVARDAUSKAS Ramunas LTU
14:44:00 21 FUGLSANG Jakob DEN
14:46:00 20 BRAJKOVIC Janez SLO
14:48:00 19 GRETSCH Patrick GER
14:50:00 18 VANDEWALLE Kristof BEL
14:52:00 17 ROY Jeremy FRA
14:54:00 16 MEYER Cameron AUS
14:56:00 15 SERGENT Jesse NZL
14:58:00 14 VELITS Peter SVK
15:00:00 13 LARSSON Gustav SWE
15:02:00 12 CASTROVIEJO NICOLAS Jonathan ESP
15:04:00 11 WESTRA Lieuwe NED
15:06:00 10 GRABSCH Bert GER
15:08:00 9 DURBRIDGE Luke AUS
15:10:00 8 CHAVANEL Sylvain FRA
15:12:00 7 TUFT Svein CAN
15:14:00 6 VAN GARDEREN Tejay USA
15:16:00 5 PINOTTI Marco ITA
15:18:00 4 KESSIAKOFF Fredrik Carl Wilhelm SWE
15:20:00 3 PHINNEY Taylor USA
15:22:00 2 CONTADOR VELASCO Alberto ESP
15:24:00 1 MARTIN Tony GER