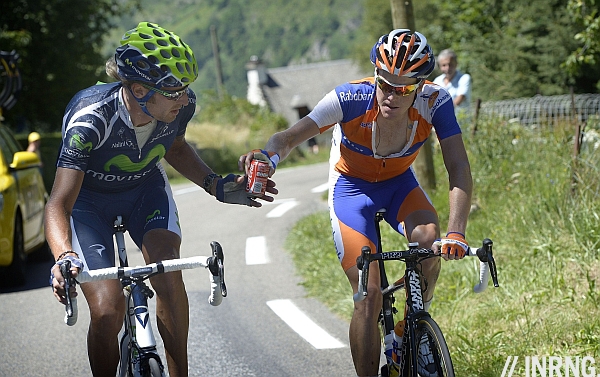 If only the weather forecast was accurate. Riders in the Vuelta a España can look online or in the newspaper and see temperatures of 32°C (90°F) quoted for today… but these temperatures never reflect the reality of the road cyclist.
Instead the road is far hotter. This imposes a greater strain on riders who must drink many litres during the race. Here's a look at the real temperatures and the ways to cope with the heat.
When the weather forecast lists temperatures these are temperature in the shade and therefore reflect the temperature of the air in a sheltered location. By contrast the cyclist cannot sit in the shade. The road heats up, a black strip of tarmac absorbs the heat from the sun very easily and by the time the race starts the road surface can easily reach 50-80°C (120-180°F). That's just enough to fry an egg.
With the road so hot, the air above it is heated. So when the temperature in the shade is 32°C (90°F) it's common for the cyclist to face infernal air temperatures of 40°C (104°F) or more, well above body temperature. In addition, heat is radiating from the tarmac and the sun itself is also heating the rider.
How to keep cool?
Ride. The mere act of pedalling ensures a breeze, meaning you can race in conditions where a marathon runner could not. The breeze itself does not cool, rather it is the evaporation of sweat. With exposed limbs and light fabrics the road cyclist can let the evaporation effect keep the body cool, or at least functioning, on all but the hottest of days. The only time this stops is when a rider climbs and there's a tailwind. This means the rider is travelling at a similar speed as the air around them and so there is no breeze and therefore evaporation reduces.
J'ai du faire mon record de bidon aujourd'hui! Entre 12 et 13 je pense… #LaVuelta2012

— Maxime (@BOUETMAXIME) August 19, 2012
That's Ag2r's Maxime Bouet saying he used 12-13 water bottles in yesterday's stage, a record for him. That's a lot… but not a record. Two years ago in the Vuelta riders were facing even higher temperatures and teams were handing out 240 bottles a day, on average more than 25 per rider. Of course it depends what is done with the bottles, whether they are used for drinking or get used to douse the rider in water.
Cold or hot?
Bedouin tribes in the Arabian deserts often take warm drinks despite the heat (although perhaps they just need to boil water to keep it clean?). A cold drink on a hot day can be the stuff of fantasy as the rider toils on a hot road. But the sudden ingestion of cold water can cause trouble for stomachs, whether cramps or digestive problems. But a cold drink can help bring the core body temperature down so it's a question of what works for different riders.
Overload
A clever team will weigh riders before and after on hot days to get a quick take on dehydration. If a rider loses too much water then this reduces performance but at the same time it's hard to constantly drink on the bike for hours. As fatigue sets in, drinking has to become a more concious effort. Here some try a mix of different drinks, plain water, then fruit juice and some with electrolytes, and when all else fails, a can of Coke emerges from the icebox in the team car. In the Tour de France, one Dutch rider was even spotted with a beer.
Tech
Some teams have been experimenting with ice vests, small waistcoat-like items of clothing with pockets containing a gel that has been in the freezer. These have been used for "warm-ups" prior to the race, the idea being that the rider spins the legs on a trainer but the vests are used to keep the upper body at a more acceptable temperature. But Sky and Garmin have tried adapted versions during mountain stages, a high tech version of the old-school trick of putting sponge under the jersey, behind the collar, so that it drips water.
Adaptation also helps. Riders can get used to the heat, whether from a week's stay somewhere hot or with more unconventional means. Last year Wiggins set up an indoor trainer in a garden shed and used heaters to recreate the warmth of Spain inside his English home.
Post-race
Stopping a race doesn't mean a rider cools down, especially as the finish line is often bustling and hot and the rider is standing in sweaty, salty clothing. Some teams are using static trainers to cool down but before this they'll have a cool drink, maybe a wipe with a damp towel and other means.
It can take longer to cool down properly. A cold bath is a simple remedy to help bring down core body temperatures. Teams use ice baths and and even cryotechnology but the aim of these techniques is to help swollen muscles. Although on a hot day many riders welcome the cooling effect too, in fact some said it was the most pleasant aspect.
There are more direct health risks. Melted tarmac can be a problem too. The tar used in road construction begins to soften and slowly the gravel chips sink into the tar and after a while the tar pools on the surface. This dark black material soaks up eat even more easily and liquefies in the sunshine… but only just. But it's the equivalent of a cartoon character running into a patch of treacle on the road, the dense and sticky tar can catch a rider by surprise on a descent. It was a big factor behind Joseba Beloki's 2003 crash in the Tour de France. In recent years the Tour de France has deployed a water tanker to spray sections of road prone to melting to help cool the tarmac.
Can it be too hot?
Races can be cancelled because of snow and ice, can they be cancelled because of excess heat? Yes, because the organisers have a duty to protect a rider's health but there's little definition to this idea. A pro race with experienced riders and team cars stocked with drinks is different from an amateur event where perhaps a lower threshold could be considered.
Conclusion
Exercising in the heat can be dangerous but the efficiency of cycling on a road means physical effort can be tolerated because the effort spent making a rider move fast and creates a good flow of air to help cool the body via the evaporation of perspiration. Today's clothing is a great help.
It doesn't make it easy but teams have mechanisms in place to help cope with the heat, from simple things like a following car stocked with drinks to ensuring riders often train in warm areas. There are more sophisticated techniques with ice vests and cryotechnology which can help with performance. Sports science literature lists solutions but note teams are often, but not always, ahead of academics.
Some like the heat, some don't but it's a technical challenge to overcome, just like other conditions experienced in the year, from racing through snow to learning to ride in a crosswind.