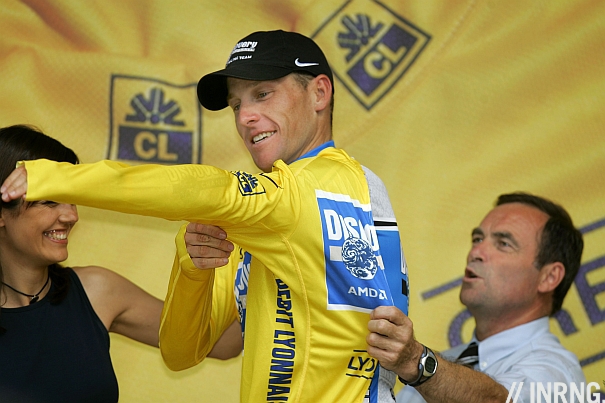 Lance Armstrong has said he will not contest the charges brought by US Anti-Doping Agency (USADA) and has issued a statement citing procedural matters and fatigue as the reason why he's not going to challenge the agency.
Later today USADA is expected to announce a formal lifetime ban from all Olympic sports and to invalidate all his results obtained since 1998.
Here's a look at the issues of the day, from Armstrong's bold statement, to what will happen to the results and prizes, what happens next, whether for the others in the case like Radioshack-Nissan manager Johan Bruyneel or the options for the UCI.
Armstrong's Statement
It's hard not to see Armstrong's statement as an audacious work of cynicism, using tough talk to mask a weak position. He can't seem to say aloud that he rode clean, instead just that he "played by the rules" which is not the same when examined with legal eyes.
But there's no legalese for the main part of the statement which is an attack on USADA. He claims the USADA has "no authority" and jurisdiction over the case. Yet only last Monday no less than a US Federal Judge ruled that USADA has jurisdiction. If Armstrong's lawyers said the same thing they could be found in contempt of court.
He says "USADA has lodged charges over 17 years old" which is correct but doesn't mention that the charges also relate to matters from just three years ago, a sneaky attempt to paint this as something from way back when in fact it is still highly relevant and more so since the case involves five others who are still working in and around the sport today. For me the worst part is the claim that "USADA has played the role of a bully, threatening everyone in its way and challenging the good faith of anyone who questions its motives or its methods" because this has seemingly been an infamous method of Armstrong for years. Riders were chased down, journalists were blacklisted and publishers threatened.
Can he be stripped of his titles?
Yes. USADA is an agency working under the World Anti-Doping Agency rules. If an athlete waives their right to a hearing then here is 8.3 of the WADA Code:
Waiver of Hearing
The right to a hearing may be waived either expressly or by the Athlete's or other Person's failure to challenge an Anti-Doping Organization's assertion that an anti-doping rule violation has occurred within the specific time period provided in the Anti-Doping Organization's rules. Where no hearing occurs, the Anti-Doping Organization with results management responsibility shall submit to the Persons described in Article 13.2.3 a reasoned decision explaining the action taken.
In short waiving the hearing means USADA can reach a "reasoned decision" based on the evidence at its disposal. If USADA rules there is a doping offence, imposes a lifetime ban and says he should be stripped of his wins then this applies worldwide. It is then for the UCI, as cycling's governing body, to await the decision and issue the formal notice stripping Armstrong of his wins which it must do to comply with the WADA Code. All prize monies must be repaid too.
How come he gets a lifetime ban if its his first ban?
Normally bans are two years but the WADA Code is clear, it distinguishes between an athlete being caught using banned substances and methods and those trafficking or administering them:
10.3.2 For violations of Articles 2.7 (Trafficking or Attempted Trafficking) or 2.8 (Administration or Attempted Administration of Prohibited Substance or Prohibited Method), the period of Ineligibility imposed shall be a minimum of four (4) years up to lifetime
So who won the Tour de France?
Stripping the title is one thing but the rules also say the result must be given to the second placed rider. It's not uncommon, this year we saw Tyler Hamilton handing back his gold medal from the 2004 Athens Olympics, the 2010 Tour went to Andy Schleck and Michele Scarponi was declared the winner of the 2011  Giro. Results are re-written all the time.
But play the café contest of reviewing past results and only two riders from the top five in the Tour de France from 1999-2005 were never linked to doping, the late André Kiviliev and Haimar Zubeldia and this still doesn't mean much so it feels unsatisfying to see those linked to doping scandals being awarded the win.
If you think it is a joke to award the result to Jan Ullrich, Fernando Escartin or Joseba Beloki then the same logic dictates it is a farce for Armstrong to keep the win because he was doing the same. At the same time we can take some tiny satisfaction the rules are being applied to the letter, a refreshing change. But away from the rules the moral lesson is that there are no winners and those who could be declared a winner never stood on the podium, never wore yellow in Paris or made millions from the glory. They remain losers, it's a farce, so don't dwell on it.
Is this the end?
No. Remember this is not just about Lance Armstrong. The likes of Johan Bruyneel and others in this case have opted for arbitration hearings so we'll get more in October or November.
In addition there's a chance Armstrong's move is a kind of tactical retreat so that the UCI picks up the baton; he can claim a witch hunt and say he's too tired to fight knowing the UCI is still agitating here. The UCI's Honorary President Hein Verbruggen and and President Pat McQuaid have been keen to grab control of the case. They could take the USADA verdict to appeal at the Court of Arbitration for Sport but this is would be present a significant risk. First there's the cash cost of another appeal but above all, the CAS would find USADA only too willing to present its case, the very thing that seems to scare UCI's most senior officials.
If the CAS is called upon we can expect a hearing in 2013 given USADA needs to complete the arbitration hearings of Bruyneel and Celaya first. Although the inverse is possible if the UCI tries to use the CAS to get control of the case before arbitration occurs.
Cycling's governing body has so far failed to comply with WADA's request to issue a ban on Michele Ferrari and Luis Del Moral and to supply USADA with more information. Any further non-compliance is going to watched very closely by WADA and the IOC who are losing their patience with the UCI and in particular some of its senior officials.
Will we ever get to hear more about the apparent evidence?
Yes. Armstrong is only one name in this case, the case includes Bruyneel, Pedro Celaya, Luis del Moral, Michele Ferrari and Joseph "Pepe" Marti, all of whom are active in cycling whether openly or behind the scenes. Assuming things still go to arbitration then USADA will present its evidence in detail and in due course it will be public says USADA boss Travis Tygart.
Is justice done?
Yes and no. It's subjective but I think we've got an economy version of justice today. No less than a Federal judge said the arbitration hearing would be suitably just so long as USADA improved its paperwork and in any event, the CAS was ready. In refusing these options Armstrong is accepting the ban no matter what any angry press statements try to imply. WADA's John Fahey seems to agree, stating "the simple fact is that his refusal to examine the evidence means the charges had substance".
What lessons?
In a selective way Armstrong is right that USADA is going after his past but this case is still important to assess those who continue to operate in the sport, whether openly in the case of Bruyneel or Celaya or for those lurk in the shadows like Ferrari, Del Moral and Martí.
Cycling tried to hide the doping problem, sweeping the debris under the carpet. Even when the stench got too much the UCI found means to silence things, such as the Vrijman Report which looked at L'Equipe's accusation of positive EPO tests but only let WADA point out institutional failings in the UCI. Now USADA has pulled the rug away and the mess is there for all to see. Athletics, swimming, tennis and other sports probably need to substantially increase testing and adopt a bio-passport scheme as soon as possible.
Summary
Famous for his fighting, Lance Armstrong has thrown in the towel. His legal avenues closed after losing the lawsuit on Monday and now he's declined the arbitration hearing. He ran out of chances to frustrate the procedural and legal aspects and when all that remained was a hearing, he declined.
As the Federal Judge said earlier this week the hearing would give him ample room to put his side of the story and even to appeal a verdict but he's refused this opportunity. As such it's hard not to view Armstrong's decision as a climb down and implicit admission.
I don't think his statement helps him as much of it doesn't add up. It reads like bluster. Far from demonstrating a "witch hunt" he appears to quote Judge Sparks when it suits but ignores the basic premise of the judges ruling: USADA is the legitimate body. The agency was only cited for weak paperwork. But Armstrong's statement is for wider public consumption and if some of us have the time to examine it against rulings from Federal courtrooms, most don't and many will pick up the persecution vibe as he tries to claim he's the victim not than the perpetrator.
Let's not waste time on who won the Tour de France, it's a pointless exercise that brings a farce rather than resolution.
Instead there's more to come in the future. Bruyneel and Celaya have opted for arbitration so they should have a chance to explain their side of things and, as Judge Sparks agrees, a fair chance of justice. Beyond this there's the UCI which could go to the CAS, a high risk strategy for cycling's governing body.
Finally Armstrong will grab the headlines but this story is a bigger one that covers officials, managers, doctors, coaches. The more we focus on the celebrity in the headlines today, the less attention we give to doping, to health and to institutional reform in the sport and without these, we'll get nowhere.