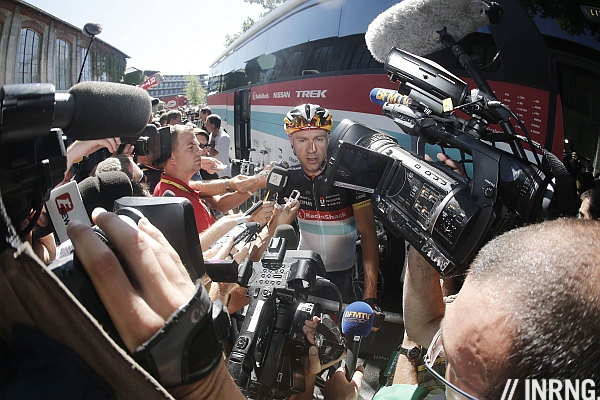 The news that USADA has sanctioned Lance Armstrong has generated plenty of comment, taking talk of pro cycling from the back pages of newspaper to the front page, to the opinion page and on to TV and beyond. The media, fans, bloggers… it seems everyone has an opinion.
There are strong arguments on both sides, for example those satisfied to see a cheat caught could express their relief, versus those concerned about USADA's handling of the case raising procedural questions.
But one area of calm is the pro peloton as few riders have said anything in public. Should they?
There's a tendency to place a rider on a pedestal. We admire their ability on the bike and it can be easy to assume a fluent pedal stroke is matched by an articulate voice. Only this isn't always the case and when the mouth opens the pedestal turns out to be a two-legged stool and the hero quickly stumbles.
This Armstrong case is complicated and having a ready view is hard. Remember if you're visiting this niche blog then you are probably a keen follower of pro cycling and there's a good chance you've followed the Armstrong case closely. But it's still leaving many scratching their heads. There's probably a good number of riders who can't tell USADA from the USOC or USAC and how many have ever read the WADA Code? Given USADA's sanction doesn't come after a positive test for Lance Armstrong the case is more complex, with grey areas and debates normally reserved for lawyers, not cyclists. True, it's not the first time, for example Richard Virenque was banned only after a saga and no positive test either, but this doesn't make it much easier. Make a mistake and fans – or even lawyers – will quickly fire back. No wonder some riders want to avoid the subject.
This however isn't an excuse for all to hide behind. The peloton does have some good voices and besides, riders can express views with some blunt Wiggins-style language. But the complexity of the case can explain why some are struggling. Here's David Millar:
And I do have an opinion on Lance that I'll talk/write about it in the near future, like everybody I'm trying to digest it fully.

— David Millar (@millarmind) August 26, 2012
Extend the argument and should all Americans have a view on Obama and Romney? When you last visited a bank, did you asking the cashier for their comments on the viability of the Eurozone? Probably not. But should American cyclists be asked about the Presidential election? Should riders paid in Euros have a view on monetary economics? When phrased like this it's less obvious why riders should be expected to talk about subjects even if they are relevant.
But I think we need to go back to more basic principles. Let's ask ourselves what a pro rider is doing:
they win races, try to win or support others in their attempts to win
they represent the brands of their team sponsors
None of this says a pro has to have a view on doping cases. Indeed as advocates of a brand, it can be argued that the last thing a sponsor wants is a rider opening his mouth. They want TV airtime for the brand, glossy pictures of success and other related imagery. Riders are hired for their legs and lungs, they are rolling billboards. Indeed surely it's only when things go wrong do they have to tread the moral minefield of doping-related stories, whether the need to shut down whispering campaigns like Wiggins did in July to having to face a press conference once a team mate has been named, as with Jens Voigt pictured above.
When Riders Do Have Views
When some do have a view there's no guarantee it's worth a great deal.
What really irks me are riders saying "I prefer to concentrate on the future, not the past".
That's Gerard Vroomen, founder of Cervélo bikes and a former pro team owner. In a good piece on his blog he laments how some duck out of a comment claiming the Armstrong cases is about the past, since it covers those still active in the sport today. But I think quotes of "it's in the past" to "no comment" to "it's bad for business" share a single motive: "I really don't want to deal with this".
Take Team Sky's Geraint Thomas who handily captures many of the arguments from above. He wrote about this in a blog for British broadcaster BBC but ends up leaving a mixed message.
Part of me thinks "won't all this time, energy and money be better spent on the 'here and now' and the future?" Accusations against Armstrong are old news and hopefully a line can be drawn under the issue and cycling can continue to grow and move on.
Of course, nobody wants bad news. He'd much prefer to be asked about the thrill of winning Olympic medals instead of being asked to explain about past mistakes. Imagine an American tourist on a dream vacation to Rome who gets asked to explain Guantanmo, it'd soon spoil the fun.
Past Precedent
There was a queue to insult Riccardo Riccò but when a star name goes down things are usually much quieter. In general things are not personal, riders condemn doping but often don't want to say harsh things about the doper. Similarly if riders have reservations about USADA's process right now, few are speaking out. Some might have private concern about the principle of strict liability that caused Contador so much trouble (and will give Frank Schleck two years to spend fishing) but they're not going to say a great deal on the topic in public. Most riders just want to race their bikes.
Summary
It feels like everyone's got a view on the Lance Armstrong case except the pros. The sport revolves around them so their silence seems odd.
There are expectations that a champion rider should also be a spokesman for the sport. It's harsh but dealing with the media is part of the job and just as some can corner better than others, some handle the media better too. Perhaps a quick sentence here and there is easier than a long discourse? Think of an autograph where riders quickly sign notebooks, jerseys and more but the handwriting is often indecipherable.
We'd all like to see riders speak up against doping, taking a strong moral stance. But the more you at look at this case, the more reasons you see for riders not to speak out. The Armstrong is complicated and remains divisive. When Contador was in trouble nobody said a great deal either, whether to slam him or bemoan WADA's strict liability principle. For now if USADA has issued its sanction, we're all still waiting to find out the details behind this. If few pros want to talk now perhaps they will have a view once there's more detail to review. Let's hope this proves true. Just don't count on it.