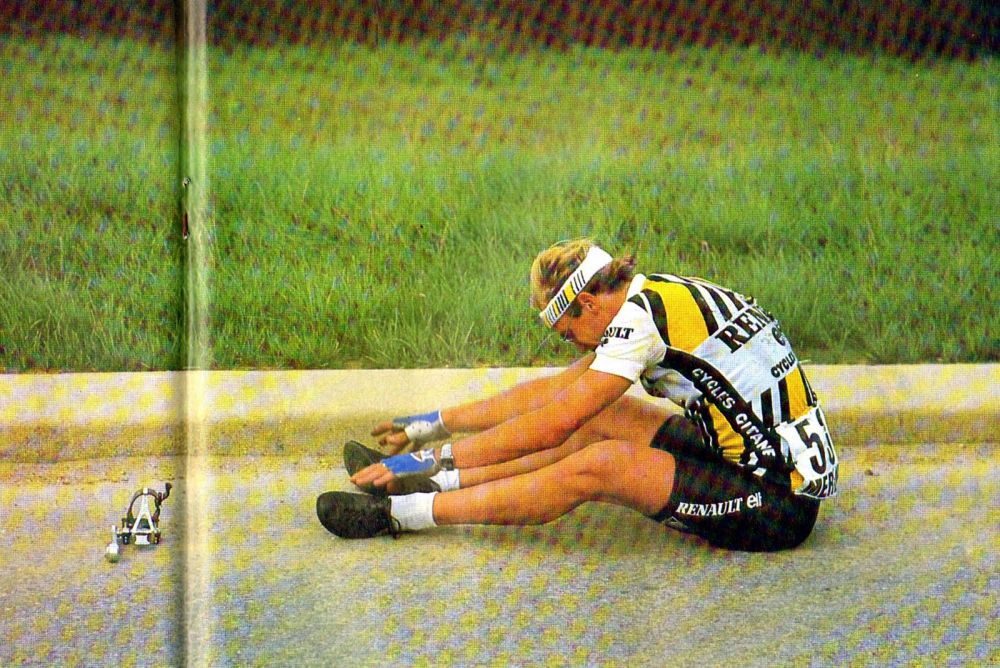 French rider Laurent Fignon died two years ago today.
The photo is from 1982. Fignon is in his first season as a pro and has already impressed. He won the Criterium International and played a big part in helping fellow Renault rider Bernard Hinault win the Giro d'Italia, all whilst finishing 15th overall too.
After this good start Fignon was sent home in July to rest whilst Hinault went on to win the Tour de France. With his bike on holiday Fignon kept training and towards the end of the season it was Hinault's turn to rest. On the morning of Paris-Tours Fignon stood up and told the team he wanted to be the leader that day. His team laughed.
With the race under way – then using the route from Blois to Chaville – the race was split in crosswinds by the efforts of the Dutch team TI-Raleigh. As the leaders crested a small hill with 30km to go Fignon took off and built up a lead of 45 seconds:
15 kilometres from the line and I was going to get a tailwind, the win was almost guaranteed. Then, standing on the pedals to accelerate, I fell heavily to the ground, without even understanding what had just happened to me. A horrible shock. A broken bottom bracket axle. Race lost.
The quote comes from his autobiography, "We Were Young and Carefree" (reviewed on here) and the photo above shows the precise moment when Fignon is on the ground. Look closely and the severed left crank and pedal sit on the road.
It turns out the team had been using special titanium axles and had been warned they could fail. Mechanics had replaced all of them… except for Fignon's. He'd been away on a holiday with his bike and so the mechanics hadn't been able to attend to it.
The photo is from a French blog by Jean-Pierre Le Port who, aged 50, decided to ride the 1959 Tour de France route, from the year of his birth. He found the photo in an old copy of the Miroir du Cyclisme from October 1982 and scanned it for his blog. A while back I came across the photo and bookmarked it as Fignon was one of the first cyclists I recognised and the image itself is striking for the way it doesn't capture success but records failure. At the same time this race proved to everyone he could win, a tale of possibility if you like. I like the way the fold of the page separates the crank from Fignon.