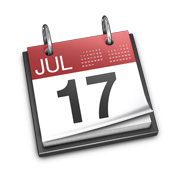 You can now download summary details of the Tour de France for your electronic diary on a phone or computer: inrngTourDeFranceCalendar.ics.
There's a simple listing for each day, for example on 18 July the diary says eg "Stage 16 Pau > Bagnères-de-Luchon 197 km".
I produced the calendar after several people came to the site in search of a Tour calendar only to land on the page for the 2012 race calendar instead… which includes an iCal file for all men's and women's UCI-registered races.
Tech support
Over to you to incorporate it with whatever software you might use. Normally On a desktop or laptop computer the best way is to right-click on the file link above and save the .ics file. Then import the file to your electronic diary. With an iPhone just click on the link and select "Open in Calendar" when prompted and should get incorporated into your diary. One or two clicks and it's on your phone / Outlook etc calendar.