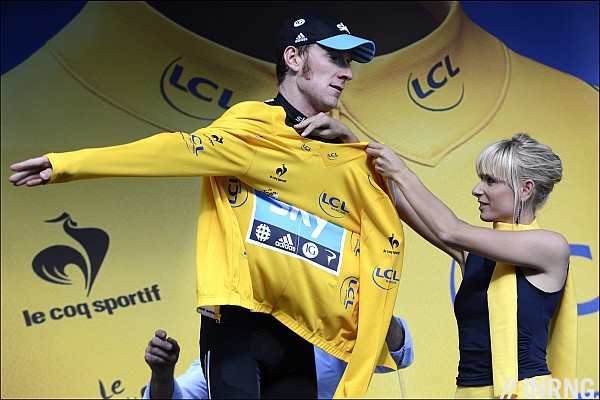 Luxembourg's Le Quotidien has a good piece on how to beat Wiggins, asking several team managers for their suggestions
Whilst Wiggins is the great favourite for the race I think the next three weeks can bring plenty of surprises. But let's run with the idea that Wiggins is the rider to beat, here are the suggestions from the team managers plus some extra ideas.
The High Mountains
Le Quotidien spoke to Lionel Marie, now DS at Orica-GreenEdge but note in charge of Wiggins during his 2009 season when he finished fourth in the Tour de France. Marie says it'll take several climbers in coalition to destabilise Wiggins, "he knows himself very well, he knows exactly what power to ride at and for how long. Everything is quantified and, seeing as he is intelligent, he'll cope"
Descending
I can't remember Wiggins losing control on a descent but as we saw in the Dauphiné when Cadel Evans jumped away on the descent into Morzine after the Joux Plane, perhaps Wiggins will surrender time to others. "He's beatable downhill when compared to riders like Nibali or Evans" says Christian Guiberteau of Argos Oil-Shimano to Le Quotidien, adding "he is very calculating… he doesn't take risks."
Has Wiggins Peaked Too Early?
This argument has been used before. Movistar's Yvon Ledanois says "if all is managed properly it is possible to win the Dauphiné and Tour. But the Tour, it's not one week, it's not 20°C but 30°C degrees (86°F)". He is right on the climate but this isn't something that should worry Wiggins. He famously trained for the heat of Spain by turning up the heating in his hotel room and also using a garden toolshed with an indoor bike and heating turned up to the max. If anything the heat will be from the media, he can struggle sometimes with the daily press conferences, although he can lord it over the presspack as well.
Le jour sans
This is French for an off-day. You can be on form but still have a bad day when things don't work out, the legs just feel wooden. With luck this happens on an ordinary day rather than a mountain stage or a time trial but there's no choice. Saxo Bank DS Philippe Mauduit tells Le Quotidien this happened to Wiggins on the crucial stage of the Vuelta last year but was helped by Chris Froome.
A crash
A bit of an obvious one but FDJ's Thierry Bricaud warns of a crash. It's true and nobody knows this more than Wiggins. The plan will be to keep Wiggins and Cavendish both near the front during much of the stage, one to avoid trouble and the other to set him up for the sprint. So long as Wiggins doesn't sit on Cavendish's wheel.
Cavendish
Having the world champion and fastest sprinter on the team is normally a real asset but it means competing ambitions. Trying to achieve two objectives means using energy on the flat stages to help with the sprints. I also wonder about the mental aspect and team work. Hopeful all will go well but in the past Cavendish and Wiggins have had their differences and a mistake on the road could reheat old concerns.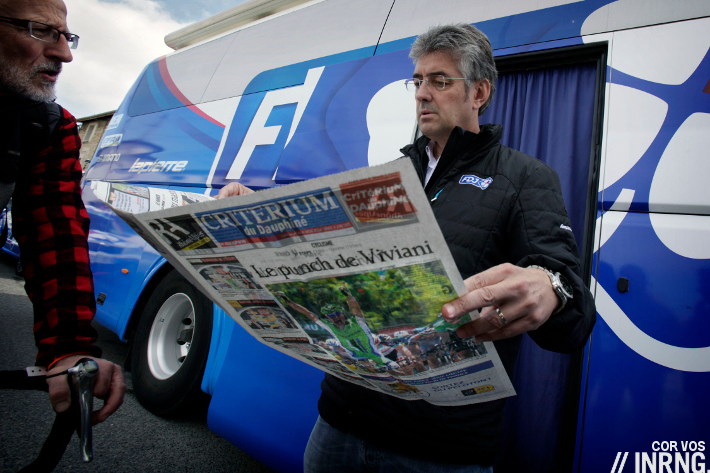 The unexpected
"Bradley has everything to win the Tour… but what's missing is that he hasn't had to meet many critical moments, the sort when you have to make up your mind on the road" says Marc Madiot of FDJ-BigMat. I think he's got a point here but Sky seem so calm about things that they're unlikely to panic. Wiggins's race strategy will probably involve allowing rivals to attack whilst he and his team keep things under control.
Those are the points listed by Le Quotidien but let's go a bit further. There are a few more things that could prove his undoing.
Weather
Wiggins is ultra lean and the change from hot weather to cold, especially rain, could get to him. During a stage the legs can seize up but longer term he'll feel the cold. All riders have low bodyfat so this is relative but it's another factor.
Alliances
In stage races in the past we've seen the media call on riders to form alliances to overturn another rider. But it rarely happens, riders have competing interests.
Team
Wiggins is strong but what if Porte, Froome or Rogers performs better? Will the team leadership change?
Misfortune
There's coping with changing strategies on the road and there are crashes that can put you our of the race. But all sorts of bad luck can strike in a race. A single bad meal can ruin everything; but the big teams bring their own chefs to help and food hygiene is as important as serving up carbohydrates. Talking of hygiene it is said Wiggins doesn't shake hands with people so he can avoid their germs. But so much more can happen, whether the benign like a dropped chain or a puncture all the way to a rogue Eurovisions car or some other freak event.
And…
All this is before we consider the most obvious explanation of how to beat Wiggins: ride faster. The points above touch on this but Wiggins is far from a certainty implied by the bookmakers. When he finished fourth in 2009 he was sixth in the final time trial, strong but not the best; in the Vuelta last year he was beaten by Tony Martin and Froome. So even his strong points aren't invincible. We'll see how he copes with the mountains and a three week race.
The route has been designed with the idea of forcing the climbers to attack to make up time they'll lose in the time trials. But if that's the idea, the execution of the plan is something else. First riders might be happy with a lesser place, especially since the UCI points can translate into big pay (14th place overall brings 20 points, as many as you get for a stage win) so they might prefer to avoid high risk long range moves. Second because these moves are sos obvious and even if riders can distance Wiggins mid-stage then Team Sky's obvious strength can limit the gains of any bold attacks. One opportunity instead might be to attack when people don't expect it; for example when there is a crosswind or to turn a transition stage into World War Three. But the probability of these moves happening, yet alone working, is low.
He's won week-long races this year but consistent riding in the world's biggest bike race is taking it to a new level.