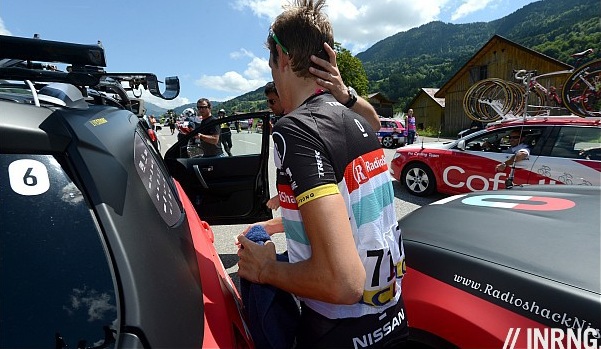 Andy Schleck is out of the 2012 Tour de France. The news first appeared this morning in the Luxembourg media with RTL. A press conference this afternoon confirmed this, he is has a fractured pelvis.
By contrast Bradley Wiggins has moved into the position of Tour de France race favourite, confident both in his abilities but also with a string of wins to his name this year too. The contrast couldn't be bigger.
It all looks like a nightmare for Andy Schleck but instead of a sleepless night this lasting months. He started the year unsure of how the team would function but soon it was his performance that came under question after a series of abandons during the early season races, notably Paris-Nice and the Volta Catalunya. Then in "his" Liège-Bastogne-Liège where he could only finish 50th. Then an absence of 40 days until the Dauphiné. All of this wasn't the end of the world, after all he was tied for racing days with Cadel Evans. And despite a ban, Alberto Contador took five days of racing in Argentina and is likely to have a busy late season.
Back to Andy Schleck and he crashed in the time trial stage of the Dauphiné, a day when high winds took several riders out of the race. But Schleck carried on with the hope of a test on the main mountain stage. He coped fine on Stage 5 and the Grand Colombier. On the morning of Stage 6 he told French TV he was suffering but that he could pedal, saying he was hoping to do something later on the Col de Joux Plane. But he never made it. Dropped at first, he regained contact with the bunch but soon quit the race, his injuries were too much.
Now he's out until August with a fractured sacrum. Riders have raced with fractured bones whilst others have been stopped, a "fracture" of any bone can mean so many different things, from the smallest and shortest of hairline cracks all the way to a bone broken in two pieces. As the medic explains in the picture above, the holes in the sacrum are for the nerve canals and the fracture runs between two of these.
Spanish revenge?
The Vuelta a Espana awaits. It's becoming a revenge race for riders to recover from mistakes and misfortune. Last year saw Bradley Wiggins back after his collarbone, this year will see Alberto Contador back after a ban. We'll have to wait and see what Andy Schleck does but it seems very logical, as long as he can work out remaining issues over the management of his team.
Risk and return
Cycling is a high risk sport. You can go a season without injury but probably not a career. As such the idea of basing your whole season around the Tour de France is a high risk strategy because a crash can happen at any time. Even a cold can sap a rider's energy. In terms of the number of races this year we are well past halfway and Andy Schleck has nothing to show.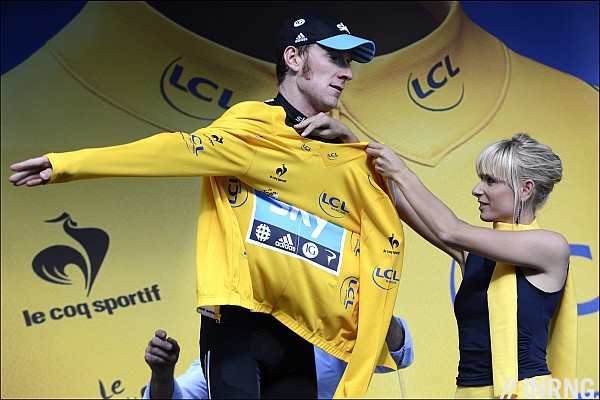 It's here Bradley Wiggins enters the piece. He can point to Paris-Nice, the Tour de Romandie and the Dauphiné as big wins taken this year. This seems a preferable strategy, targeting races all whilst building to the Tour de France. Note the plural, races as opposed to a single race. Better still for him, he has just ridden the races, he won them. Of course this is not new, Cadel Evans for example has used a similar method in the last two seasons.
The Wiggins defence
Some are surprised at Wiggins's performances and in his latest piece for Sky Sports, Scottish journalist Richard Moore tells how Team Sky have even visited the offices of the Tour de France to make a presentation explaining how and why Wiggins and Team Sky are riding clean. This is an astounding act, for years "I've never tested positive" was the strapline but now we have a team travelling to Paris to reassure a race organiser.
I count myself as those who are surprised by change from a track and prologue specialist into a stage race rider but as Moore says (and I tweeted last week) Wiggins has been around for a long time.
What about the Tour?
He would always have struggled to win the race outright this year but that doesn't mean he would not have featured. One of the few riders to have challenged Alberto Contador and Cadel Evans in recent years, his absence means he won't be there to destabilise Wiggins and Team Sky in the high mountains. The Tour will be poorer for it.
Summary
Sport brings us these highs and lows, indeed this is part of the drama of every season. But with four riders mentioned above we see four different fortunes.
Andy Schleck has suffered from bad luck but there have been some things that could be avoided or at least managed better and if there's a chance to stop the negative press, it'll come in the Vuelta.
Cadel Evans sits midway, he won the Critérium International in March, he tried to race but a virus stopped his plans in the Tour de Romandie and he's been playing catch-up ever since. As the defending Tour de France champion he gets attention but there doesn't seem to be much pressure on him right now.
Alberto Contador has been banned but the publicity relating to this doesn't seem to have harmed him, largely because the actual ban appeared after years of wrangling that calmed the headlines. His only worries this year must be financial, losing income and having to pay the lawyers for his excessive defence.
Bradley Wiggins is the fourth rider…. but the first name being cited for the upcoming Tour de France. Only with him there's no talk of luck, good or bad.