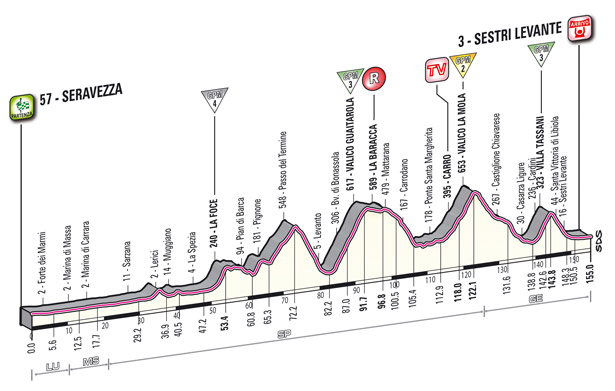 If a picture paints a thousand words then today could fill a book with words if the TV production crew get it right. The sun is shining, the race heads near the shimmering Mediterranean coast and through the Cinque Terre or "Five Lands" park.
The stage starts at the foot of the Apuanian Alps which are famous for their marble. Whole hillsides have been quarried away to decorate and build the churches and palaces of renaissance city Florence as well as kitchen worktops in Sydney and bank counters in Chicago with the Carrara marble.
But for a stage start that celebrates marble worktops, the stage today is very hilly. There's a flat start as they roll along the coast, passing through the seaside town of Marina di Massa which is the home of Alessandro Petacchi, the sprinter with a long list of stage wins. But Alé-Jet wasn't picked by Lampre for his home race, he's racing the Glava Tour in Norway right now.
Then it's on to the climbing. It's not Alpine but a series of ascensions and descents offers a breakaway a good chance to get away. I imagine the first hour will be hectic as riders try to get into a move but a third of the bunch probably wants to be in the move so it won't get away. The climbs are regular with gradients of 5-6% and wide roads, they suit riders able to roll fast uphill. But the final climb past Villa Tassini comes just 11km from the finish and includes ramps of 8-9%.
The overall favourites keep trying to grapple seconds, look at Kreuziger and Scarponi yesterday with 10km to go. They could try the same again today. But it is more likely a breakaway disputes the finish with some all-round riders, think of Ulissi, Viciosio, Gatto or Felline and why not Rubiano again? Note the final kilometre has a 180 degree bend; if a small group arrives then cramp is more likely than a crash.
Spare a thought today too for the locals. Devastating floods hit the region last year, whole towns were ravaged some were partially buried under mud. The area relies on tourism but many roads are still closed, indeed today's stage has been re-routed as planned reconstruction is running late. The race itself will pay tribute and has been raising money to fund the building of playgrounds for children.