Giro d'Italia Guide
Here's simple and accessible online Giro d'Italia guide. There's a concise preview of every stage, with my quick take on the day added. Use the links to find your way around the stage previews, the rules and the other points. From now until the end of the race you'll find the page linked at the top of the page, look for "Giro".
Route Summary | Riders/Teams | Jerseys/Rules | Unmissable Stages | TV | iCal download
In addition there will be coverage throughout the race with detailed daily previews of the stages as well as post race analysis of the key moments, commentary and a look at Italian cycling, culture and more.

Route summary
"A man who has not been in Italy, is always conscious of an inferiority, from his not having seen what it is expected a man should see"
– Samuel Johnson
If Johnson was suggesting travel broadens the mind, the riders will tour Italy to see sights and ride roads that are among the hardest in Europe. The Giro likes to talk of "a more humane" race with of shorter transfers and the reduced stage distances. It was a pitch to the riders, fans aren't meant to notice the logistics involved although since the presentation they've upped one stage to 264km and there's 236km mountain marathon, hard enough by itself but crushing as it comes in the third week. Overall the set-piece GC battles have been reduced, there's one long TT and you can count six summit finishes but not all will be decisive. There's plenty of opportunity for stage-hunting in between.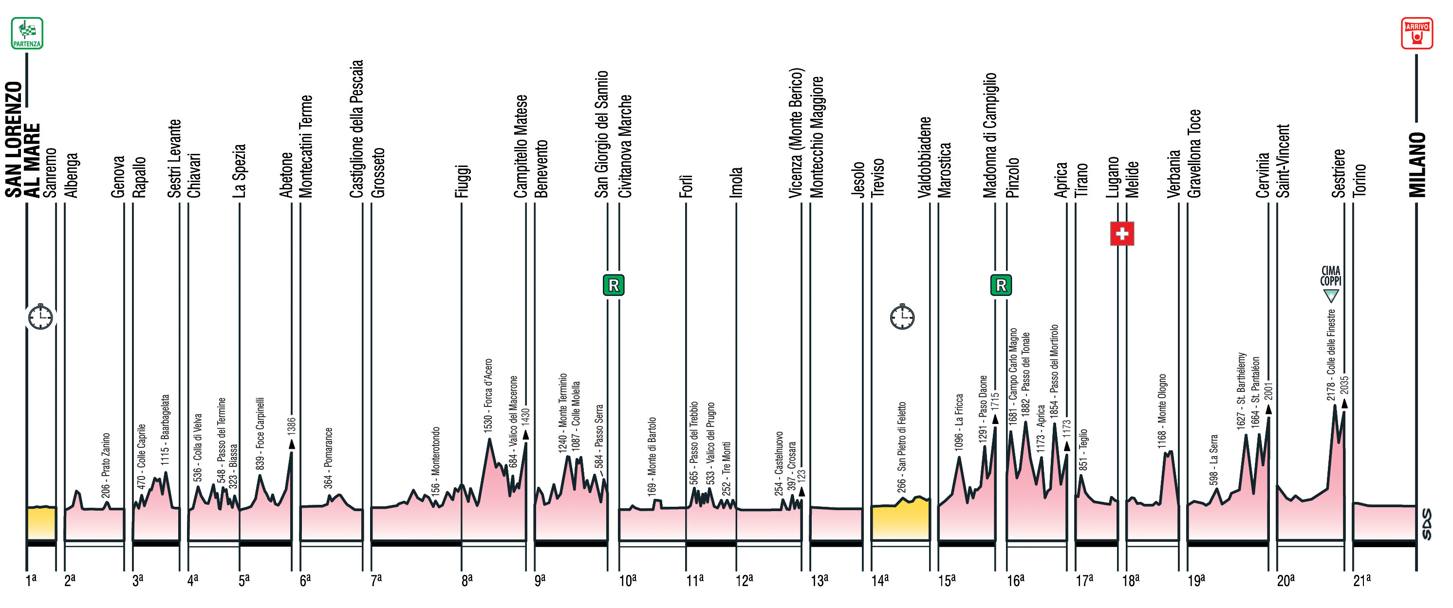 Now on to each stage. Note the annotations where TV = Traguardo Volante or Intermediate Sprint and R = Rifornimento or Feed Zone.

Stage 1 – Saturday 9 May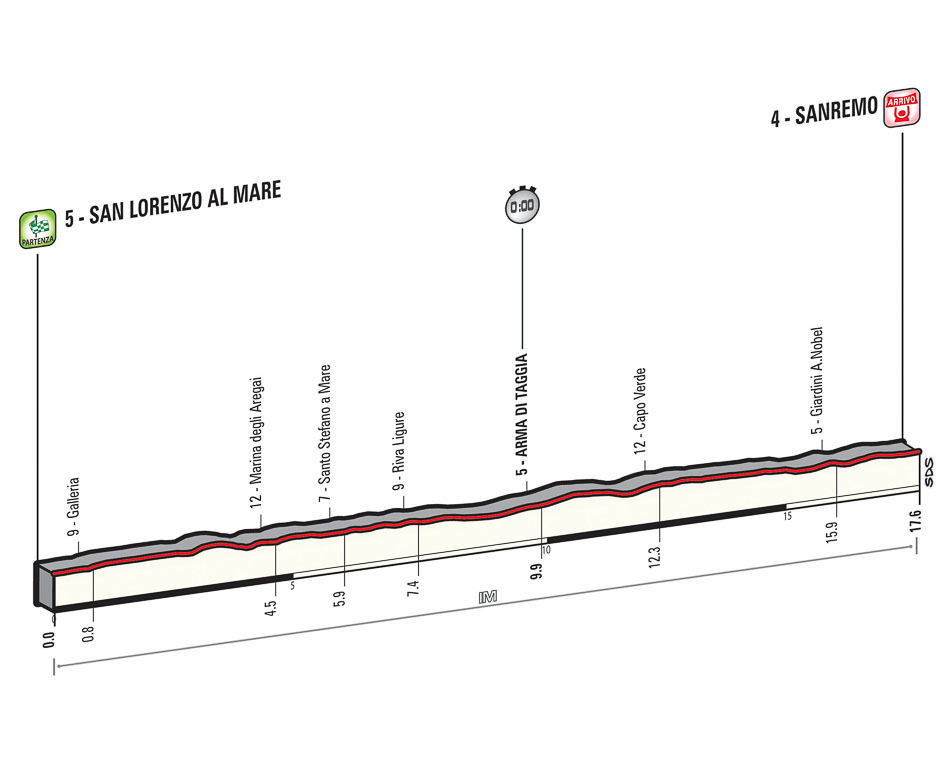 A team time trial to open the race in Sanremo. Famous to outsiders for the Cipressa and Poggio the reality of cycling in Samremo is the coastal cycle path built on an abandoned railway line complete with tunnels. The race starts at the foot of the Poggio but sticks to the coast for a flat route. This is a strange course, the path is wide enough for teams and following cars but only just. It's not technical but a touch of wheels won't mean skidding along the ground, it could mean smashing into a rocky wall. At 17.6km some riders on weaker teams can expect to lose a minute if they saunter along the path.

Stage 2 – Sunday 10 May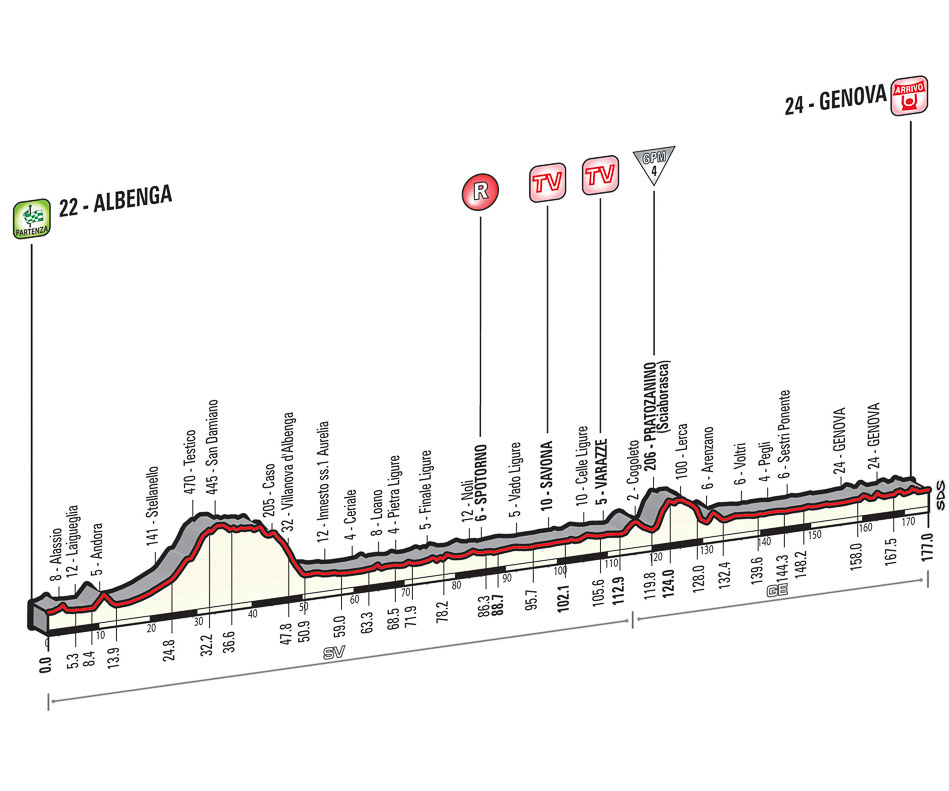 One for the sprinters with a small climb thrown in just so they can award the mountains jersey to someone. The finish circles the port city of Genoa, grim for those who speed past on the autostrada but the city is worth a visit.

Stage 3 – Monday 11 May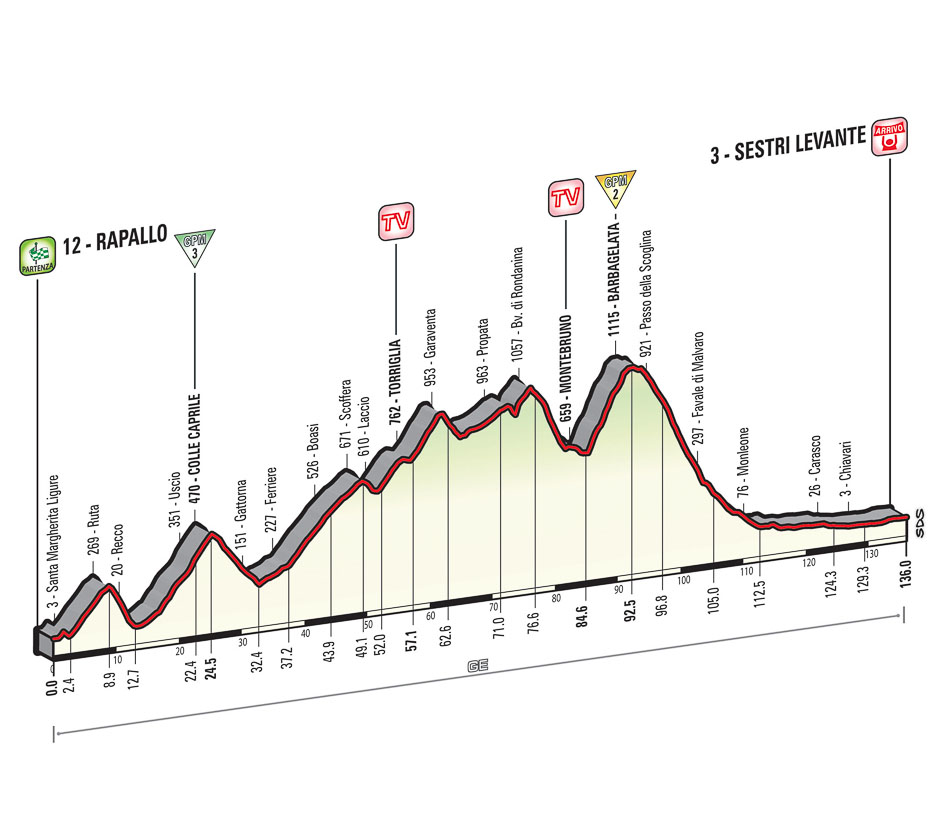 It's only Stage 3 but look at the climbing: welcome to the Giro. The short 136km route heads into Liguria but sticks to some gentle climbs, the early Colle Caprile is 5% and the climb of Barbagelata ("frozen beard") is harder at 5.5km and over 7%. It's a chance to put the sprinters in trouble but they've got time to get back, only those in bad shape will suffer.

Stage 4 – Tuesday 12 May


A scenic route across the Ligurian hills and through the Cinque Terre park. If the sun is shining then be warned as you'll feel the urge to visit and ride these stunning and rewarding roads. The Passo del Termine is a steady climb at 6-7%. The best is saved for last, the race rides into the naval port of La Spezia and then climbs up to Biassa, a tricky climb of 3.5km at over 8% on a winding road that looks like a twisting piece of spaghetti. This is the home of Alessandro Petacchi but most of the sprinters can forget about this.

Stage 5 – Wednesday 13 May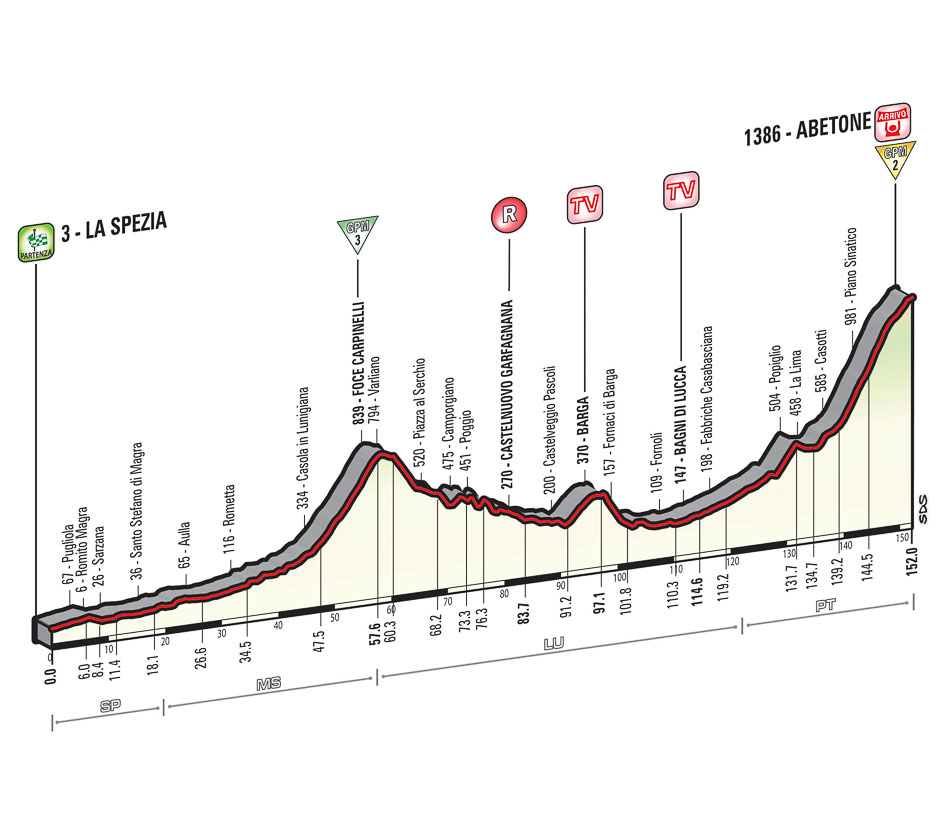 Stage 5 and a summit finish already. It's all about the final climb up Monte Gomito to Abetone, a long drag to test the power and one of those climbs where the pace is high and sitting on a good wheel matters. This climb is legendary to Italian cycling as Fausto Coppi took flight to win his first Giro and there's a small memorial to him. Merckx and Gaul have also used the pass as a springboard to glory. But in today's world of light bikes, aero wheels, skinsuits and smooth roads this probably won't be too selective. Watch to see if any big names are struggling and expect a powerful puncheur to win.

Stage 6 – Thursday 14 May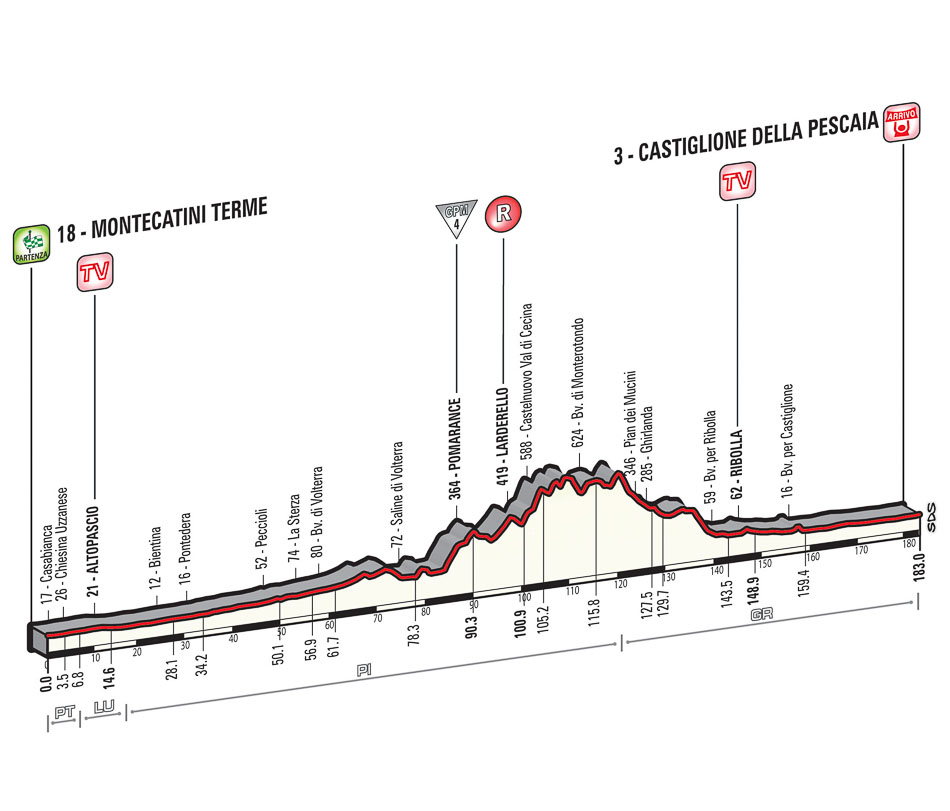 Ah Montecatini Terme, the swanky spa town famous for its waffles and training camps! It's also where Mario Cipollini beat Alberto Binda's record of stage wins in the Giro but here it's the start and not the finish for a change. A day for the sprinters and also the locals as the race crosses Toscana or Tuscany to anglophones and one of the hotbeds of Italian cycling.

Stage 7 – Friday 15 May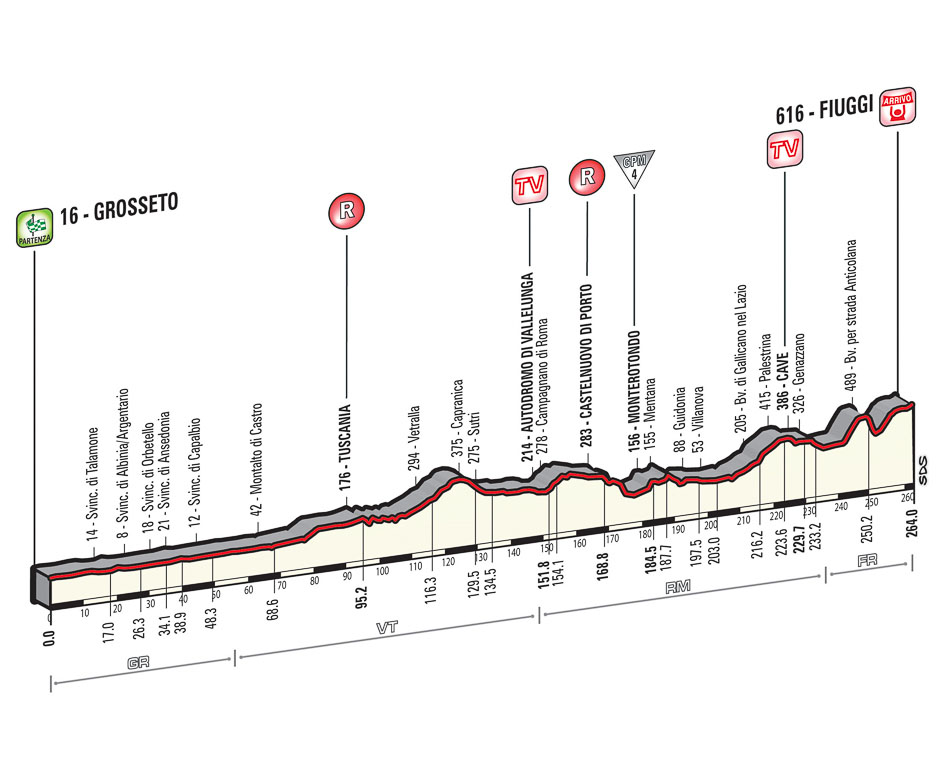 264km! A giant day as the race speeds south past Rome to Fiuggi, the spa town famous for its bottled water. The route has something of Milan-Sanremo to it with the length and the increasing difficulty to the end. A sprint? Probably but expect a few of the flatlanders to be fatigued.

Stage 8 – Saturday 16 May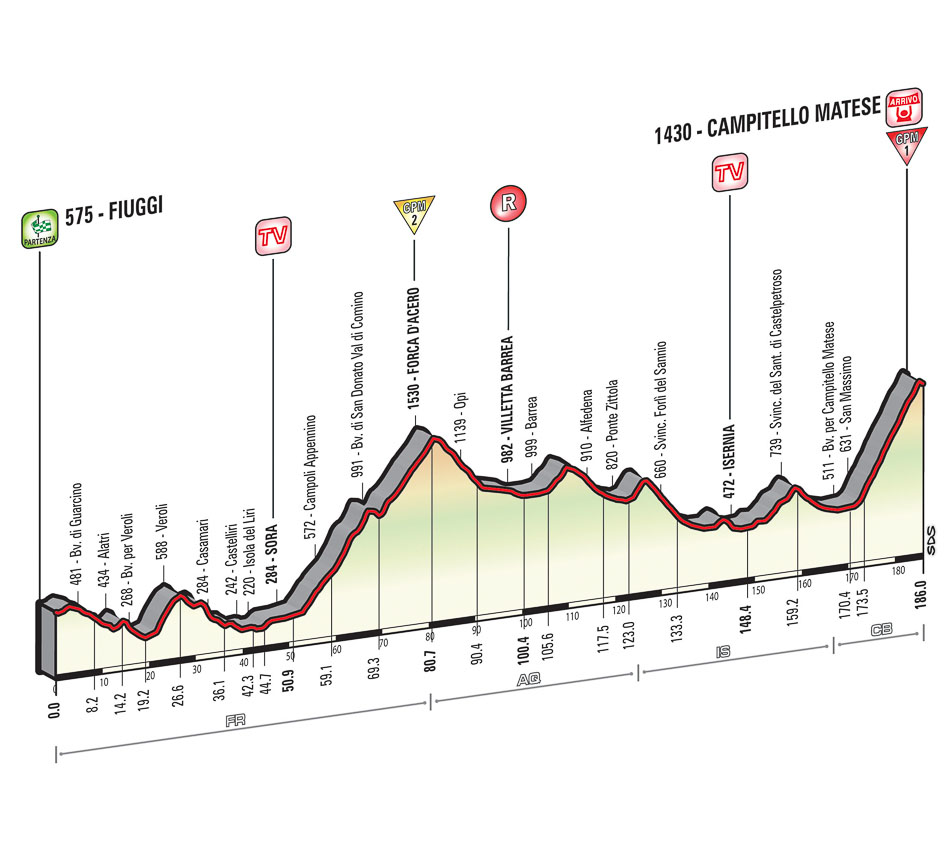 The first "reveal" of the 2015 Giro. The Forca d'Acero is getting on for 30km at 4%, a real energy sapper. The final climb has a 10km section at 7% before a slight dip to the finish line. This is selective and we should see all the big names come to the fore. Campitello Matese isn't a regular finish but has featured over the years with wins from the likes of Gilberto Simoni and Bernard Hinault, both blessed with mule-like stubbornness. Whoever takes the maglia rosa here can hope to hold it for a week.

Stage 9 – Sunday 17 May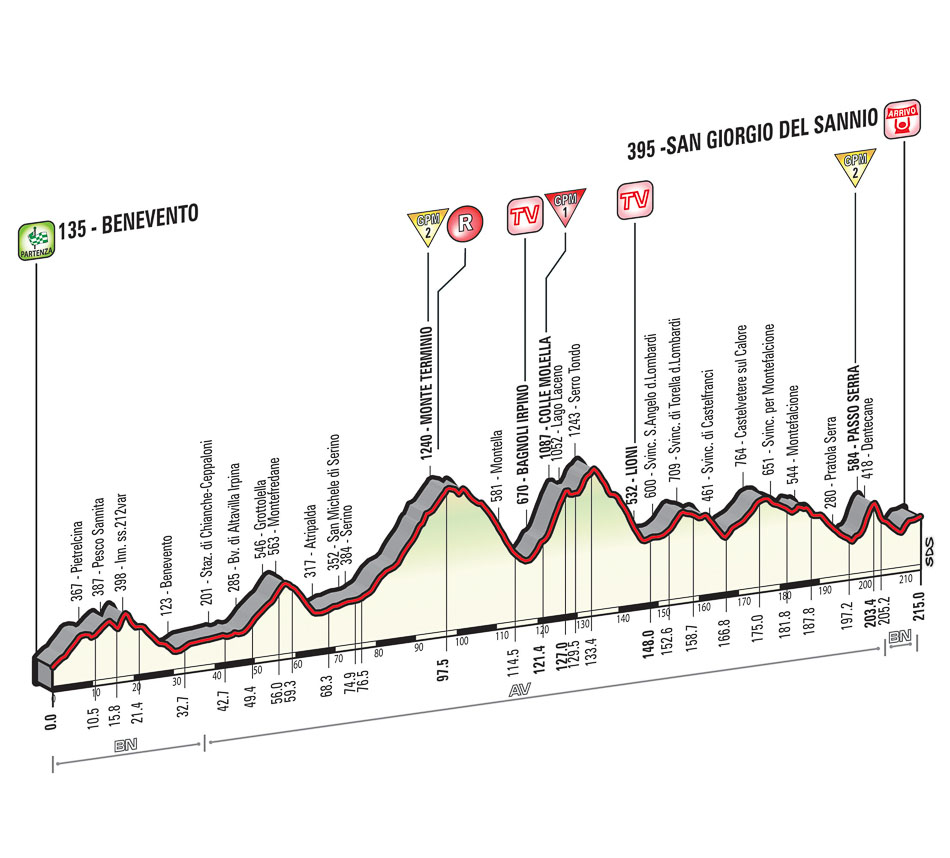 After the previous day's GC shakedown this mountain stage across the Appenines offers others the chance of a stage win via a breakaway. But watch out in case the weather is bad as this is a lumpy route on rough roads and it could be a hard stage to control if a big group barges away.

Stage 10 – Tuesday 19 May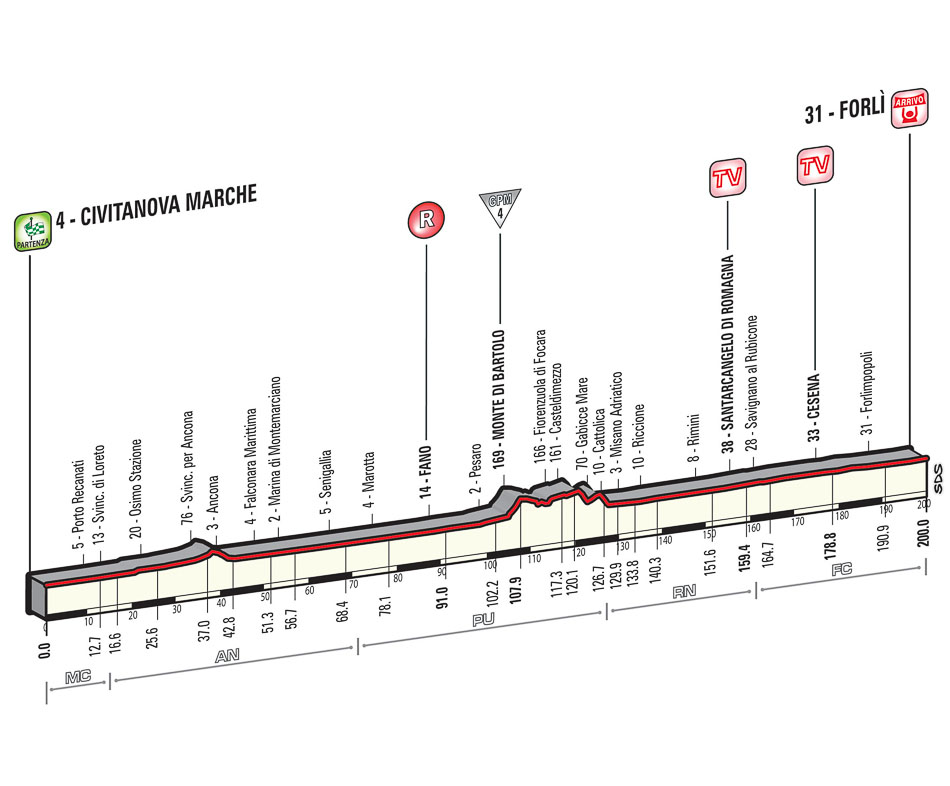 After the rest day this is almost another recovery day. 200km but for many a chance to sit tight on the wheels and save watts. If the stage isn't too remarkable remember the town of Forlì because its the birthplace Tullo Morgagni who helped to launch the Giro di Lombardia, Milan-Sanremo and the Giro d'Italia during his reign as editor of La Gazzetta. It's also the home of Ercole Baldini, "the train of Forlì", Hour Record holder, Olympic race winner and Giro champion.

Stage 11 – Wednesday 20 May


The race bends north for a stage across some of the late Marco Pantani's training routes in Romangna before lapping the Tre Monti circuit used by the 1968 World Championships and the 2009 Italian Championships before the finish in the Ferrari track… the prancing horse and not the chancing quack. A sprint perhaps but from a small group.

Stage 12 – Thursday 21 May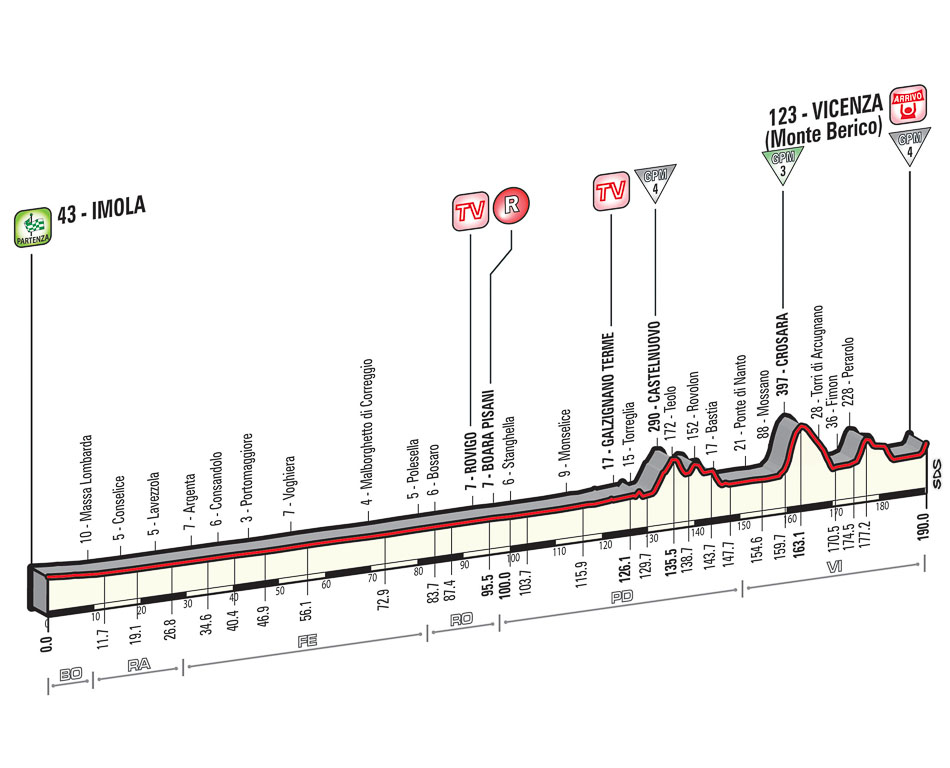 The race rides to Vicenza, home of Campagnolo, before an uphill finish to outside the Church of St Mary on Monte Berico, a large wide road for 2km that's 7% but reaches 10% for the moments to the line.

Stage 13 – Friday 22 May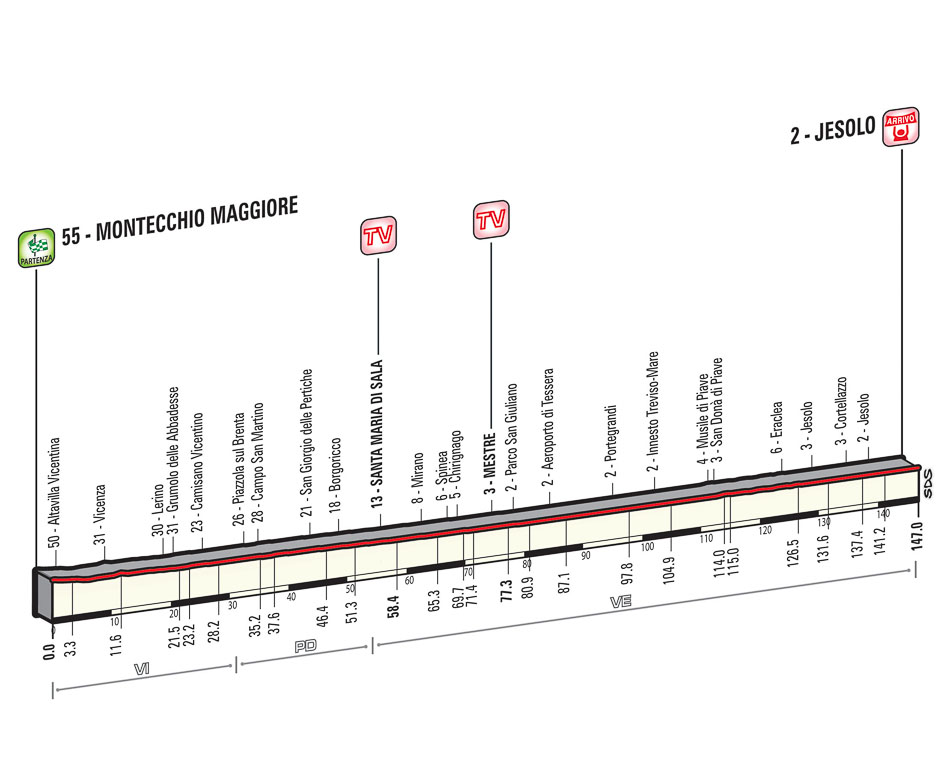 If a picture says a thousand words the profile above says enough: a day for the sprinters as the race heads to the seaside resort of Jesolo.

Stage 14 – Saturday 23 May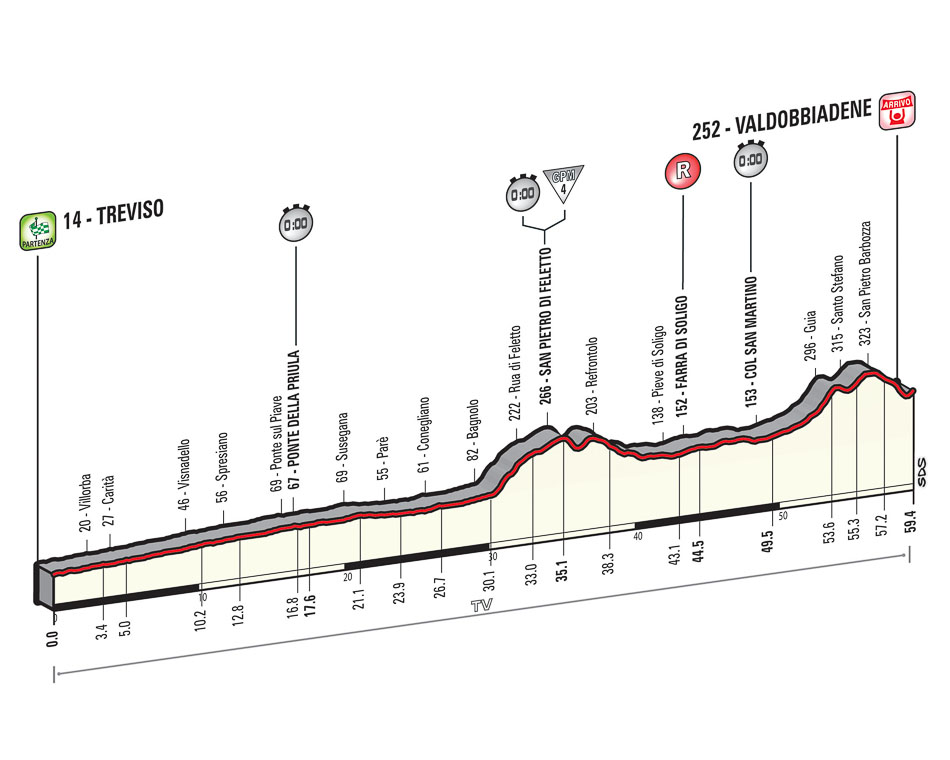 It's a shame there's a time trial here because many would enjoy going slow given the abundant vineyards and their Prosecco produce. But who will sparkle here? At 59.4km this a very long time trial and the time gaps can be huge. Don't ignore the first 30km on the flat because a rider must push a huge gear here but cannot afford to blunt their legs before heading into the hills. The 4th cat. climb is 5% which let riders stay in their aero tuck for much of the way. The latter climbs include the 12% slope to Santo Stefano.

Stage 15 – Sunday 24 May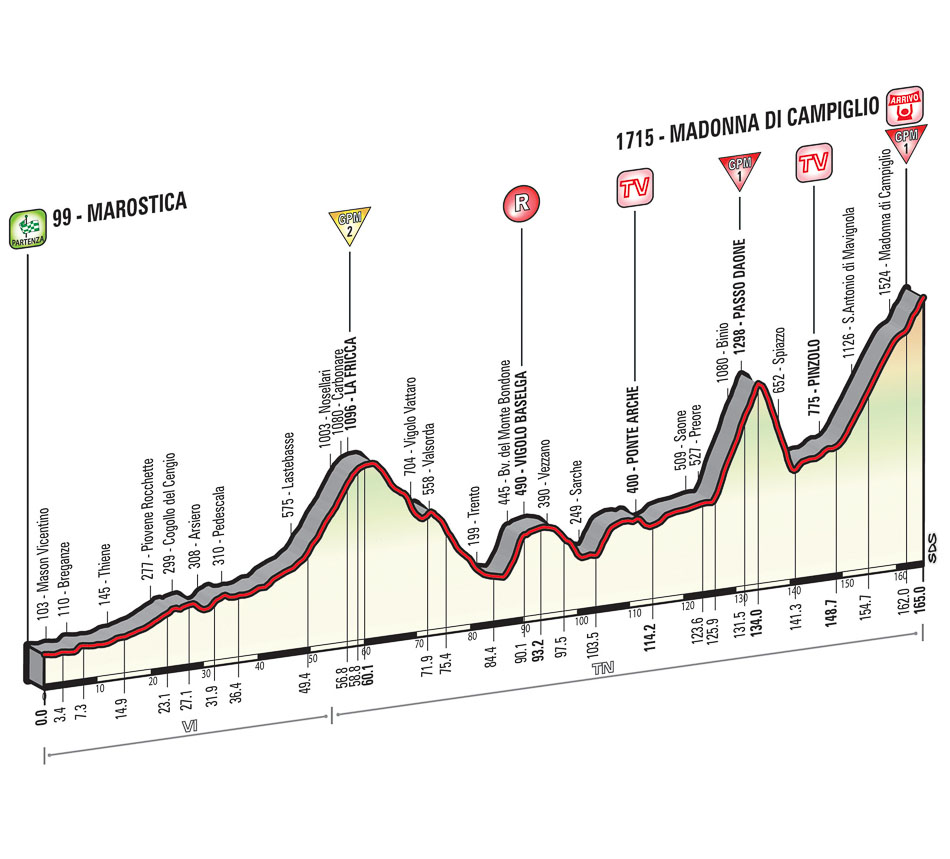 There's no rest for the GC riders, after the previous day mashing the big chainring now it's time for the climbing gears. The Passo Daone is an exciting climb with 9% for 8km but sustained middle section above 12%. It's hard to see anyone going for glory on this but it will reject many via the back door. Madonna di Campiglio is a big ski resort, infamous in cycling as the exit point for Marco Pantani and, if we had to trace it all back to one point, the moment the climber's life started its tragic descent. As for the race this is a steady climb at 6% for most of the way, a summit finish but not too dramatic.

Stage 16 – Tuesday 26 May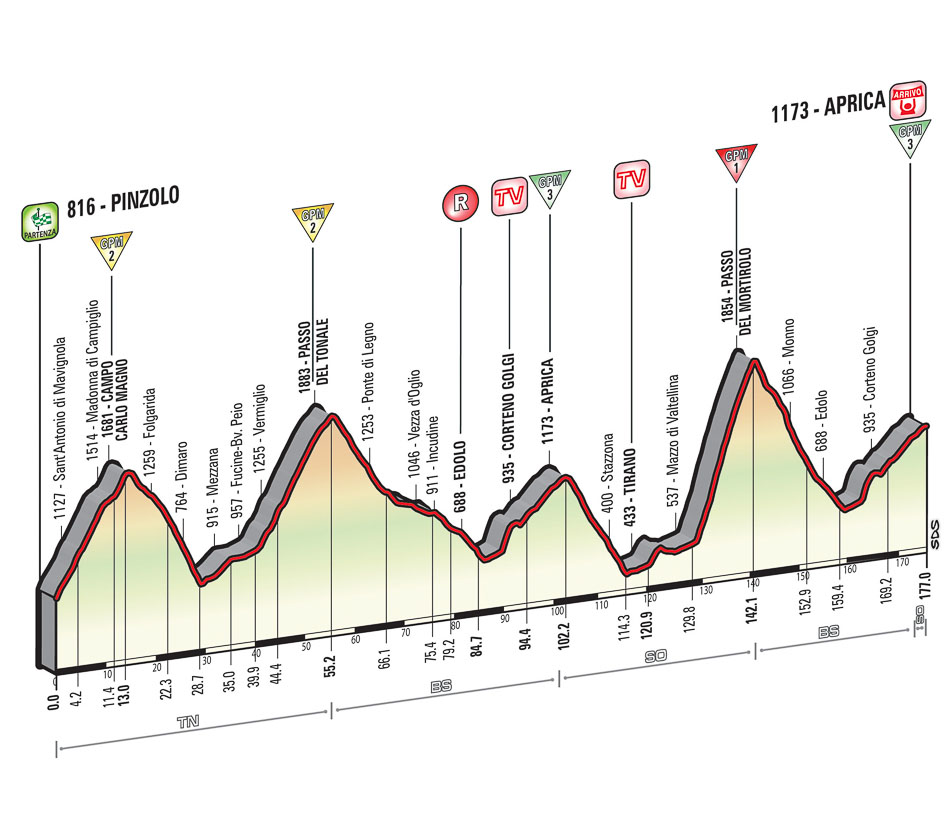 Who had a bad rest day? The stage starts uphill and the attacks will fly. The Passo del Tonale is hard and will take its toll. The road rises to Corteno Golgi via some nasty 15% sections before the race crosses the finish line in Aprica to taunt heavy riders who might fancy their hotel. The Passo del Mortirolo rates as one of the hardest climbs in Italy with regular 12% slopes with added ramps at 18%. A difficult descent and then Corteno Golgi again with the 15% slopes before the road eases in Aprica. Will someone gamble and attack on the Mortirolo? Any climbers who lost minutes in the time trial will have to.

Stage 17 – Wednesday 27 May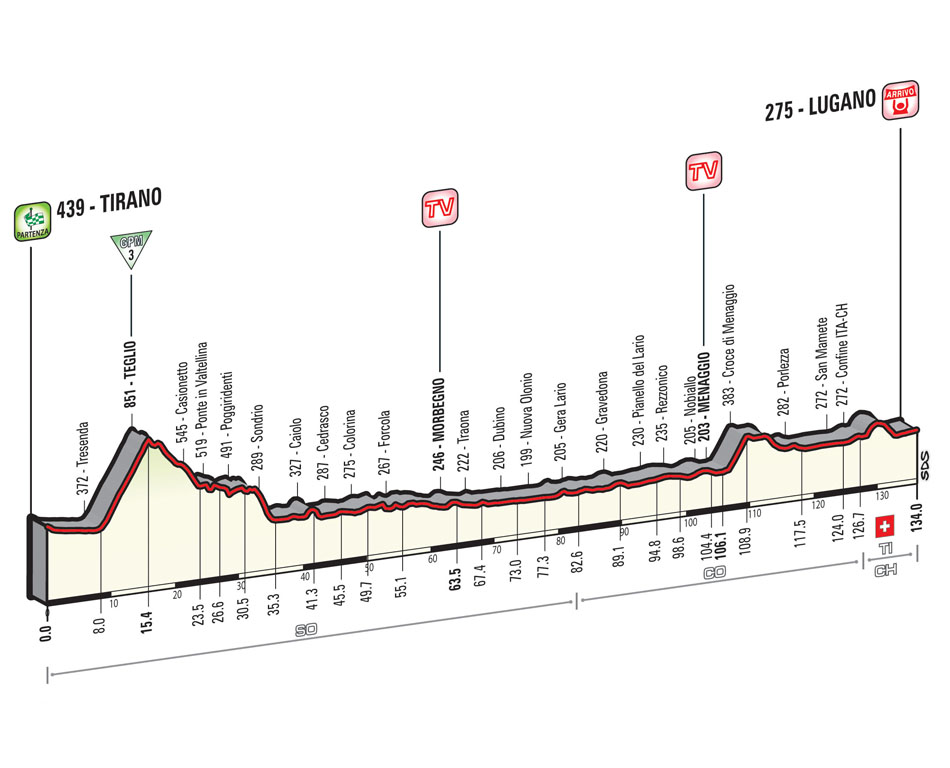 Almost a rest day this stage pedals along the upper Adda valley and allows some to pedal into Switzerland and check their bank balances because Lugano is a popular expatriate base for cyclists, home to Alberto Contador, Vincenzo Nibali, Fabio Aru and more. A chance for the sprinters this stage is partly designed to make them stay in the race.

Stage 18 – Thursday 28 May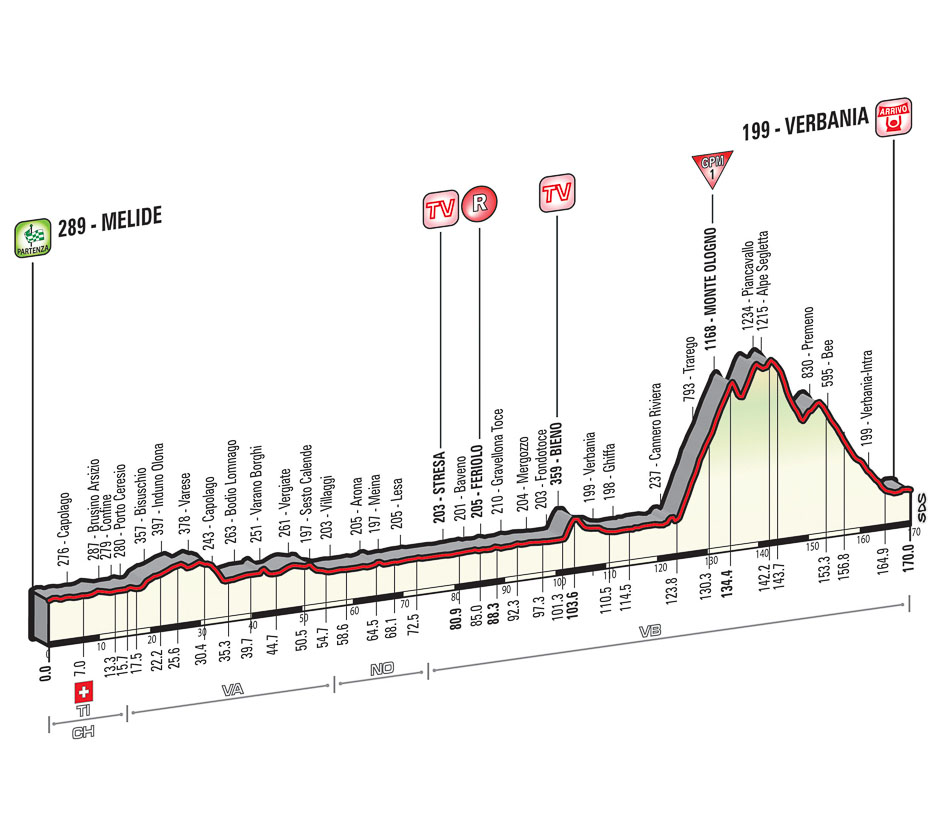 Probably a day for a breakaway, the fugitives will look to build up an advantage as the circle Lake Maggiore on flat roads. Monte Ologno is one of those climbs that groans with cicloamatori on a Saturday morning from March to October and a good test for anyone with its 9-10% slopes. The descent is longer than the climb but still fast and technical. This isn't a set-piece stage for the GC but some entrepreneurial types could attack over Monte Ologno and once they get 30 seconds it'll be hard to pull them back.

Stage 19 – Friday 29 May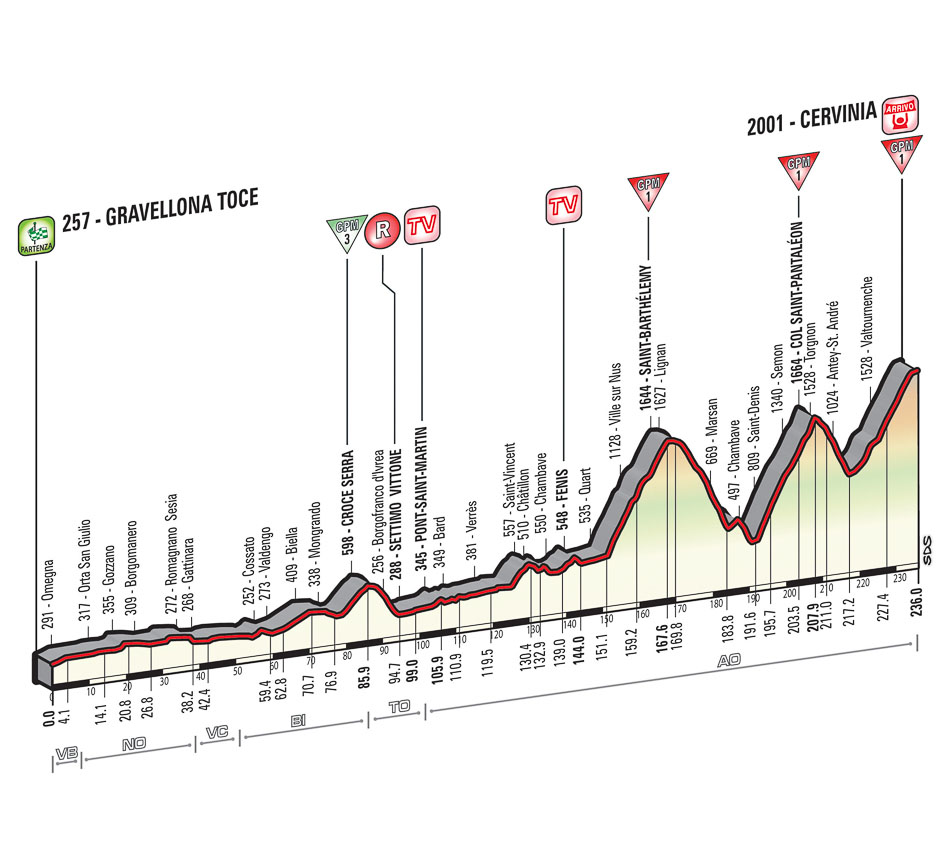 Late in the third week and here comes a 236km stage in the mountains. The race heads for the Aosta valley and its French names and French-style climbs with more regular gradients of 6-7%. Cervinia – Matterhorn for foreigners – is where Ryder Hesjedal went into TT mode to construct the foundation of his 2012 Giro win. The gradients might not be so savage but the distance will crack some.

Stage 20 – Saturday 30 May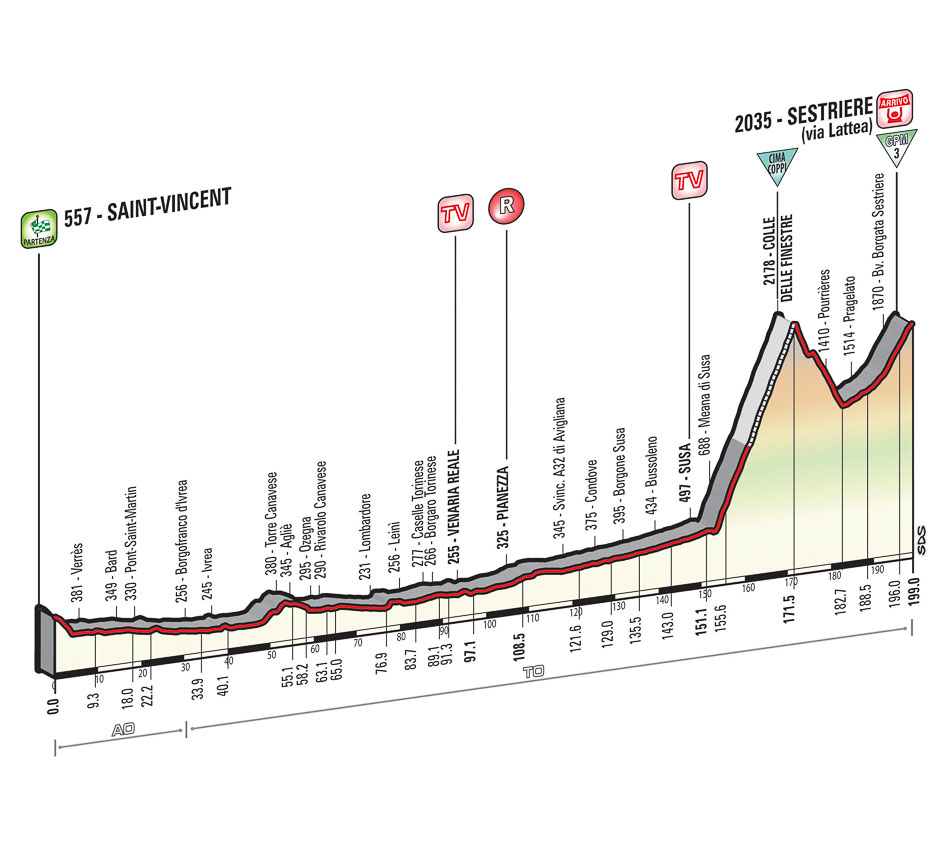 The last day to win the Giro and what a course. The race circles the industrial city of Turin before heading up the ominous Susa valley for the Colle delle Finestre. See the light grey tone on the graphic above? It marks the unpaved gravel section of the climb. It's 9% most of the way meaning every man for themselves and if anyone loses time by the summit they'll struggle to get back on. A sharp descent and then the drag to Sestriere at 5% where the best rider of the Giro can show what they've got.

Stage 21 – Sunday 31 May


Basta! The final day is a parade between two of Italy's northern cities before a certain sprint.

Startlist – updated daily
AG2R LA MONDIALE
1 POZZOVIVO Domenico ITA
2 BERARD Julien FRA
3 BETANCUR Carlos A. COL
4 DOMONT Axel FRA
5 DUPONT Hubert FRA
6 GRETSCH Patrick GER
7 HOULE Hugo CAN
8 MONTAGUTI Matteo ITA
9 NOCENTINI Rinaldo ITA
ANDRONI GIOCATTOLI-SIDERMEC
11 PELLIZOTTI Franco ITA
12 APPOLLONIO Davide ITA
13 BANDIERA Marco ITA
14 DALL'ANTONIA Tiziano ITA
15 FRAPPORTI Marco ITA
16 GATTO Oscar ITA
17 STORTONI Simone ITA
18 TVETCOV Serghei ROU
19 ZILIOLI Gianfranco ITA
ASTANA PRO TEAM
21 ARU Fabio ITA
22 CATALDO Dario ITA
23 KANGERT Tanel EST
24 LANDA Mikel ESP
25 MALACARNE Davide ITA
26 ROSA Diego ITA
27 SANCHEZ Luis Leon ESP
28 TIRALONGO Paolo ITA
29 ZEITS Andrey KAZ
BARDIANI – CSF
31 BONGIORNO Francesco Manuel ITA
32 BARBIN Enrico ITA
33 BATTAGLIN Enrico ITA
34 BOEM Nicola ITA
35 CHIRICO Luca ITA
36 COLBRELLI Sonny ITA
37 PIRAZZI Stefano ITA
38 RUFFONI Nicola ITA
39 ZARDINI Edoardo ITA
BMC RACING
41 GILBERT Philippe BEL
42 ATAPUMA Darwin COL
43 BOOKWALTER Brent USA
44 BURGHARDT Marcus GER
45 CARUSO Damiano ITA
46 DILLIER Silvan SUI
47 KÜNG Stefan SUI
48 MOINARD Amael FRA
49 ZABEL Rick GER
CCC SPRANDI POLKOWICE
51 PATERSKI Maciej POL
52 BOLE Grega SLO
53 MARYCZ Jarosław POL
54 MATYSIAK Bartlomiej POL
55 MIHAYLOV Nikolay BUL
56 OWSIAN Łukasz POL
57 RUTKIEWICZ Marek POL
58 SAMOILAU Branislau BLR
59 SZMYD Sylvester POL
ETIXX – QUICK-STEP
61 URAN URAN Rigoberto COL
62 BOONEN Tom BEL
63 BOUET Maxime FRA
64 DE LA CRUZ MELGAREJO David ESP
65 KEISSE Iljo BEL
66 MEERSMAN Gianni BEL
67 SABATINI Fabio ITA
68 SERRY Pieter BEL
69 VAKOČ Petr CZE
FDJ
71 GENIEZ Alexandre FRA
72 COURTEILLE Arnaud FRA
73 ELISSONDE Kenny FRA
74 FISCHER Murilo Antonio BRA
75 MOUREY Francis FRA
76 PINEAU Cédric FRA
77 REZA Kévin FRA
78 ROUX Anthony FRA
79 VEIKKANEN Jussi FIN
IAM CYCLING
81 CHAVANEL Sylvain FRA
82 CHEVRIER Clement FRA
83 CLEMENT Stef NED
84 HAUSSLER Heinrich AUS
85 KLUGE Roger GER
86 PELUCCHI Matteo ITA
87 PINEAU Jérome FRA
88 REICHENBACH Sébastien SUI
89 SARAMOTINS Aleksejs LAT
LAMPRE – MERIDA
91 ULISSI Diego ITA
92 FERRARI Roberto ITA
93 GRMAY Tsgabu ETH
94 MODOLO Sacha ITA
95 MORI Manuele ITA
96 NIEMIEC Przemysław POL
97 POLANC Jan SLO
98 RICHEZE Maximiliano ARG
99 XU Gang CHN
LOTTO SOUDAL
100 VAN DEN BROECK Jurgen BEL
101 ARMEE Sander BEL
102 BAK Lars Ytting DEN
103 BROECKX Stig BEL
104 GREIPEL André GER
105 HANSEN Adam AUS
106 HENDERSON Gregory NZL
107 MONFORT Maxime BEL
109 VERVAEKE Louis BEL
MOVISTAR TEAM
111 INTXAUSTI Benat ESP
112 AMADOR Andrey CRC
113 ANTON Igor ESP
114 FERNANDEZ Ruben ESP
115 HERRADA Jesus ESP
116 IZAGUIRRE Ion ESP
117 LOBATOJuan Jose ESP
118 QUINTANA Dayer COL
119 VISCONTI Giovanni ITA
NIPPO – VINI FANTINI
121 CUNEGO Damiano ITA
122 BERLATO Giacomo ITA
123 BISOLTI Alessandro ITA
124 COLLI Daniele ITA
125 DE NEGRI Pier Paolo ITA
126 GROSU Eduard Michael ROU
127 ISHIBASHI Manabu JPN
128 MALAGUTI Alessandro ITA
129 STACCHIOTTI Riccardo ITA
ORICA GREENEDGE
131 MATTHEWS Michael AUS
132 BEWLEY Sam NZL
133 CHAVES Esteban COL
134 CLARKE Simon AUS
135 DURBRIDGE Luke AUS
136 GERRANS Simon AUS
137 HEPBURN Michael AUS
138 LANCASTER Brett AUS
139 WEENING Pieter NED
SOUTHEAST
141 BELLETTI Manuel ITA
142 BUSATO Matteo ITA
143 CARRETERO Ramon PAN
144 FAVILLI Elia ITA
145 FINETTO Mauro ITA
146 GAVAZZI Francesco ITA
147 MONSALVE Jonathan VEN
148 PETACCHI Alessandro ITA
149 ZHUPA Eugert ALB
TEAM CANNONDALE – GARMIN
151 HESJEDAL Ryder CAN
152 ACEVEDO Javier Alexis COL
153 BROWN Nathan USA
154 CARDOSO Andre POR
155 DANIELSON Thomas USA
156 FORMOLO Davide ITA
157 MARANGONI Alan ITA
158 SLAGTER Tom Jelte NED
159 VILLELLA Davide ITA
TEAM GIANT – ALPECIN
161 MEZGEC Luka SLO
162 ARNDT Nikias GER
163 DE BACKER Bert BEL
164 FAIRLY Caleb USA
165 GESCHKE Simon GER
166 HAGA Chad USA
167 JI Cheng CHN
168 LUDVIGSSON Tobias SWE
169 STAMSNIJDER Tom NED
TEAM KATUSHA
171 PAOLINI Luca ITA
172 BELKOV Maxim RUS
173 CHERNETSKI Sergey RUS
174 KOCHETKOV Pavel RUS
175 LAGUTIN Sergey RUS
176 PORSEV Aleksandr RUS
177 TROFIMOV Yury RUS
178 VOROBYEV Anton RUS
179 ZAKARIN Ilnur RUS
TEAM LOTTO NL – JUMBO
181 KRUIJSWIJK Steven NED
182 BENNETT George NZL
183 FLENS Rick NED
184 HOFLAND Moreno NED
185 KEIZER Martijn NED
186 LINDEMAN Bert Jan NED
187 TJALLINGII Maarten NED
188 VAN DER LIJKE Nick NED
189 WAGNER Robert GER
TEAM SKY
191 PORTE Richie
192 EISEL Bernhard AUT
193 HENAO Sebastian COL
194 KIRYIENKA Vasil BLR
195 KONIG Leopold CZE
196 NIEVE Mikel ESP
197 PUCCIO Salvatore ITA
198 SIUTSOU Kanstantsin BLR
199 VIVIANI Elia ITA
TINKOFF SAXO
201 CONTADOR Alberto ESP
202 BASSO Ivan ITA
203 BOARO Manuele ITA
204 JUUL JENSEN Christopher DEN
205 KREUZIGER Roman CZE
206 PAULINHO Sergio M. POR
207 ROGERS Michael AUS
208 ROVNY Ivan RUS
209 TOSATTO Matteo ITA
TREK FACTORY RACING
211 NIZZOLO Giacomo ITA
212 ALAFACI Eugenio ITA
213 BEPPU Fumiyuki JPN
214 COLEDAN Marco ITA
215 FELLINE Fabio ITA
216 SILVESTRE Fabio POR
217 VAN POPPEL Boy NED
218 VANDEWALLE Kristof BEL
219 WATSON Calvin AU

The Jerseys
There are four jerseys in the race: pink, blue, red and white.
Pink: the most famous one, the maglia rosa, it is awarded to the rider with the shortest overall time for all the stages added together. As such, they have covered the course faster than anyone else. It is pink because the race has always been organised by newspaper La Gazzetta Dello Sport which is printed on bright pink paper. It is sponsored by Balocco, a biscuit maker.
There are time bonuses available on all the stages except the team time trial and individual time trials.
10 seconds for the winner, six seconds for second place and four seconds for third place on each stage
Also for the intermediate sprint of the day three, two and one seconds are available for the first three riders
Blue: the mountains jersey. It was green in the past but is now blue, the maglia azzurra. It is sponsored by Banca Mediolanum, a bank. Points are available on the climbs in the race with this year's edition tilting more points to the winner over the bigger climbs . There are five categories of climb:
Eight fourth category climbs: the first three riders crossing the top of the climb win 3, 2 and 1 points respectively.
13 third category climbs: the first four riders over the top get 7, 4, 2, 1 points
Eight second category climbs: first six riders get 14, 9, 5, 3, 2, 1 points
Nine first category climbs: the first eight riders get 32, 20, 14, 10, 7, 4, 2, 1 points
Cima Coppi: a special award, the "Coppi Summit" for the highest point of the race. This year it is the Colle delle Finestre on Stage 20. The first nine win points: 40, 28, 21, 15, 10, 7, 4, 2, 1 points
Red: the points competition. Riders pick up points at the intermediate sprints, the traguardi volanti or "TV", during a stage and at the finish line. The allocation of points depends on the stage in question, they are categorised with the typical sprint stages offering more points in a bid to place the red jersey on the shoulders of a sprinter who is handy with mental arithmetic. It is sponsored by Algida, a brand of ice cream.
Category A+B stages (2-6-7-10-12-13-17-21) offer points for the first 15 riders at the finish: 50, 35, 25, 18, 14, 12, 10, 8, 7, 6, 5, 4, 3, 2, 1. For the TV there are points for the first eight: 20, 12, 8, 6, 4, 3, 2, 1.
Category C stages: (4-5-9-11-18) offer points for the first 10: 25, 18, 12, 8, 6, 5, 4, 3, 2, 1. For the TV there are points for the first five: 10, 6, 3, 2, 1
Category D + E stages: (1-3-8-14-15-16-19-20) offer points for the first 10: 15, 12, 9, 7, 6, 5, 4, 3, 2, 1. For the TV there are points for the first three: 8, 4, 1
White: for the best young rider, this is awarded on the same basis as the pink jersey, except the rider must be born after 1 January 1990, ie aged 25 or under. It is sponsored by Euro Spin, a discount supermarket.
Obviously a rider can't wear two jerseys at once, they'd get too hot. So if a rider leads several classifications, they take the most prestigious jersey for themselves and the number two ranked rider in the other competition gets to wear the other jersey. For example if a rider has both the pink jersey and the blue mountains jersey they'll wear pink whilst whoever is second in the mountains jersey will sport blue jersey.
There are also a host of daily prizes which keep the podium ceremonies going for some time.

The unmissable stages
Anything can happen during the Giro but there are some stages that matter more than others.
Stage 5 – Wednesday 13 May: the first uphill finish
Stage 8 – Saturday 16 May: the second uphill finish but the first real selection
Stage 14 – Saturday 23 May: the 60km time trial stage. Maybe it won't be gripping TV but it is decisive
Stage 15 – Sunday 24 May: a mountain stage with the Passo Daone and Madonnna di Campiglio combo
Stage 16 – Tuesday 26 May: the Mortirolo stage
Stage 18 – Thursday 28 May: will someone spring a surprise over Monte Ologno
Stage 19 – Friday 29 May: the 236km mountain marathon. The riders might huddle until late
Stage 20 – Saturday 30 May: the Colle delle Finestre and Sestriere to settle the race.

TV viewing
The race will be on a variety of TV channels according to where you are in the world. Eurosport is covering the race across most of Europe. beIN SPORT has the rights in the US and France.
Italian host broadcaster RAI offers the best coverage with experienced commentators as well as roving reporters on motorbikes to add extra coverage. As ever cyclingfans.com and steephill.tv are the go-to sites for schedules and pirata feeds. The timing will vary but the finish is expected for around 5.15pm CET each day.

Giro iCal
The Giro awards stars to each stage to indicate the difficulty or importance, from one to five stars for the biggest days.
Save the ics / iCal / iCalendar file and you can import it into your electronic diary. One or two clicks and it's on your iPhone / Outlook etc.