Track racing has a big debt to the USA and in particular New York. The sport was so popular a century ago with urban audiences that today's Madison race, where pairs of riders take it in turn to compete in a sort of relay race got its name from the Madison Square Garden. The original venue has now gone but a wealthy benefactor has donated $40 million to help build a indoor velodrome again in New York. There's talk of a Harlem velodrome but I think one reader via Twitter had a better suggestion:
@inrng Wonder if it will be named after Major Taylor…

— Seneca J. Rose (@sansenmag) April 19, 2012
That said there's already a Major Taylor velodrome in Indianapolis. Still, regardless of the name this is good news. London has a brand new velodrome for the Olympics but Paris does not, or at least nothing viable. There are plans for the French Cycling Federation to move to a giant new complex complete with a velodrome as well as road circuit, off-road paths and more.
Classics done
Tomorrow's Liège-Bastogne-Liège marks the end of the classics season. Has it been a vintage season? I think it's been mixed, with some highlights. Tom Boonen joins the greats and by some counts, is the greatest ever cobbled classics rider. Sep Vanmarcke was a surprise and the only rider to get the better of Tom Boonen.
Fabian Cancellara crashed out but lost out in Milan-Sanremo. This blog is sponsored by Ride magazine and they did a good interview with race winner Simon Gerrans which explains just how hard it was to follow Cancellara going down the Poggio with the Swiss rider attacking out of every corner and even distancing Nibali and Gerrans at one point. Gerrans explains he was at the limit to stay in the slipstream. Above all it turns out he was going to attack on the Poggio but Nibali went two seconds early, which explains how Gerrans was able to get on the Sicilian Shark's wheel.
Two weeks to the Giro d'Italia
The Giro d'Italia is the second biggest bike race in the world and it's trying a label of "the most beautiful bike race in the world" which should work well. I'm not sure the Danish countryside will offer much when the race begins in Herning but once back on Italian soil there should be plenty of stunning scenery. Italy is a picturesque place but the race takes place just as spring slips into summer. Vegetation is a lush green, the still snow peaks of the mountains reflect bright light and the season as a whole shifts from Belgium, mud and grey skies to something brighter.
About time
A good bike often has an elegant appearance, even one where engineering triumphs form will look harmonious. So I've long wondered why the humble bike computer has crashed the party. These are often mounted on the stem with cable ties or rubber bands, a complete after-thought of design.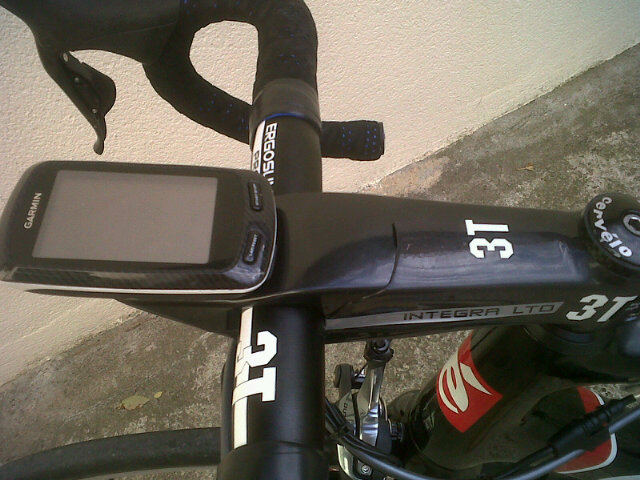 But now it seems component manufacturers are working to make the computer integrate, we've seen some attempts before but the version by 3T above looks interesting. Of course many don't want a device on the bars and the Garmin computer shown is huge. But I can't think of many consumer products where you can drop $10,000 on something and use DIY plastic to fit a part.
Le Premier Tour
France votes for a President this weekend, the first of two rounds is on Sunday. It's got little to do with cycling but the language of the sport does cross over. Yesterday I heard le dernier sprint, "the final sprint", used to describe the last minute campaigning and other phrases like la tête dans le guidon, the "head in the handlebars" is often used to describe working hard.
Perhaps the campaign is like the Tour de France as politicians travel across all of France but ultimately only a few moments of the campaign prove strategic for the results. Only this time a Frenchman will win.
Naked Spanish riders
A photo of several of Spain's top cyclists posing naked was the most popular read on tumblr this week. Don't worry the photo is just about work-safe although don't you might not want to gawk for long. I put a few photos on the tumblr microblog from time to time, partly so I can retrieve them later, like a cheap cloud computing library.