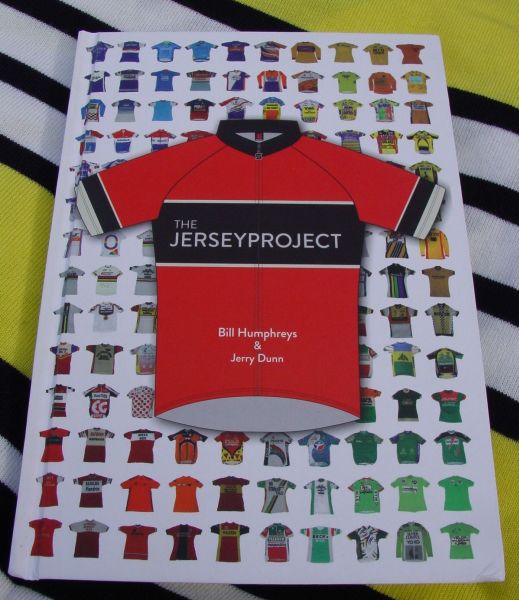 The Jersey Project by Bill Humphreys and Jerry Dunn
The cycling jersey has changed so much over the years. From a simple piece of clothing made out of wool, today's jerseys deploy modern fabrics, reflect corporate sponsors and are cut to suit a racer bent low on the bike. This book traces the evolution of cycling jerseys, cataloguing all the changes via a series of photos.
The book is based on Koerstrui, a Dutch book whose title means "Race jersey". Bill Humphreys is a key figure in the development of US cycle sport who has worked with national teams and helped bring on riders like triple Tour de France winner Greg LeMond. Back in 1971 Humprheys was a soigneur at the Tour de l'Avenir race and met Dutchman Marinus Wagtmans, once a team mate of Eddy Merckx. Better known as Rini Wagtmans and the best descender in the bunch at the time. The pair became friends and come 2010 Wagtmans presented Humphreys with the Koerstrui book. "I knew instinctively that I was compelled to add the American jersey story to this wonderful book" says Humphreys.
And that's exactly what has happened. Koestrui was translated into English and more jerseys from American cycling were added. If there was ever a Dutch cycling book you could read without knowing the language then it's Koestrui thanks to the pages of race jerseys without a great deal of text. But there is writing and you'd still miss out on the details. The Jersey Project adds 50 pages on US cycling history to the 150 pages.
The book is enjoyable on many levels. The design is worth a mention. A hardback and printed with high quality paper, each jersey is clear to see, studio photographed. Sometimes you can see crash damage or wear. As an exercise in graphic design the book succeeds but rightly so since it is probably the kind of book that could reach beyond cycling as it shows the evolution of clothing and corporate logos. We go from plain wool to screen-printed fabrics with peacock-displays of corporate branding.
The section on US cycling is interesting in how the early jerseys resemble their European peers in design although the names are different. Then suddenly Greg Lemond changes everything as the US cycling sphere merges like a Venn diagram into the Euro world of pro cycling.
Some pages feature jerseys arranged in rows and columns, an egalitarian mix where iconic designs like Peugeot with its black and white chequered pattern sit alongside forgettable designs like the Jean Delatour maillot. Other pages zoom on a jersey and explain its history.
I liked the small details. You can trace the changing shape of jerseys of the years, something I'd not thought about but they had tight sleeves to start with and became almost baggy by the 1980s before we get today's slim fitting versions. See the image above, look at the variety of cuts, the angle of the sleeves and more.
The book is organised, there's the section on the US, then we have teams for classics, leaders jerseys, world champions and so on. The translation to English is good but there's still a Dutch feel in one or two places. The section on cyclocross is labelled "fields", like veldrijden or "field riding" and the section on the jerseys from the minor stages is called "small rounds", as in ronde meaning tour.
Finally this isn't just a book. It wouldn't exist without the collection of jerseys and the work done to document them. It is a historical catalogue and a tribute to riders and teams of the past, whether Humphreys in the US or John van Ierland and Henk Theuns in the Netherlands. Not every jersey from every team is here but there's a big selection.
It's not a book you start on page one and gradually work through to the end. Rather it's something you flick through and return to many times. It's something that would go well in a bike shop or a design studio or your coffee table. And whilst it doesn't exist, it would make for a great app for a tablet display like an iPad.
Distribution
This isn't for sale in Borders or on Amazon. Instead you can find it some US bike stores and it is available for purchase online direct from the author in the US for $30, see thejerseyproject.com
Disclaimer: this was sent over by Bill Humphreys for review
A list of book reviews is available at inrng.com/books.