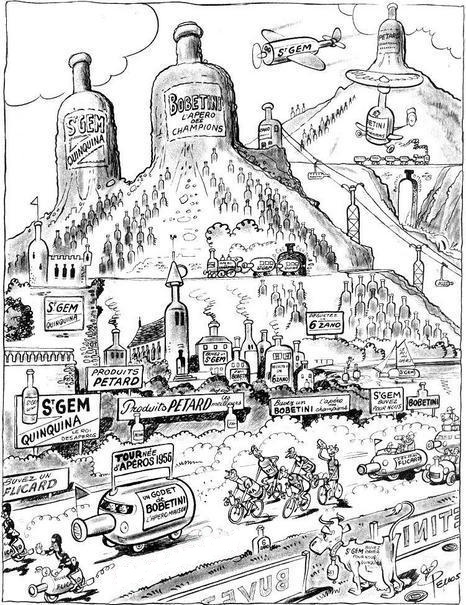 Pro cycling is a nakedly commercial sport. The above cartoon by Pellos mocks the way the 1956 Tour de France consumes the environment with branding. Half a century later only the sponsor names have changed. Riders act as mobile billboards to sell Quickstep laminated flooring and Liquigas bottled gas.
However this culture is set to clash with the Olympic Games, now just four months away. One thing that didn't exist in 1956 was social media and the International Olympic Committee has very strict rules in place about the use of blogs, Facebook and Twitter during the games. Here's a look at the ad rules and social media guidelines.
Yesterday there was a story doing the rounds that CONI, the Italian Olympic Committee had issued strict guidelines to its athletes over the use of social media and more. But it's not new.
Last autumn for example the US Olympic Committee emailed similar advice athletes on the "long list" for selection. Above all, these national bodies are parroting existing International Olympic Committee (IOC) guidelines.
Rule 40
This is a rule of the IOC and limits athletes and other participants in the Olympic Games from appearing in advertising during, before and after the Olympic Games, this year from 18 July to 15 August.
Any reference to the Participant, whether by their personal appearance, use of their image (or any representation of such image, whether two or three dimensional), name or sports performance (including performance at the Games and recent historical performance), in advertising will fall within the scope of Rule 40.
This includes standard advertising like TV clips and magazine ads. But it extends to cover PR appearances, corporate websites and blogs. As such a rider like, say, Mark Cavendish couldn't appear in a Pinarello ad campaign during late July even if he wins stages of the Tour de France, nor even on the website of the Treviso frame-builder. Even tweeting "I love my bike" could be risky.
Rule 50
No form of publicity or propaganda, commercial or otherwise, may appear on persons, on sportswear, accessories or, more generally, on any article of clothing or equipment
This applies to bikes and clothing. If Peter Sagan starts the Olympic road race then officials will be checking his Cannondale to ensure the decals are not too large. In fact only one decal is allowed:
The identification of the manufacturer shall not appear more than once per item of clothing and equipment… …any manufacturer's
identification that is greater than 10% of the surface area of the equipment that is exposed during competition shall be deemed to be marked conspicuously. However, there shall be no manufacturer's identification greater than 60cm².
Which means one head tube badge and that's it. In theory it also means you shouldn't have the frame-builder's name on each side of the down tube as that's two mentions. There's more, for example no more than 6cm² on a helmet or shoes for the maker's name.
We'll see how much this is enforced but break these rules you risk "disqualification or withdrawal", the decision is taken by the IOC and there's no appeal channel.
Social media
There's a lot of white noise on Twitter and Facebook but amidst the hiss and crackle there's plenty of interest. News breaks via Twitter and riders put information on their form as well as random things than can be interesting if you follow the sport. Unlike the Tour de France or Giro d'Italia the IOC has guidelines for participants. To summarise:
The IOC encourages athletes and staff to use social media but under tightly specified rules.
Participants should stick to the first person. In other words, stick to talking about themselves. Commenting on other athletes is not allowed.
Posting images is strictly regulated if from any Olympic venue or the athletes village. Video is banned, for example a rider warming up on the rollers before a race on the velodrome is out of the question, the same if someone wants to upload a video of the descents on the road race course.
You can't promote a "brand, product or service within a posting, blog or tweet". This might come as a relief for weary fans subjected to messages like "I won thanks to my shoes/energy drink/sunglasses" etc. But it'll extend to riders thinking of putting pictures of their new bike online or showing a brand new aerodynamic helmet. This information that might normally be of passing interest.
Summary
This all marks a change from the usual commercialism of pro cycling. But if you think the Olympics are a two week festival of logo-free free sport… then you haven't seen the games before.
Instead these rules are there to protect "partner" sponsors of the IOC and the local organising committee in London. These companies have paid (hundreds of) millions to have their name associated with the games and the last thing they want is rival brands on the scene.
British bank Lloyds TSB who will count on the rules to make sure the likes of Rabobank and Cofidis don't crash the party. When the cycling World Championships went to Australia in 2010 the Swiss squad ensured a stock of Rivella, a Swiss soft drink, for Fabian Cancellara. The last thing Coca Cola wants is a potential medal winner drinking a rival product. Try that in July and his next tweet could promote Swiss Air for the flight back home.
All this means tighter rules for athletes. For pro cycling in particular this represents a change in attitude. Thinking ahead you wonder whether cycling will move to adopt tighter guidelines to protect core sponsors? But often the more control, the more sterile the image and the brands associated risk looking like paranoid corporate behemoths. Presumably the very thing they want to avoid by associating with the fun of sports.