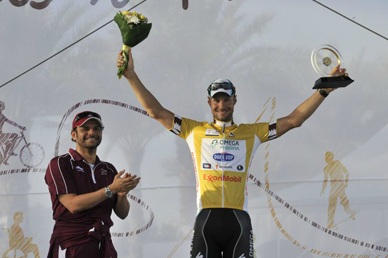 Boonen's Arab spring
The Tour of Qatar finished yesterday with Tom Boonen taking his fourth overall win. As much as the race is about sprint finishes, Boonen looked far more complete and thanks to his team, always in the right place at the right time. It's good for him but does this translate to results in the crucial spring classics? It depends how superstitious you are…
Amazingly Boonen has won over a third of stages of the Tour of Qatar since it began ten years ago but his form and fortune in the ensuing classics has varied. But note in the years when he has won the overall in Qatar he has gone on to win a big classic.
Démare's démarrage
Name a French sprinter? There are not many. Romain Feillu is very good and came close to a stage win in the Tour de France last year, despite a knee injury. But there are not too many more at the top level. Samuel Dumoulin can win smaller races but he is more of a specialist for slightly uphill finishes and others can have their day, especially on the domestic calendar.
But Arnaud Démare is the best prospect. A 20 year-old neo pro in his first race, he won the final stage of the Tour of Qatar with a powerful finish. A crash behind him meant we didn't get to see if Cavendish could catch him but the Frenchman certainly blasted away from the others with a big jump. Sprinters tend to need time before they can cope with the effort required after 200km so don't expect too much, just follow the name. By the way, démarrage in French means to launch or accelerate. A fitting name.
Training on ice
Meanwhile Europe freezes. Early season races have been hit by icy weather. This happens, in years past riders have even gone on strike over the icy weather. But note many races are taking place a week earlier this year. The Olympics start at the end of July which shunts the start of the Tour de France to the end of June and so on. It's not just about numb hands or bulky clothing, shortened stages and curtailed training means the weather could be slowing the training programmes of many riders.
Positive news
A week of doping news. We started with Alberto Contador and finished with Ullrich but during the week there was more, including Alexander Kolobnev at the CAS and even tales of Canadian amateurs testing positive. Funny how we never get coverage of Canada's amateur racing scene until some idiot gets busted.
Yet if we think our sport can't get away from the subject, doping is everywhere. Away from cycling I remember visiting an office to find someone snacking on an energy bar so he could "perform" at work but that's nothing compared to the news from the Financial Times* on Friday that Wall Street traders are taking testosterone to combat long hours and become an "alpha male".
* To read FT.com you must be registered… or simply right-click and copy the article's URL and paste it into Google. Search. Then click on the result and you can read for free.
Danish paste-try
Thursday's piece on the possible invalidity of the UCI's new points punishment scheme for returning dopers was almost copied and pasted by Danish Sporten.dk on Friday. A quick exchange on Twitter and writer Morten Risager added a credit to this blog but to his credit, he went further and cited WADA rules and spoke to a Danish anti-doping expert. The main thing is whether this rule stands or if it gets challenged.
Tumblr
This was the most popular item on the tumblr microblog this week.