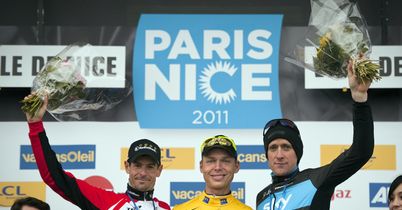 They call Paris-Nice "the race to the sun" because every March it leaves the Parisian capital and heads south for the Mediterranean and its pleasant climate. It is only a week long but this year's race gave us plenty of clues for the whole year, from Matthew Goss to Denis Galimzyanov, and Tony Martin and Bradley Wiggins. Here's a quick look back.
Stage 1
A fast stage saw a breakaway featuring FDJ's Jérémy Roy, something we'd see again in the Tour de France. Fellow escapee Thomas de Gendt won the day, confirmation of his abilities after he joined Vacansoleil from development squad Topsport Vlaanderen.
Stage 2
The sprinters had their day with Greg Henderson of Sky winning. This wasn't so much a clue of future performance as a copy of his win the year before. But second place went to Matt Goss and Denis Galimzyanov popped up for third place. The Russian had a breakthrough season and his regularity in Paris-Nice was a step up from the placings in the Tour of Oman.
Stage 3


A hilly day that ended in sprint and we saw Matt Goss get his win. A sprinter, Goss found a combination of hills and a late crash eliminated his rivals and he took the win. The ability to survive the climbs was invaluable for Milan-Sanremo a few days later and if some were surprised by his win, Paris-Nice provided the clues.
Stage 4
A hilly day across central France and Thomas Voeckler won. No this wasn't the Tour de France. He told the media on the start line that day that French riders weren't being bold enough. So off he went and he took his first Paris-Nice stage win.
Stage 5
A semi-mountain stage saw Klöden win a sprint, something he almost never does and a sign of his form. He had a great early season with several stage wins in races and the overall in the tough Tour of the Basque country; the rest of the season saw bad luck.
Stage 6
A hilly but rolling 27km saw Tony Martin win. He took the lead in the race too. Klöden was second with Bradley Wiggins third. Wiggins had bad luck in the Tour de France but like "Klödi" he didn't place all his eggs into the basket labelled July.
Stage 7
Remi di Gregorio won, sneaking off on the hilly finishing circuit in a downpour. So much for The Race to The Sun, the conditions were hard. Di Gregorio took a good win but this result was maybe the odd one out in Paris-Nice. He never got in the top-10 again in the season.
Stage 8
Episode two of the Voeckler show saw the Frenchman win. This time he got the better of Lampre's Diego Ulissi. Some had said the Europcar was diminished after losing several key riders at the end of 2010 when it struggled to find a sponsor. But Voeckler stepped up the leadership and the sponsor soon got their money's worth. Ulissi is a name to watch and he had a decent season, he went on to win a stage of the Giro, outfoxing Italian champion Giovanni Visconti.
Overall
Tony Martin won, Klöden was second and Wiggins was third. Martin emerged this year as the world's best time triallist, with Cancellara often losing out to the German. If he had a great early season, longer term Klöden didn't fare so well. But Wiggins grew in confidence following his podium finish in Paris-Nice, setting himself up to win the Dauphiné and then to bounce back from a broken collarbone in the Tour de France to finish third in the Vuelta.
Summary
Applying some hindsight it can be easy to see the likes of Goss, Martin, Wiggins and Galimzyanov emerging. Dig deeper and you'll find more stories, for example Heinrich Haussler was there but not winning or Pierre Rolland made the cut on Stage 5's mountain finish. It was less evident at the time but this race provided plenty of clues for the rest of the season, perhaps more than other races.
Maybe it was a fluke, usually the winner of Milan-Sanremo comes from Tirreno-Adriatico and Cadel Evans was busy winning that Italian race. More of which another day.