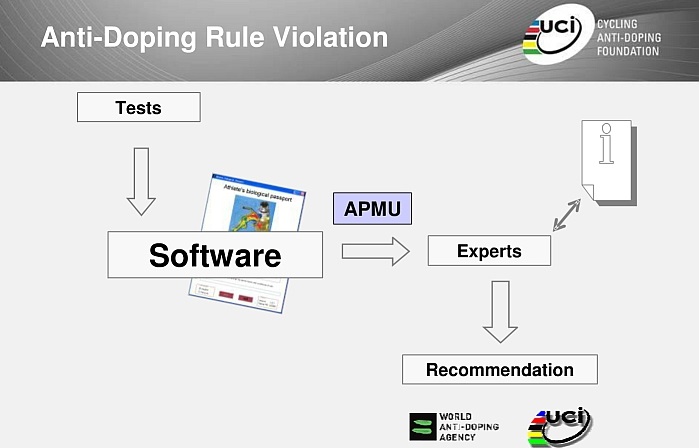 This post isn't about doping. Instead it's about procedures and probabilities so if you want something more exciting, wait for the preview of this Sunday's Il Lombardia race due out soon.
Team Sky's Jonathan Tiernan-Locke was pulled out from the British team going to the worlds at the last moment and there was talk of an injury with some and fatigue from others. But the weekend saw the story that he was being questioned by the UCI about his biological passport data. What has happened to get these questions and what is next?
The Passport Process
A reminder that the bio passport is a record of an athlete's haematological parameters. A variety of measures are taken when a rider is tested and these are all logged into a database and over time a "longitudinal profile" is established. Unlike the binary positive or negative of toxicology testing where a lab tests for banned substances, the passport looks at changes in levels, using logic and mathematics, for example Bayesian statistics, to look for anomalies. Here's a screenshot of the passport software:


This process is run by the Athlete Passport Management Unit (APMU) which is a WADA-funded scheme based in Lausanne, Switzerland – just around the shore of Lake Geneva from the UCI's HQ. The software rings an alarm bell if an athlete's numbers deviate from an established patten. When this happens an expert with a background in clinical haematology, sports medicine and/or exercise physiology reviews the data from the system. The expert has four options:
do nothing because the data look normal to the human eye/brain
recommend the athlete is placed on a list for target testing
alert the athlete that they could be suffering from a serious illness
state improbable natural causes, a likely doping case
In the event of the fourth option, the procedures continue for the APMU. Two more experts are asked to evaluate the data and they can each recommend one of the four options above. All three must review the same data set and only if each concludes that, in the words of WADA's procedural manuals, "it is highly likely that a prohibited substance or prohibited method had been used and unlikely that it is the result of any other cause" will the case proceed. If this is the case then the APMU creates a dossier with the athlete's age, gender, sport and a range of other information such as the chain of custody for the samples taken, whether the athlete was at altitude and so on. This file is reviewed and once again all three experts have to unanimously concur for an "adverse passport finding" and then an anti-doping organization is notified, in this case the UCI.
The UCI then contacts the rider and WADA to advise them that it is mulling an anti-doping case and includes the APMU dossier with the data, sample custody and more along with the request for the athlete to explain the data in the dossier.
Tiernan Leak
This is where the Tiernan-Locke case is at and apparently it relates to numbers from 2012 when he rode for Endura Racing. Only there's one big deparure from the normal procedure as the case has gone public. It's not the first time this has happened, see the cases of Leif Hoste and Carlos Barredo which emerged long before a prosecution began. The Barredo case is interesting because he was suspended from races by Rabobank in 2012 after the UCI started asking questions about his data from 2007 to 2011. The UCI announced it would prosecute last October but almost a year on there's no news. Barredo has retired from the sport and these works as a coffee salesman. But retirement is no exemption from sporting sanctions – just ask Lance Armstrong or Jan Ullrich – so the delays with the Barredo case are strange. But that's another story.
The leak is messy. Mere suspicion is damaging and the fact that Tiernan-Locke's name is out there is bad for the rider both in terms of reputation but also the suspension from racing costs them in several ways. It's embarrassing for the team and not good for the anti-doping effort as a whole because leaky info undermines faith in the system. But if they are suspended from racing the news has to come out because fake stories about injury cannot be used to cover things up. It's happened before in cycling and seems common in tennis too. In a statement Team Sky said "He has withdrawn from racing whilst his response to the UCI is prepared" and it seems this suspension precipitated events and journalist Kenny Pryde has a good piece on the leak with Cycling Weekly. As with Barredo, the suspension of a rider who is still innocent is a heavy penalty. Although note that if David Walsh had the news then it's his job to print it, especially given the prior talk of injury and fatigue.
What next?
Tiernan-Locke is reviewing the APMU file sent to him by the UCI and presumably getting expert help to chart the anomalies. He can respond – an athlete doesn't have to – and the response will then be judged and a decision whether to bring a prosecution will be made, probably during the next couple of months.
Bias and probability
This isn't "one of your numbers looked odd, can you pop in for a chat" but instead three experts have a unanimous conclusion that it is "highly likely that a prohibited substance or prohibited method had been used and unlikely that it is the result of any other cause" and again those are WADA's words. But I can't stress enough that there's a bias because we don't know how many other cases are opened and shut. Many things can seem highly likely… until they get explained.
With the biological passport it makes a real difference if, say, the APMU software flags up plenty of athletes and the experts call on plenty to explain data and they can respond so that case is dropped. We do know that back in 2009 the software was flagging up 10-15 cases a week according to a presentation given by the UCI's Doctor Zorzoli. But we don't know the amount of cases where the three experts proceed to question an athlete. In short your attitude to Tiernan-Locke might vary if you knew what percentage of requests for explanations led to the case being cleared or going to prosecution.
Statistics and probability are complicated by false positives and more. Here is an example from the New York Times:
Suppose that police pick up a suspect and match his or her DNA to evidence collected at a crime scene. Suppose that the likelihood of a match, purely by chance, is only 1 in 10,000. Is this also the chance that they are innocent? It's easy to make this leap, but you shouldn't.

Here's why. Suppose the city in which the person lives has 500,000 adult inhabitants. Given the 1 in 10,000 likelihood of a random DNA match, you'd expect that about 50 people in the city would have DNA that also matches the sample. So the suspect is only 1 of 50 people who could have been at the crime scene. Based on the DNA evidence only, the person is almost certainly innocent, not certainly guilty.
In the example above we go from thinking there's a 99.99% chance – 1 in 10,000 expressed as a percentage – that the suspect is guilty with the DNA match… to a 2% chance. And all this is just by measuring probabilities before an individual gets to speak about their actions, present an alibi and more.
Conclusion
Hopefully you have a better idea of how the biological passport review process works. It sounds serious for Jonathan Tiernan-Locke given three experts agree on a high probability of doping and this is why the leak is damaging with the headlines it has generated. But since we don't know what number of athletes are called to explain themselves and silently cleared it's hard to get a feel for what is coming next and whether this case is routine or exceptional.