Saxo-Bank boss Lars Seier was next to Bjarne Riis and Alberto Contador to announce his team would be increasing its funding for the team in 2014 which will be Team Saxo Bank althogh he's welcome to a co-sponsor.
Bjarne Riis seems to have unique survival powers, like some computer game character with infinite lives. Every time he's faced with trouble he seems to pull through when others would have been banned, suspended, bankrupted, hounded or more. It's also a good marketing opportunity for Saxo Bank who show they stand by Riis in tough times, the opposite of Oleg Tinkov who's supposed to be taking his (t)roubles to Cannondale.

King for another year
Ted King will be riding with Cannondale in 2014 according to his agent Joao Correia, the former Cervélo Test Team rider.
Less than secret agent
Talking of agents, Chris Horner's agent is reputed to be touting around the American for €750,000 a year according to Europcar manager Jean-René Bernaudeau. He also said he was offered Michele Scarponi but would not be interested. Scarponi had been linked to the French team in a few stories published online but this looks like mischief-making from the agent to pretend there's lots of interest and therefore create more demand and interest.
LL's cool pay day
Another rider looking for a job is Luis-Léon Sanchez after Team Belkin paid him to leave, effectively paying him the rest of his contract in order to ride off into the sunset and prevent future embarrassment given his links to doping stories. But there's good and bad here, Belkin get rid of a liability in some senses but note Sanchez has never been convicted of anything. So he's sent packing despite no conviction. Of course had be been formally charged or suspended then the team could fire him without a payout but the mere news that he's not deemed employable is a hit to his reputation.
We don't know the terms of the deal were but there's talk Sanchez has an offer from another World Tour team. It could be that Belkin's money (actually Rabobank's money from way back) is then used to pay his salary on a new team. Or it could be the jackpot where Sanchez has banked the Dutch money and can now move to a new team for an extra salary. Great for him but it means he'd profit from all the bad stories. And the new team, if it were to happen, would welcome a rider that another team thinks is unfit although this is not new given departures from Team Sky following their zero tolerance purge. It's an ethical minefield.
GCP
The future of Global Cycling Promotions is under review in the UCI. The UCI's contract to run the Tour of Beijing ends next year and it'll take a miracle to recover the money lost so far from the UCI's disastrous venture in event promotion. Hopefully someone in the business of race promotion will take over, it's well-known that ASO and RCS are keen to acquire assets – ie bike races – abroad, in fact ASO is already providing a lot of the organisational support in Beijing.
Move the Tour of Beijing?
It's just a quick thought but it's hard to get excited about the Tour of Beijing. The race starts tomorrow and ends a season where even armchair fans get fatigue. So what if it was moved on the calendar to February? Too cold of course. But a race in February comes after the winter pause so it feels new and exciting, a chance to see the fresh kits, bikes and some racing again.
Le Pavé
One thing the Tour of Beijing lacks is a famous road. No problems for the Tour de France which looks likely to use some of the Paris-Roubaix cobbled sections next summer according to local newspaper La Voix du Nord.
Where's Matthew Goss?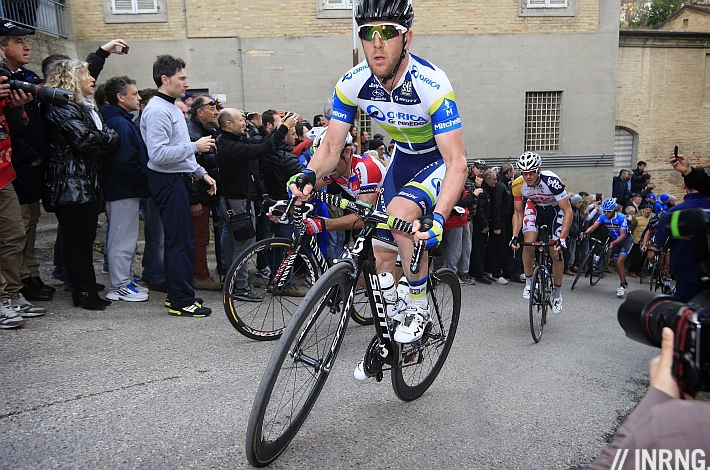 Some riders might want the season to end. Tyler Farrar's win the other day in the Tour de l'Eurométropole saw him take his second win of the year. That's not much for a sprinter but it's one more win than Orica-Greenedge's Matt Goss. The 2011 Milan-Sanremo winner joined the Australian team on a big contract but success hasn't come so easy with only one stage in Tirreno-Adriatico this year. A versatile rider who can get over some shorter hills before sprinting, hopefully he'll be back in 2014 but rivalling the likes of Mark Cavendish, Marcel Kittel and André Greipel seems a big ask.
Where's Pat McQuaid?
The former UCI President was spotted in Kazakhstan at the recent Tour of Almaty race.
Kimmage Refund
On the subject of McQuaid's absence, donors to the Kimmage fund can now get a share of their money back. By now you might know that one of the fund's managers took control of the money and a big fuss kicked off. Rightly so given the sum of money involved and since it was given in charity and on trust. There's now a website run by the "UCI Overlord" to collect names in order for a refund at http://kimmagefundrefund.wordpress.com but the jury seems to be out on this. If you've given your details and got some cash back, let me know and then we broadcast that the refund process works. If not there is a court action being led by a volunteer to recover the money for everyone too.
The good news here is that the UCI has dropped the lawsuit.
Sheryl Crow and Lance Armstrong
When dating Armstrong, apparently singer-musician Sheryl Crow witnessed Armstrong do a blood transfusion in 2004. Is this why her 2005 album "Wildflower" included songs like "I know why" and "Perfect lie"?